Product Information
| | |
| --- | --- |
| UPC | 350518870789 |
| Product Type | Shipped Product |
| Shipping Cost | $14.50 |
| Number of reviews | 111 |
508 CHROME A/C COMPRESSOR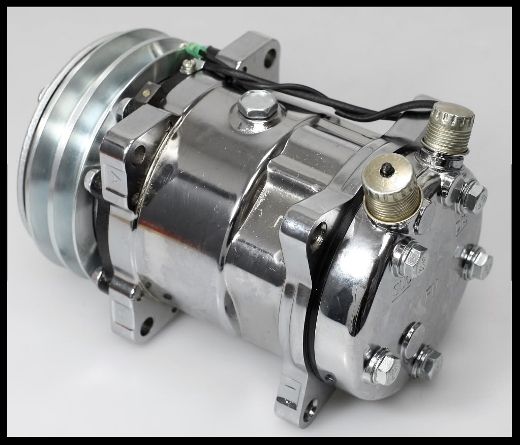 This unit is very common in the street rod show car community.
Serpentine pulley, 8 groove. Your belt does not need 8 grooves to work with this compressor. Some setups on the market have only 6 or 7 grooves, and will work with this compressor.
BRAND NEW factory sealed. CHROME PLATED "SANDEN STYLE 508 A/C COMPRESSOR" Fits many HOT ROD applications and uses R134a refrigerant. It is our understanding that this is the most popular style unit on the market. If your going to be installing A/C in your vehicle, then it makes good sense to stay with a tried and proven type compressor. This is also the best choice in upgrading from the early style York, and Tecumseh compressor.
Compressor contains assembly oil only and must be drained and filled with the proper amount of R134a Pag Oil for your application, typically 6 to 10 oz. The A/C system must be properly flushed and cleaned before compressor installation for warranty purposes.
Our supplier of this unit is a very reputable company, and have a near zero failure rate with this unit.
This unit has a full one year warranty.
Our sales staff has limited technical knowledge on this product and are usually unable to answer many of the questions asked. See our other listings for variations of this product.

We are not responsible for collateral damage caused by the use of this product.
Thank You

Reviewed by d***j on Sept. 30, 2017, 6:05 a.m. | Permalink

This review has no votes.

great price, fast shipping

Reviewed by p***a on May 5, 2017, 9:27 a.m. | Permalink

This review has no votes.

Nice Compressor, quick shipping nothing but great service from this vendor.

Reviewed by g***g on Sept. 11, 2016, midnight | Permalink

This review has no votes.