ACCEL Sleeves Fiberglass Spark Plug Boots Guards Pack of 8 #170081 CLEARANCE!
Available
$34.95
---
Product Information
| | |
| --- | --- |
| UPC | 373540362315 |
| Product Type | Shipped Product |
| Shipping Cost | $10 |
| Number of reviews | 0 |
ACCEL Pro Sleeve Fiberglass Spark Plug Boot Guards - Pack of 8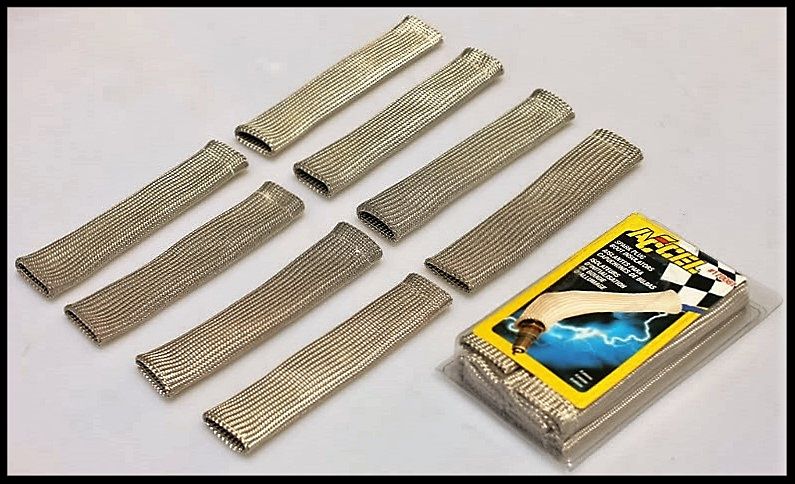 60% off major performance retailers' price.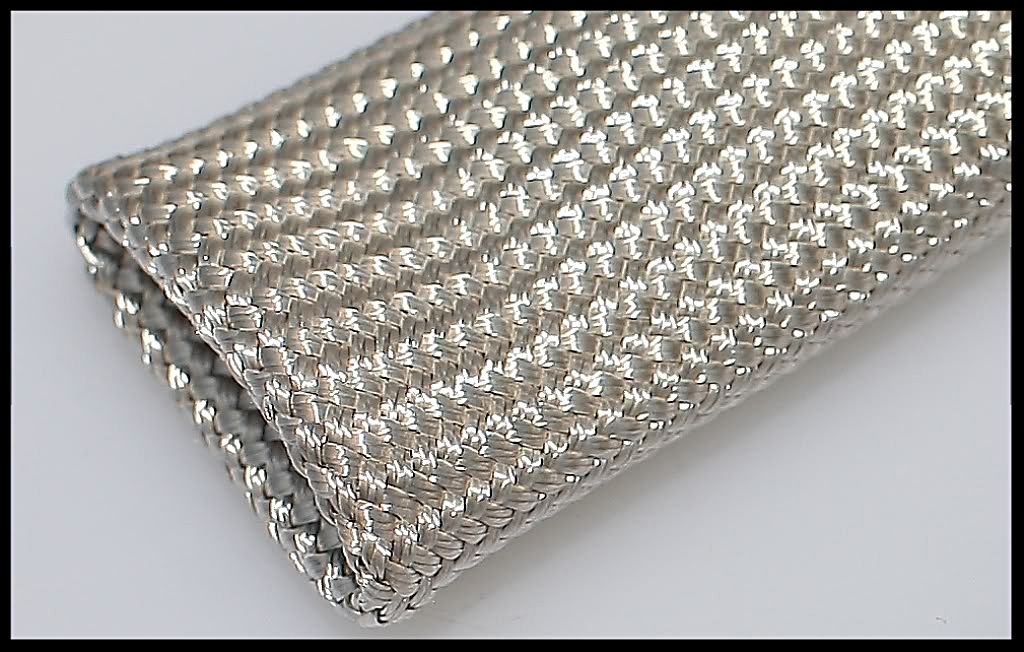 Length is 6" and width is 1.250"
These ACCEL Pro Sleeve boot guards will protect your spark plug boots.
The Accel Pro Sleeve Spark Plug Boot Guard features a double-layered fiberglass boot guard. It takes the heat and abrasion instead of the boot. An adjustable ring allows the boot guard to be rotated, which results in a longer lifespan. The material expands and stretches over irregular surfaces and is easy to install.
Note from our company president, Skip White
If your plug wires or the boots are less than half an inch from the headers, it's a 100% chance that they will be damaged in a very short time. This damage will lead to voltage leakage and engine misfire. Rule of thumb is a minimum of half an inch clearance and even at that, it's not the most ideal amount. If your wires are run above the headers, then the distance has to be greater than half an inch.
We have seen it over and over, burned up plug wires arcing intermittently and causing engine misfire. If you have ever seen the typical Chevy 350 exhaust manifolds that were designed under the plug wires, you may remember these had a sheet metal heat shield right below each pair of plug wires. After many years, the screws that held these shields in place would rust and break off, and the shields would often remain in place but many people would remove them. The distance appeared to be ample from the ex. manifold to the plug wire, but the wires would be destroyed in a couple months in every situation that this was done. The word out was to never remove these shields even if the screws were rusted away.
The solution to protect your plug wires is to use header wrap, heat shields or plug wire fire boots as we're offering in this sale. Under the right conditions, some wires will not last more than 200 miles from the damaging effects of excessive heat. Your wires may actually look OK, but the protective properties have been cooked out of them.
Open your hood at night while your engine is running and you may see evidence of this. I have seen it on many occasions. Take notice of the elaborate heat shields between the plug wires and exhaust manifold on many modern cars and you will see that the factory takes this seriously.
The Dodge V
iper has an elaborate set of heat shields between the stock headers and wires that become useless when aftermarket headers are installed, and failure to shield the wires from the excessive heat has proven disastrous for the $200 factory wires on these cars. Bottom line, keep excessive heat away from your plug wires and boots or you will end up replacing them in a short time.
The items in our clearance special will be selling at well below cost prices. These items have accumulated in our former warehouse that we're converting to our new additional machine shop for building engines. In the past, we would sell these items at local swap meets and other various selling venues. Due to time constraints, these items have to go.
Go to our store to see many hundreds of such items.
There are many reasons as to why these items are being closed out. Listed below are some of the many possibilities. Most all these items are in perfectly new condition. No gimmicks. We are in a rush to get our second machine shop up and going.
Left over stock of an item that was discontinued in the past.
A few have become slow sellers for us, as our business has shifted into high value items such as engines, rotating assem. and cyl heads.
We have purchased some items in bulk that were discontinued and have many of these items still in stock.
We're trying to clear out space for our new engine room and we're in a rush to do so.
Acquire funds to build our second new machine shop for building engines.
Our sales staff has limited technical knowledge on this product and are usually unable to answer many of the questions asked. We do not have any variations of this product other than what our listings show.

 

 

We are not responsible for collateral damage caused by the use of this product.

 
Customer Reviews
This product does not have any reviews yet.