ACCEL SPARK PLUG WIRES CHEVY 305 350 CAPRICE 60% OFF 4065
Available
$24.50
---
Product Information
| | |
| --- | --- |
| UPC | 373540362338 |
| Product Type | Shipped Product |
| Shipping Cost | $12.50 |
| Number of reviews | 187 |
ACCEL 4000 SERIES SUPER STOCK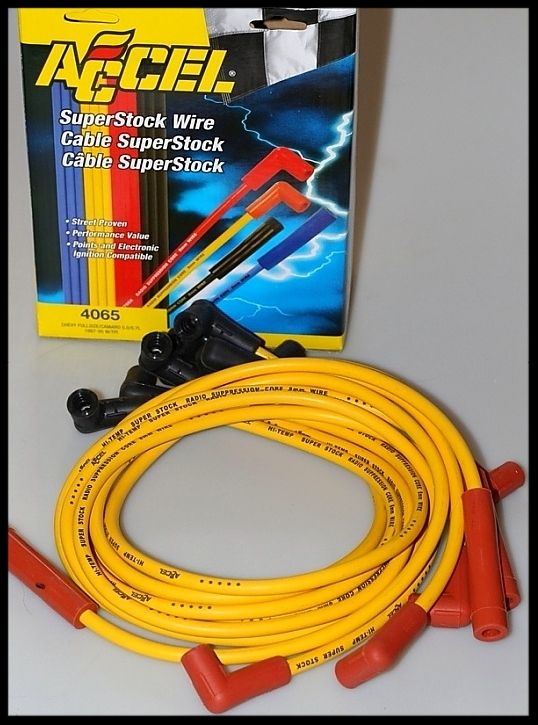 60% off major performance retailers price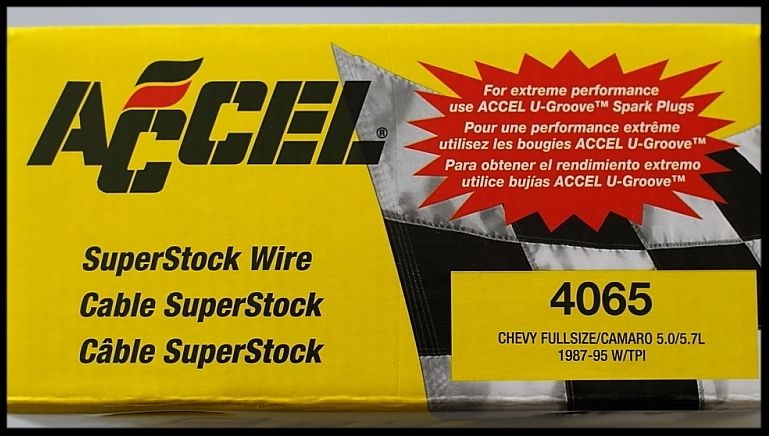 Female style ends for Male style caps
These wires have four straight plug boots, and five 90 degree plug boots. This was a very common setup used on most all of the GM 305 and 350 engines from the factory in the approx. year ranges of 1986-1995 Some vehicles may have used a different wire so be sure before purchasing that they will work for your application. The picture above shows the Camaro application, as it is the most popular. The application guide shows many years of the Caprice using this part number also. The application guide above can tell you if they are a direct replacement for your vehicle. If you have headers these wires may pose an issue due to some of them having a straight boot. As mentioned four of the wires in this set have a straight plug boot on the end, and the other others have a 90 degree angle boot on them. It is not uncommon to step outside the recommended application guide on plug wires as long as your using them on the correct or similar engine family.
The four straight boot wire lengths are 18.7" 36.7" 24.9" 29" The five 90 degree wires lengths are 29.4" 25.5" 25.7" 33.5" 19.6" and coil wire is 9.5 all in inches. This kit has included a ninth plug wire for applications requiring one of the wires to be a different length. The coil wire is only used on applications such as the TBI engines. The TBI and TPI engines have the coil outside of the distributor. The wire length numbers above are the actual yellow cable length, not including the boots. If you add the boot length it would be fair to add approx. 1.2-1.7 inches to the overall length. We have had many customers use these wires on various engines that are not in the application guide. You will have a grand total of ten wires in this set. Some have purchased two sets of the wires due to the very low price we have them at, and made up two sets of wires for V-6 engines or in line 6 engines. Remember you will receive nine plug wires and a coil wire with this set, so the applications are somewhat broad.
The boots that attach to the distributor cap are for the common HEI male style cap.
These wires do in fact sell for much more at major performance retailers. Do a search on this part number, and you will find them to be much higher in price. We have a limited supply.
Factory sealed, brand new, first line product.
Go to the upper right side of the ad where other info is listed, and you can see the history of sales on these wires. This is proof of the explosive sales we have had on this product, and this amount doe's not include walk-in or other selling methods. These have to be the best deal we have ever offered on a set of wires.
Brand new factory sealed
This type of wire is not considered a high end wire, but is certainly a very high quality wire suitable for those on a budget. 8mm is more than enough for any electronic ignition system on the market. Do bear in mind that these wires sell for more than double this price at all major retailers. Do a web search on this part number, Accel 4065 and you will clearly see this is the best value on wires you will ever find. As with all of our 60% off items, once they are gone, we will never be able to obtain them again at this price. Do a search on our site for more of the 60% off items. Just type in 60% off and all of them will come up. Some of the items are often discounted below this level. We also have excellent shipping discounts for multiple item purchasing. The shipping will fall to half price for each and every additional set of wires you purchase. Many dealers have bought these wires from us for resale.
| | | |
| --- | --- | --- |
| Assembled |   | Yes |
| Diameter (mm) |   | 8.00mm |
| RFI Suppression |   | Yes |
| Wire Color |   | Yellow |
| Distributor Terminal Ends |   | Male/HEI |
| Distributor Boot Color |   | Black |
| Distributor Boot Material |   | Silicone |
| Spark Plug Boot Ends |   | Stock |
| Spark Plug Boot Color |   | Orange |
| Spark Plug Boot Material |   | Silicone |
| Coil Wire Included |   | Yes |
| Conductor Style |   | Spiral core |
| Quantity |   | Sold as a set |
Brand new, factory sealed
CLICK THE "COMPATIBILITY" TAB ABOVE TO SEE IF THEY WILL FIT YOUR SPECIFIC ENGINE. THIS WIRES FIT 175+ APPLICATIONS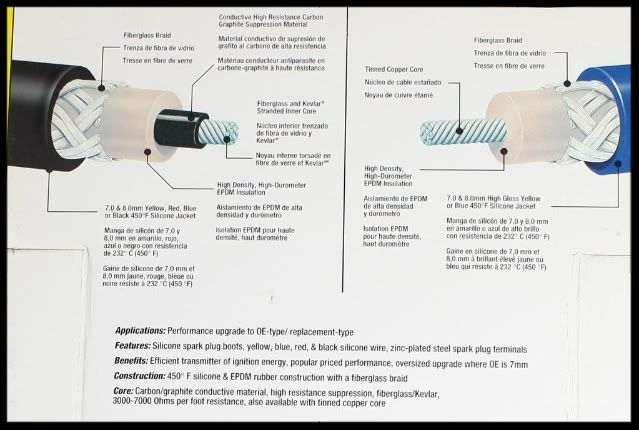 THE WIRES COME ALREADY ASSEMBLED.
Our sales staff has limited technical knowledge on this product and are usually unable to answer many of the questions asked. We do not have any variations of this product other than what our listings show.

 

 

We are not responsible for collateral damage caused by the use of this product.

 
very nice just as described,fast shipping and well wrapped

Reviewed by 1***1 on Aug. 3, 2021, 5:39 a.m. | Permalink

This review has no votes.

Great

Reviewed by 1***a on July 22, 2021, 8:32 p.m. | Permalink

This review has no votes.

very nice just as described,fast shipping and well wrapped

Reviewed by 1***1 on Aug. 4, 2021, 5:42 p.m. | Permalink

This review has no votes.