BBC BIG BLOCK CHEVY 427 454 496 FABRICATED TALL VALVE COVERS 8092-8P or 6248-P
Available
$115.00
---
Product Information
| | |
| --- | --- |
| UPC | 373540365253 |
| Product Type | Shipped Product |
| Shipping Cost | $18.50 |
| Number of reviews | 0 |
BBC BIG BLOCK CHEVY 427 454 496 TALL ALUMINUM FABRICATED VALVE COVERS SEMI POLISHED ALUMINUM. SHORT BOLT STYLE
Pictured below of several of our engines ready to ship out with these style valve covers. This is a very popular style.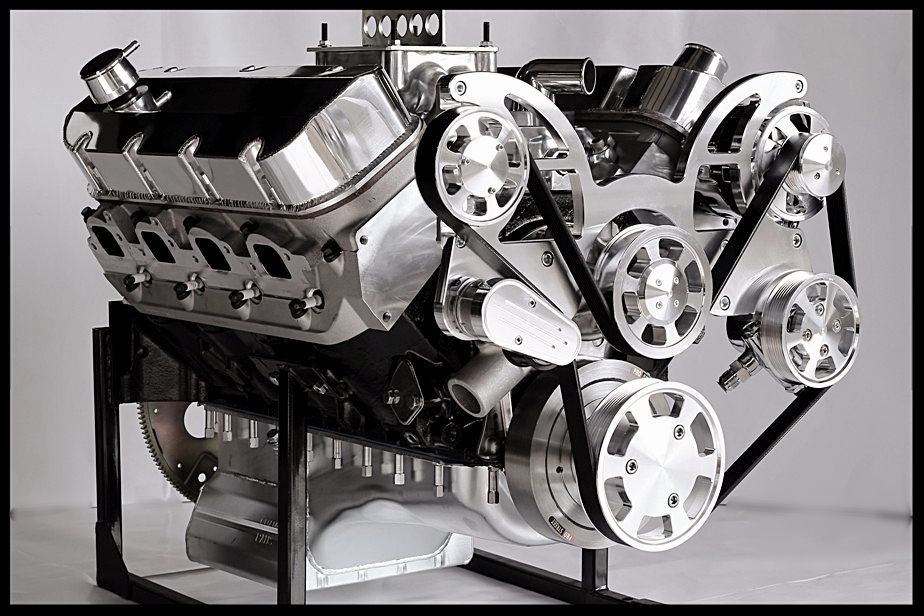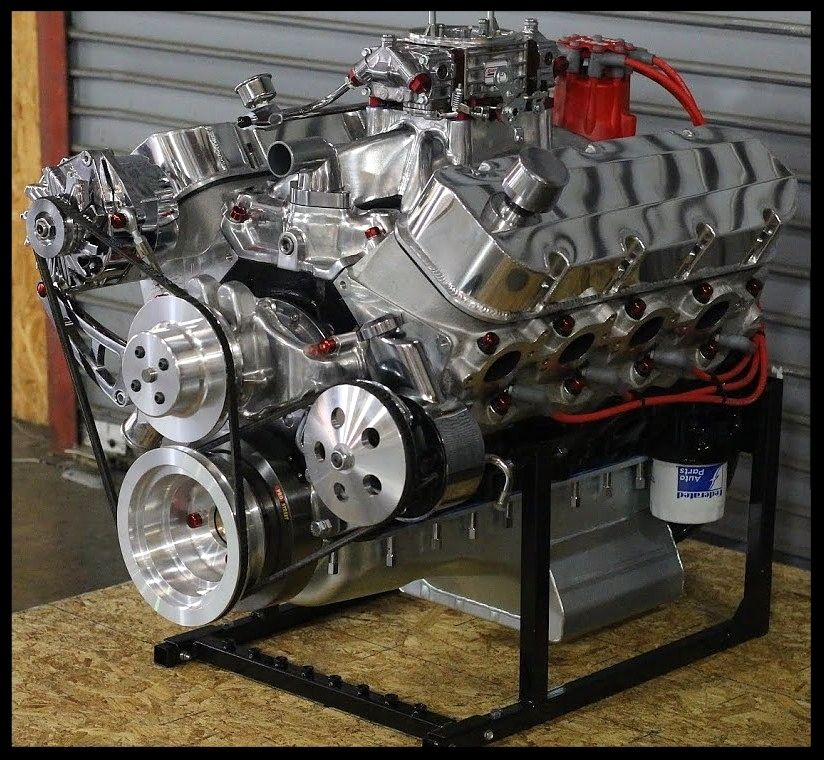 The inside height is 3.30" not including the valve cover gasket. These valve covers will accommodate most roller rockers on the market. Some of the over sized aluminum roller rockers may pose a clearance issue in the corner area of the valve cover. A simple modification to the rocker is done by grinding the outermost corner a slight amount. This is standard in the engine building industry and causes no problem whatsoever to the rocker. The reason the corners on the bbc valve covers are somewhat rounded and tapered is to allow clearance for items in the engine bay such as power brake boosters, and other various devices. Most stud girdles on the market are not a problem with these valve covers. These are considered a tall valve cover. The billet aluminum rail is approx. 240 thou. thick. This is thicker than many on the market and has a dramatic effect on reducing oil leaks.
Most of our bbc engines we build use this style of valve cover. We offer several styles but this in our most popular.
***********************************************************
Important Note.
We have used these valve covers on thousands of our high performance engines for over 10 years without any issues. On occasion, you may notice a slight degree of warpage on the rails before installation. This is due to the heat generated by the massive amount of welding done around the outer edge of the rails. This warpage is not a problem. When the valve covers are bolted on, they will pull down flat and seal well. Any micro amounts of variation left over after you have bolted them down will be compensated for by the gaskets. Any and all fabricated valve covers with such welding on the rails will have this characteristic. It's simply not a problem in the least. We dyno many of the engines using these valve covers. The engines are brought up to considerably high rpm levels, and rarely do we ever see any signs of oil seepage. They seal very well. The extra thick valve cover gaskets we use do an excellent job of sealing around the valve covers: Part number 7483-ET. See our other listings for these. Every engine we build uses the extra thick gaskets.
When we dyno a brand new engine, the crankcase pressure is higher than normal until the engine rings seat. This causes the oil to seep from any possible exit on the engine, such as around the valve covers and gaskets. We had always used our regular black neoprene gaskets on the engines but on occasion had to use the extra thick ones due to stud girdle clearance with certain heads. Our engine builders noticed that the extra thick valve cover gaskets had virtually zero seepage as compared the regular neoprene gaskets. As we see it, the extra thick gaskets are the key factor in eliminating seepage. Extra thick valve cover gaskets also give the engine a more pronounced (wide/tall) appearance.
The finish on these valve covers may on occasion have very minor cosmetic flaws on them. In the world of mass production, it's to be expected. The massive amount of welding on the rails can sometimes leave small spatter marks in some areas. You may also see very minor scratches in the finish. These flaws are only noticeable upon close observation. Once mounted on the engine, these very small cosmetic blemishes are not noticeable from a distance of several feet. In most cases, the valve covers are flawless or nearly flawless. There are some very high end fabricated valve covers on the market that cost four to five times as much, and on those you may even find minor flaws, but it's less likely due to their extreme cost. As mentioned above, you cannot see these minor flaws from the normal viewing distance standing in front of the car.
******************************************************
This is a very good quality set of valve covers. Beware of others offering similar valve covers for a lower price. Fit and finish are often compromised.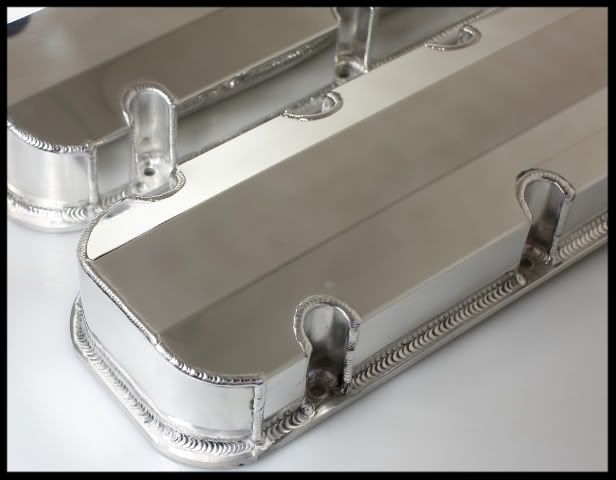 Pardon the terrible pictures. The finish on these valve covers is slightly brighter than what the pictures show them to be.
These valve covers have a somewhat bright semi polished finish.
THESE ARE A SET OF TRUE TALL BBC CHEVY ALUMINUM FABRICATED VALVE COVERS.
Part number 6248-POL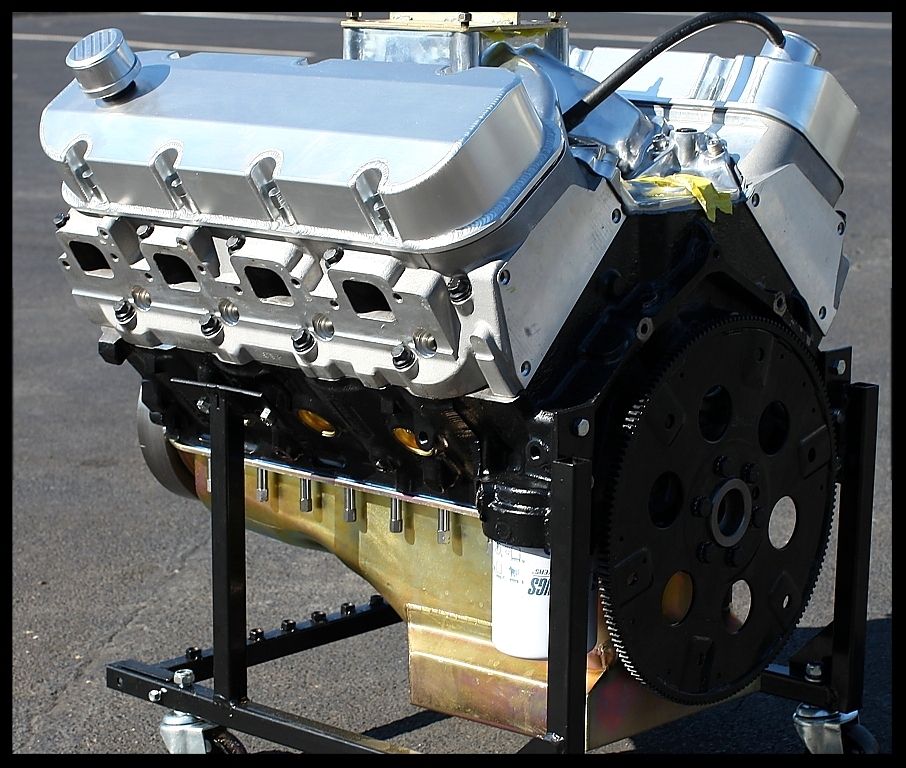 Not a very good pic. due to the glaring sun, but this give you an idea of what they look like on an engine.
The best set of valve covers on the market, and at a closeout price.
See our other listings for valve cover accessories.
Our sales staff has limited technical knowledge on this product and are usually unable to answer many of the questions asked. See our other listings for variations of this product.

 

 

We are not responsible for collateral damage caused by the use of this product.

 
Customer Reviews
This product does not have any reviews yet.