BBC CHEVY 454 496 ENGINE DRESS UP KIT, FRONT ACC. INC. WP, ALT, PULLEYS, ETC.
Available
$595.00
---
Product Information
| | |
| --- | --- |
| UPC | 353439702097 |
| Product Type | Shipped Product |
| Shipping Cost | $48.50 |
| Number of reviews | 10 |
OUR NEW UPDATED FRONT END ACCESSORY KIT.
BBC BIG BLOCK CHEVY 396, 427, 454, 496 FRONT ACCESSORIES MASTER KIT. INCLUDES EVERYTHING NEEDED FOR THE FRONT OF THE ENGINE.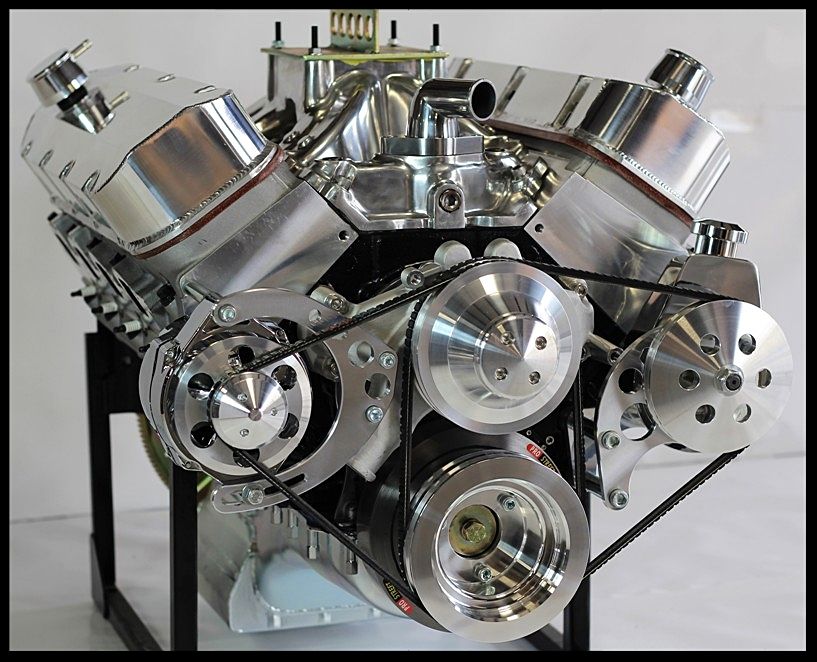 The nose cone on the water pump shown the picture above is not included
. The nose cone you see in this picture is not a CVF product. These were a product we used to offer at one time. Due to fitment issues we no longer include these with this kit.
Very important note from our company president, Skip White.
We have seen similar front end accessory kits on the market, and most are inferior compared to ours. This kit uses CVF brand pulleys and brackets. The pulleys and alt bracket are made in the USA from solid billet bar stock 6061 grade aluminum. This is the very same front end kit used on our high end bbc engines we build. The crank pulley is approx. 6.70" diameter. Our former kit had a 7.75" pulley, and we found this pulley created an over-speed situation on the alternator and power steering pump when run on engines in the upper rpm ranges above 5500. The new style alternator bracket is also a major improvement. The former alt. bracket used a Heim joint at the top that only supported the alt. in two directions. This caused a flexing from front to back under high rpm situations. The alt. we used in the past also had the standard stamped sheet metal fan blade on it. At high rpm the blade fins would begin to splay outward creating a vibration, and severe V-belt flutter. There is an actual video on youtube of this in slow motion showing the alt. fan blade splaying outward at high rpm. Type "SWP Alternator Anomaly" in the youtube search bar. You will clearly see why we have updated this system.
It actually took three factors to bring this issue about. One was the over-sized crank pulley, (7.75") over-speeding the alternator, and this in turn caused the stamped steel alt fan blades to begin to splay outward, causing a vibration, that was accentuated because of the Heim joint style alt. bracket. The chance of losing the fan belt then became very high under certain conditions. The V-belt on the former system was also much longer, and made it much easier for the belt to come off. Our new front end kit has none of these issues.
This accessory master kit is exactly what we now use on our Turn-Key BBC (Big Block Chevy) complete engines. The parts used are of exceptional quality, and fit is precise. The parts are simple and straightforward to install. We will also offer technical assistance to those needing it. You will be able to speak to our actual engine builders who install this kit if needed. We have seen other configurations on the market that are nothing more than a mis-match of parts with no regard as to how they will go together. You will also receive the needed hardware for the pulleys and brackets. High quality V-belts are included and are the exact length needed. This setup uses a long style water pump.
If your vehicle originally had a short water pump on it, and you plan to use an electric fan, then changing over to the long water pump setup should not be a problem. Most all Chevy vehicles went to the long water pump setup around 1969. Should your vehicle be an earlier model than 1969, this setup should still work without a problem, but if you're running a mechanical fan, and had a short water pump, be sure you have enough space for your fan blade to clear your radiator fins. The long water pump protrudes forward approx. 3/4 of an inch longer than the short version. GM did not change mounting points on their blocks from the 60's on up, as far as we know.
As to how far back in model year that you can go with this setup, we're not sure, but we don't really see any problem using this on BBC engines from the mid-60's on up to the last of the BBC 454 engines that operated with a V-belt system. Even later BBC blocks from the serpentine era may be converted back to the conventional V-belt setup should you desire. Dart blocks are also not a problem for any of these accessories. This turn-key accessory kit will give your BBC engine a totally new look, and getting rid of all those worn out parts will certainly be of great benefit. The alternator bracket seems to mount up to most all the BBC heads on the market. Our pictures above show it mounted to a set of our Bravo heads. We don't see any problems using this kit with most heads on the market.
What is included:
120 amp chrome one or three wire alternator with billet aluminum pulley and fan blade, bullet style nose cone.
Polished billet aluminum alternator bracket.
High volume satin aluminum water pump. This is our premium BBC water pump with machined aluminum impeller.
Chrome Plated power steering pump, A-can style.
Billet Aluminum CVF heavy duty PS pump bracket. Made in the USA by CVF Racing.
Billet aluminum pulleys for crank, water pump, and PS pump. All made in the USA by CVF Racing.
Premium Dayco Top Cog V-belts from Federated, exact fit for this setup.
All mounting hardware for the brackets and pulleys.
What is NOT included:
The engine, heads, valve covers, intake manifold, starter, fuel pump or carburetor.
Harmonic damper and damper bolt.
Water neck or water pipe on water pump.
Engine stand.
Timing cover.
Timing pointer.
Nose cone on water pump.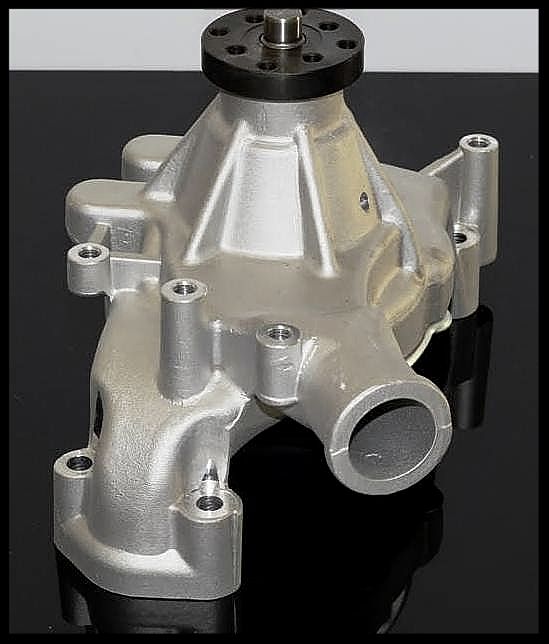 This is our high volume long style satin water pump with aluminum impeller. This is a very high quality pump.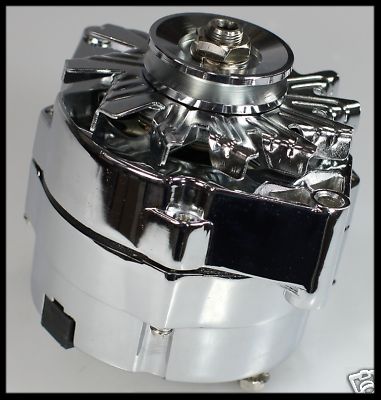 Our 120 amp chrome plated one or three wire alternator. You will receive the billet aluminum fan blade and pulley to use on this alternator.
Many have asked why we're able to sell our products for such a great price. It's because we're also a major distribution center for all of the parts used in this kit. Our purchase price for the parts used in this kit are at master warehouse distributor (WD) pricing. Few retailers ever get to master-wd pricing. We also believe in keeping our profit levels low enough to allow the working man a chance to build his car the way it should be built.
A final note.
Our user id is: skipwhite, and our store name is whiteperformance1. You may have noticed other sellers using a similar name offering similar products. These other sellers have capitalized on our name, as we see it, and many customers searching for us will inadvertently find them, thinking we are one and the same company. There is only one "Skip White." We are the original premier seller under this name since approximately 2002. We have no other names, nor are we associated with any other company regardless of the similarity in the name or location. Our official company name is Skip White Performance.
Email us for shipping cost for overseas delivery. We have excellent sources for low cost shipping anywhere in the world.
 

 

We are not responsible for collateral damage caused by the use of this product.

 
Always shop here before anywhere else AAAAAA++++++

Reviewed by o***2 on Oct. 11, 2021, 9:58 p.m. | Permalink

1 of 1 customer found this useful

Always shop here before anywhere else AAAAAA++++++

Reviewed by o***2 on Sept. 26, 2021, 8:47 a.m. | Permalink

This review has no votes.

Fast shipping

Reviewed by e***a on Sept. 18, 2021, 7:30 a.m. | Permalink

This review has no votes.