BBC CHEVY 495 540 DART 310cc ALUMINUM HEADS BARE SET/PAIR 19100010 x 2
Available
$1,795.00
---
Product Information
| | |
| --- | --- |
| UPC | 333073608932 |
| Product Type | Shipped Product |
| Number of reviews | 0 |
DART PRO ONE 310cc BARE BBC HEADS.
121cc COMBUSTION CHAMBERS 310cc runners.
This sale is for a set of heads (2 bare heads).
Our user id is: skipwhite, and our store name is whiteperformance1. You may have noticed other sellers using a similar name offering similar products. These other sellers have capitalized on our name as we see it, and many customers searching for us will inadvertently find them, thinking we are one in the same company. There is only one "Skip White." We are the original premier seller under this name since approximately 2003. We have no other names, nor are we associated with any other company regardless of the similarity in the name or location. Our official company name is Skip White Performance. Please see the article in the lower part of this ad for a more detailed explanation.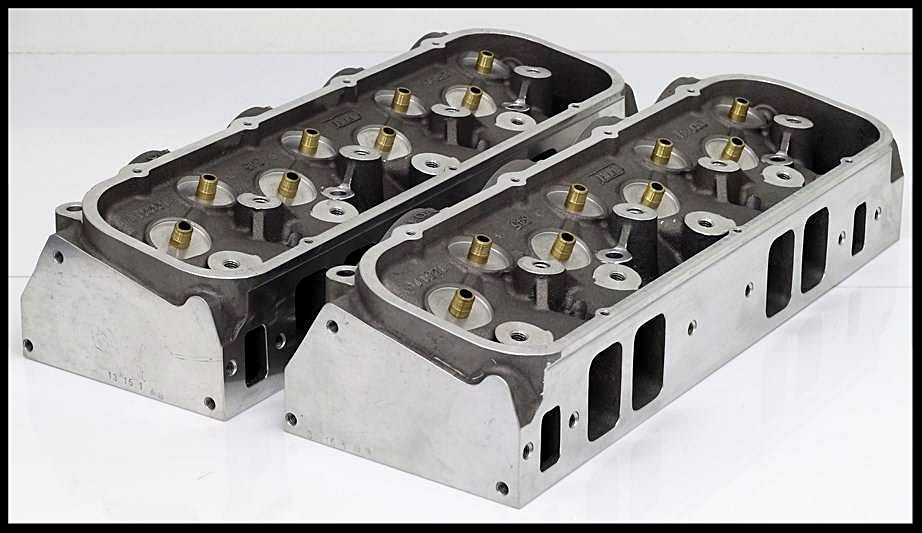 PART # 19300010 x 2. INTAKE RUNNER: 310cc. DART'S HIGHLY POPULAR BIG BLOCK CHEVY PRO 1 HEADS FEATURE. ROLLED VALVE ANGLES, IMPROVED SPARK PLUG LOCATION, RAISED EXHAUST PORTS AND FAST BURN CHAMBERS. CAN BE USED WITH SHELF PISTONS, VALVE TRAIN COMPONENTS AND INTAKE MANIFOLDS.
We have complete top end hardware kits available for the Dart heads in our other listings. The kit has the correct head and intake gaskets, head bolts with special washers, and stainless intake bolts. The part number is TEK-1017-1275, or any TEK kit that has the 1275 part number in it. The first number is the type of head gaskets, and we have several different head gaskets that will work with the Dart heads. The 1275 is the intake gasket part number, and that is mandatory for use with these heads.
Important note.
These heads are not suitable on 396, 427 or 454 engines that have compression below 10.5:1 Calculate your compression ratio before purchasing. These heads are well suited on 496 and larger bbc engines. The compression required would be 10:1 or higher. Slightly less would be ok.
Uses valve size 2.250 and 1.88. These heads have the correct seat diameter to allow the use of these valve sizes.
Guide plate recommendation.
We strongly recommend the use of the Dart adjustable guide plates with these heads, or with any BBC aluminum heads for that matter. These guide plates will allow better rocker tip alignment due to the fact they are fully adjustable. We use them on every set of BBC heads we install on our engines, including the Dart Platinum Pro-1's, and AFR heads. The rocker tip may end up offset to one side more than is acceptable when using fixed guide plates, and the Dart adjustable guide plates allow a decent amount of correction. The variances in stud position to valve guide alignment vary on all brands of heads. The rockers could also contribute to this issue, as the trunnion or rocker body could have variance. By having proper rocker tip alignment, you are distributing the pressure on the valve tip evenly. This not only reduces uneven valve tip wear, but also prevents undue stress on the valve guides in the heads. The part number for these guide plates is BBC-ADJ-GP. See our other listings for these items.
IMPORTANT NOTE CONCERNING ROCKER ARM STUDS.
If you have been a regular shopper with us, you will have noticed we do offer some knock-off products that are made off-shore. We do also sell many products made in the USA. We have always been very particular as to the quality and workmanship of such products, while considering the cost. We scrutinize our products very carefully and refuse to sell products that simply don't meet our standards. We have now eliminated another of the low cost knock-off products from our line. The low cost imported rocker arm studs have shown numerous problems unlike those in the past. We have looked at several others on the market, and still find many issues with them that are not acceptable.
Many of the studs had run-out in the shaft of up to an eighth of an inch. This caused major problems with rocker alignment, and depending where the position was when the stud tightened up, would determine the direction of the rocker misalignment. If the warped stud was facing toward or opposite the valve, then the roller tip would would not be centered to the valve tip. This would then create a loss of lift and cause increased wear on the valve tip.
If the warped stud tightened up in a side to side position, then this would allow the rocker tip to be cocked on the valve tip. This would then side load the valve tip with undue pressure, creating a serious wear problem on the side of the valve tip and create excessive wear on the valve guides in the heads. This also side loaded the rocker trunnion and front roller, creating an excessive wear issue in the roller rockers.
We also found a difference in the tread pitch and depth compared to the ARP studs. The rocker studs in an engine are under a tremendous upwards pull and improper thread design may cause the studs to pull out of the head. The ARP studs screw into the heads with a very precise fit and feel.
After thoroughly comparing the ARP studs and several off shore models, I am convinced that we will never offer the off shore studs again, regardless of the price difference. They were never as bad in the past as what we're seeing now. This run-out was most likely caused by improper heat treating methods.
We are aware of only one other rocker arm stud besides ARP on the market of decent quality, and that's from the GM Performance division, and it's fair to say they are most likely supplied to GM by ARP under private label.
We have rejected many products that are outright junk and would cause serious issues in your engine only to see other sellers offering those same exact products. It's all about learning where to draw the line.
The correct ARP rocker stud part number to use with these heads is #100-7101. See our other listings for these parts.
Studs and guide plates are NOT included. Other sellers may include these items but rest assured, they are usually not suitable for these heads. We use nothing but the Dart adjustable guide plates and ARP rocker studs when we build an engine using these heads, as they allow for perfect alignment of your rockers. See our other listings for a full selection of accessories.
We are glad to offer many great low cost items, as well as the high end products, but will always give careful consideration to quality, functionality, and overall value.
A final note...Skip White Performance...About Us
I'm sure many of you have noticed there are 2 high performance engine builders in Kingsport, TN with similar names, leading to a great amount of confusion.
We are Skip White Performance, NOT White Performance and Machine.
Due to the name similarity, many customers looking for us online inadvertently find them, thinking we are the same company. Definitely not...there is no connection between the two companies. We don't have a problem with free enterprise (competition). However, when the competition builds their foundation on such things as a name similarity and their supposedly long history of being in business, then we think it's about time we set the record straight.
We have owned White Performance since 2003, with the exception of the machine shop, which was owned by Fred White at the time. He continued to operate the machine shop and build engines for us while we continued selling online under the user ID of skipwhite and the store name of whiteperformance1.
Due to their limited production capability and many disagreements about the engine and head building process as well as workmanship, we opted to open a full scale machine shop of our own a few years later. Fred White began competing against us even though our contract had a non-compete clause in it.
As our business grew, we opened a second, much larger warehouse and machine shop around 2011, located on Brookside Ln. in Kingsport TN. By putting heart and soul in this company, we have become the number one street rod engine builder in the nation.
Fred sold his shop to an investor in 2016 and the new owners continue to reap the benefits from this confusion between the two shops. This investor lacked any knowledge of this industry. They continue to use the White Performance & Machine name. Contrary to what is posted on their website, Fred White is no longer associated with the company in any way. Their main spiel in advertising is, "In business since 1979," when in fact, we purchased the White Performance company in 2003, with the exception of the machine shop.
All in all, we have been in this business going on 17+ years. Skip White's passion has been owning and building street rods for 47 years on a personal level. The knowledge he has gained over time has allowed him to venture into this business and succeed to a very high level.
The great pretenders continue capitalizing on our success due to the name similarity, but have been degrading our reputation. We have been getting calls nearly on a daily basis from people that now realize there are two shops in this town with very similar names. Customers complain of serious problems in getting their orders in a timely manner from them. They think they purchased their cylinder heads from us. Due to the confusion, there is an increasing amount of negative feedback that is affecting our name within the street rod community, when in fact we have a near perfect reputation in this industry. We have an "A+" rating with the Better Business Bureau and we have maintained the A+ rating for many years.
FAST FORWARD TO PRESENT DAY...We have become the largest street rod engine builder in the nation. Our engines, rotating assemblies, and cylinder heads are built to very high standards and shipped to our customers in a timely manner. We are a premier seller on with a positive feedback score of well over 206,000 and growing, as compared to our competitor's score of approximately 24,000.
Our engines are custom-built to our customers' specifications and are shipped in approx. 2-5 weeks, perhaps sooner, depending on the season. Our rotating assemblies usually ship out in about one week or less, and our heads ship in about a week or less.
Customer Reviews
This product does not have any reviews yet.