BBC Chevy Comp Cams 575/575 Lift Xtreme Retro Style Hyd Roller Cam 11-461-8
Call Us
---
Product Information
| | |
| --- | --- |
| UPC | 354382063246 |
| Product Type | Shipped Product |
| Shipping Cost | $20 |
| Number of reviews | 0 |
Comp Cams RETRO STYLE FLAT NOSE HYDRAULIC ROLLER 
575/575 Lift 254/260 Duration 112 Lobe Sep. 
Xtreme Marine Camshafts 11-461-8
This cam has a flat nose for use in early and some later style non roller blocks We have this cam available in a oe step nose style also. The part number is 01-461-8
*** IMPORTANT NOTE ***

You may add items into your shopping cart but in order to check out you will have to call us. Our check out feature on our website is being upgraded at this time. We can take your order over the phone and answer any technical questions you may have. We accept all major credit cards, cash, check, and money orders. Just give us a call at 423-722-5152 and we can process your order promptly. In the event you attempt to reach us outside of our operating hours, please leave us a detailed message and we will return your call at our earliest opportunity.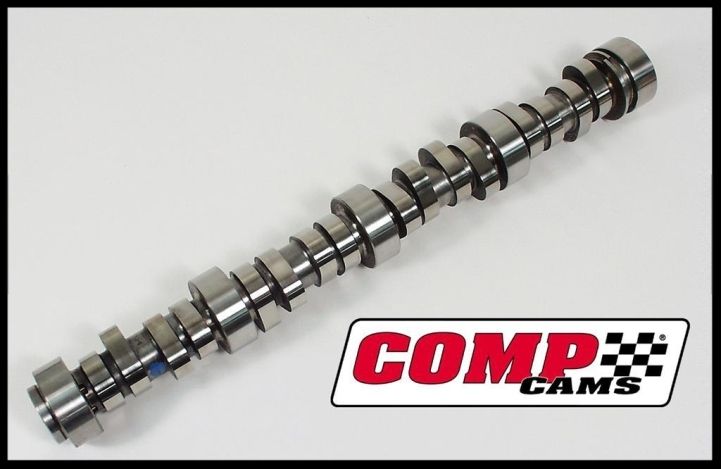 Part number: 11-461-8
575/575 lift.
254/260 duration
112 lobe sep.
This cam is our most popular choice for our street rod bbc engine builds.
Comp Cams 'Xtreme Marine & Auto' Step Nose Hydraulic Roller Camshafts.
Cam info:
This cam is one of our official cam choices in our line of bbc engines. It is the perfect size to offer the best balance of power while putting a relatively low amount of stress on the valve train. It makes a great amount of overall power on bbc street rods. This cam is somewhat aggressive yet suitable in 496 bbc engines or larger. It has a very aggressive nature in the smaller 454/468 sized engines and would require around 11:1 or higher compression ratio, but becomes more manageable in the 496 or larger builds. Compression ratio in a 496 engine build would need to be 10.5:1 or higher to yield decent results. This cam would be considered outstanding in a 540 and up to a 572 street rod build. Around 10.2:1 compression ratio or more would be all that is needed to obtain great results on these larger engines in a street rod. 
This cam has a unique profile. Our former cam used in our 555 engine was nearly identical in lift and duration and had a 110 lobe sep, and it made approx. 35 hp less on every combo we ran it on. Our new Comp cam is setup with a 112 lobe sep, yet still makes so much more power, and with the 112 lobe sep, creates a safer setup overall for the engine than a 110 lobe sep.
This is an amazing cam in every respect. As you may know, there are many aspects to a cam's profile besides lift, duration and lobe sep. and Comp Cams has produced an excellent cam that works very well in all bbc street rods. We're going to list below our actual dyno results on every size of bbc engine we have dynoed with this cam. We have used it in at least 600 bbc engines, from a 496 up to our 632 in the past couple years. Of the three Comp Cams we use, this is our most popular by far. 
We offer two more amazing Comp cam profiles that we're very proud of. For those running the smaller bbc engines or lower than normal compression ratio, we recommend our one size down cam (566/566 lift) for improved low end response if you're building a 454/468 engine. Even then that would be considered somewhat aggressive, and would require compression ratio numbers in the low to mid 11's to operate well. For those building a 496 with approx. 10.5:1 comp. ratio or more, and want the decent bottom and mid to top end power available in a hydraulic roller without having to spend huge amounts of money to stabilize the valve train, then the 566/566 cam would be the better choice for you. See our other listings for these cams. Should you be running a 454-468 engine and have compression in the low 9's and below 10.5:1, then we suggest the 547/547 lift Comp cam in our other listings. 
This cam will allow safe operation of the valve train without spending a huge amount of money on valve train components. It's not going to give any problems in the long run if you're running decent hardware and lifters. You must run a higher than normal grade lifter such as our Max Effort Series. This increased lift and duration will bring the spring pressures up on the nose somewhat high, and that's desirable to maintain valve train stability.
Below are our dyno results on some of our engines with this cam. Your results may vary depending on intake choice. The horse power numbers will always improve anywhere from 5-10 more than what the dyno results show after the rings have fully seated. 
This cam has a step nose for use in oe roller blocks and non-roller blocks that have a provision for a cam retainer plate. We also have this same cam available in a retro style flat nose. The part number is 11-461-8
Official Dyno report on our 572 engine with this cam choice, AFR heads, and a single plane intake.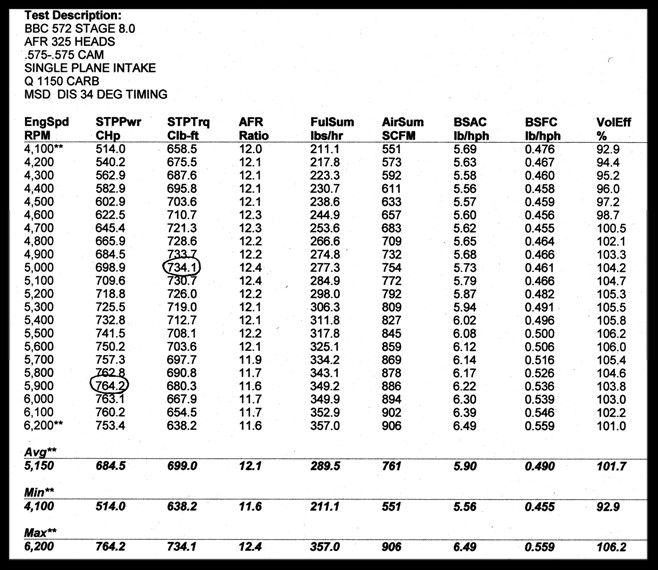 Official Dyno Results on this cam in our 572 pump gas engine with a single plane intake, Bravo 335 rectangular port heads, 1050 Brawler carburetor, and MSD distributor.
Official Dyno report on our 496/505 engine with this cam and a single plane intake.
674 hp with our new Bravo 335 heads is outstanding. This particular engine only had approx. 9.85:1 compression ratio. Normally we run right at 10.3:1 Our hp numbers would have been higher for certain had we had the compression ratio in the higher zone.
Official Dyno Results on this cam in our 555 engine with a single plane intake and new Bravo 335 rectangular port heads.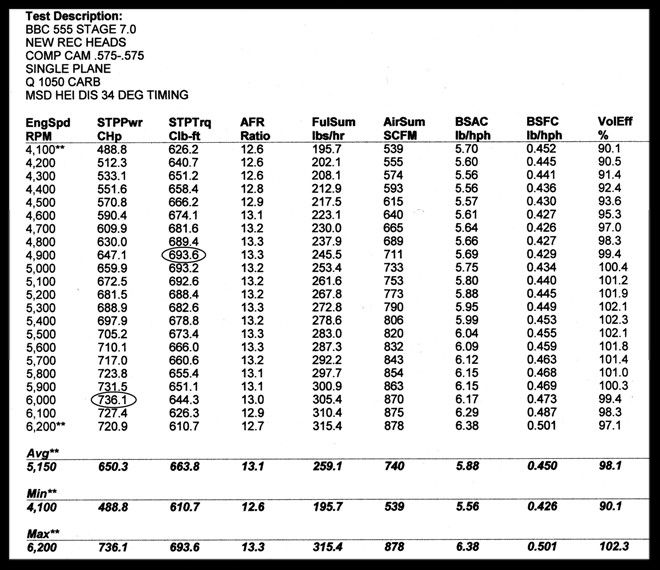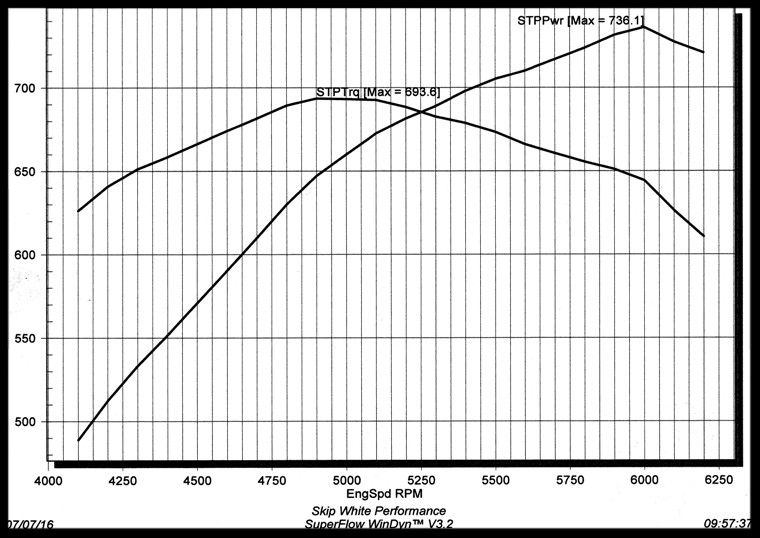 Official Dyno Results on this cam in our 555 engine with a dual plane intake and flat top pistons.
This is a low compression setup, (approx., 9.3:1) with our smaller 300cc oval port heads, and a dual plane intake. The hp and torque numbers are very impressive. This engine is what we consider a true torque monster, with this cam in it.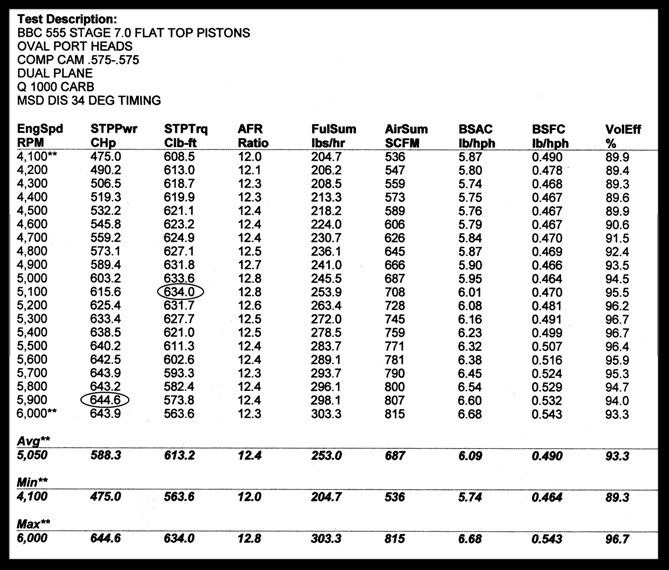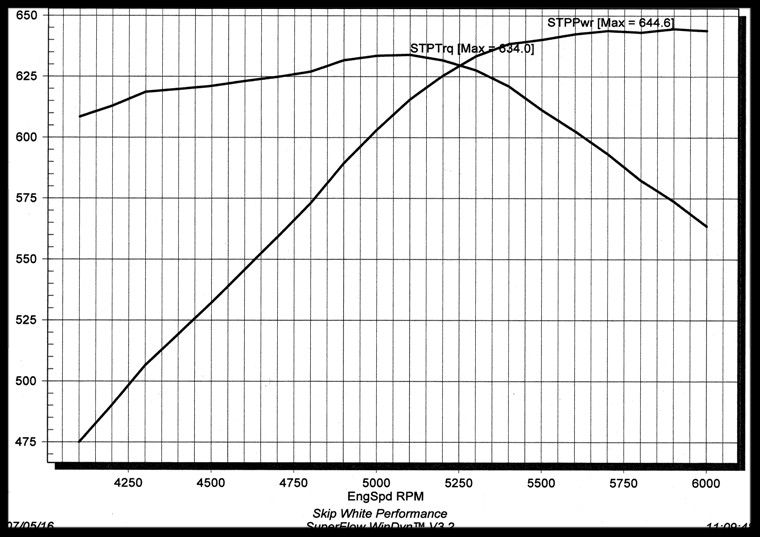 Official Dyno Results on this cam in our 555 engine with a single plane intake and AFR heads.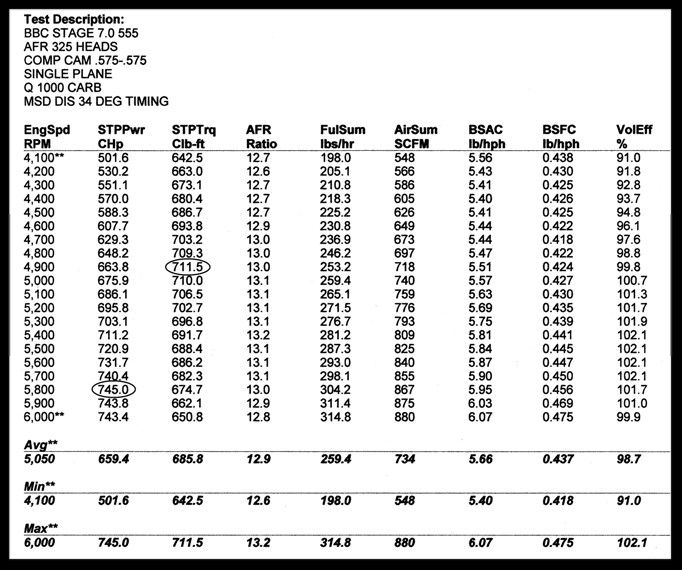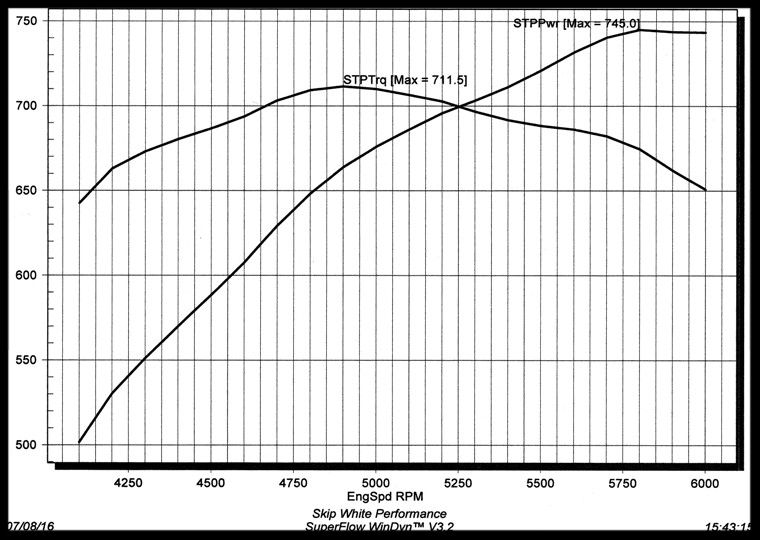 Official Dyno report on our 632 engine with this cam, AFR heads, and a single plane intake.
Our regular Howards Tie Bar hyd. roller lifters were on the verge of valve float at peak power rpm on the smaller bbc engines. As you may know, the smaller cubic inch bbc engines will require a bit more rpm to make max power, and right at 6000 rpm, the regular street tie bar lifters were allowing light valve float to enter the picture. This is evident on the dyno, as the engine takes a sharp nose dive right about 5900-6000 rpm.
Truth is, prior to this rpm, the hp numbers were not climbing the way they should, and minor valve float was taking place earlier than 5900. Valve float to a minor degree can allow a valve to come loose from its locks. This could spell instant doom for your engine. It would be fair to say that most dropped valves in bbc engines happen when the rpm is taken past the valve train limits.  Each time minor valve float comes in, it is weakening, or may we say, creating excessive wear on components that eventually lead to a dropped valve.
We have many allies against such problems, and without spending a great amount of money, including the lightweight PBM Competition valves, and Comp Cams light weight springs and retainers we use in all our bbc heads. We also use high quality lightweight roller rockers. Read below for more info on things you can do to prevent problems in the valve train when running cams in the upper lift range. If you think you can get by with a slightly smaller cam, we offer a cam that is identical in its overall design but has a slightly lower lift, 566/566, and a slight reduction in duration. It would be better suited for the 496 pump gas street rods in our opinion, and is less demanding on what type lifters you use. 
The 575/575 cam in this ad would be considered max size you could run on a normal pump gas 496 build, providing you had at least 10.5:1 compression and a set of heads that were 320cc or more. There is a point that larger than needed cams will not produce more power but leave you with less street manners than the smaller cam. 
We also offer a third cam choice in our lineup of bbc street rod cams. It has a lift range of 547/547 and even less duration. This is the most practical size cam for 454 and 496 engine builds that are put in heavier cars and sport trucks. This size cam offers the best street manners, and valve train stability is excellent. It's fair to say that 90% of our customers that choose a cam for their particular build end up with a cam that's larger than needed. 
Listed below are a few important solutions to preventing valve train issues while having maximum performance and longevity in your engine when running large lift cams.
The solution to running a hyd. roller cam of decent size in a bbc engine is an easy, low cost fix, thanks to the Howards Max Effort lifters and Comp lightweight springs. The cost is only slightly more than the regular Howards street tie bar lifters, and they are undoubtedly the most stable hyd. roller lifters on the market without going to all out racing hyd. lifters. The Max Efforts are also very quiet. Not sure what rpm range they can remain stable at, but we have pushed some of our bbc engines up to the 6500 rpm range in order to establish the fall off point of a particular build. Fall off on hp levels are gradual up to 400 rpm past the max hp rpm range when using these special lifters, and that's the way it should be. We now use these lifters with all three of our bbc cam choices. 
The next big cause for valve train instability when running a cam in the upper lift and duration range on a bbc engine would be having spring pressure that is too low. Regardless of what some may say would be the correct spring pressure, we know what it should be for safe operation and good performance. The numbers are slightly high, according to some uninformed authorities, but running too low of a spring pressure will assure valve float when running a cam of this size.
If you have weak springs or wrong pressure ranges in your setup, then you must correct this. We offer a proper set of Comp valve springs that work perfectly with this cam. They do not require unusually long valves. We're very satisfied with the seat to nose ratio. These springs are also much lighter in weight than previous springs we have used, and that's a real plus when trying to stabilize the valve train on a bbc engine running at near or above 6000 rpm. 
As you may know, there are larger lift bbc hyd. roller cams on the market, and we have used them for those running Pro-Street setups. Those also require a different type of lifter and special springs than what is used when running our regular Comp Cams. Our experience is vast on how to properly setup your valve train, due to the fact we have dynoed so many bbc street rod engines.
Big block Chevy engines pose a problem when running healthy sized hyd. roller cams if the valve train is not setup properly. It is essential that you address this before you start your build. 
We also offer this cam in a retro roller style for use with early model blocks.
Please read the complete ad before purchasing this cam.
If you would like expert cam recommendations for your engine, contact us through the "seller information" tab with the information listed below. We will tell you what cam is best suited for you. Running a cam that is too big in a given combination is not only pointless for making increased power, but creates a increased loss of drivability and unnecessary wear on the valve train. You must have sufficient cubic inch and/or compression ratio, coupled with correct size cylinder heads that will allow enough flow, to justify a particular size cam. Bottom-end and mid-range performance are always affected when you increase cam size, but it would be affected even more if a cam selection is over-sized to the point that no top-end power is gained. So choosing too large of a cam becomes a two-fold problem. Tuning also becomes more difficult with larger than needed cams. 
For a recommendation on the best cam for you, please contact us with us the following information: 
Vehicle model or weight.
Engine size, (cubic inch)
Approx. compression ratio.
Cylinder head runner size.
Single or dual plane intake, (if dual plane, what model)
Final gear ratio, and overall tire diameter if known.
Transmission model.
Converter stall range.
Your hp expectations, and how you will be using the vehicle (cruising, street, strip, show car, etc.)
If a lopey idle is highly desirable. The size engine you have determines this with a given cam choice. We can tell you exactly what a particular cam will sound like in an engine.
The brand and type/series of lifters you are running. Very important!
Our sales staff has limited technical knowledge on this product and are usually unable to answer many of the questions asked. See our other listings for variations of this product.

 

 

We are not responsible for collateral damage caused by the use of this product.

 
RETURN POLICY
Should a problem occur, please contact us. If a return is necessary, please contact us for an RGA number and return authorization. The RGA number must be included on the return label. If an item is returned without an RGA number, it will not be processed. A full description of what the problem is needs to be included with any returned product with your contact info, and proof of purchase. Even though you may have explained the problem to us, and been granted permission to return the product, we must have a written explanation and a contact number included with the product. It is also recommended that you include the name of the person from our company that you have been in contact with. You must send the item back to us in a trackable manner (USPS Priority Mail, FedEx, etc.) and keep the tracking info of the returned product. Please give ample time for returns to be processed. Following these guidelines will make the return process work as it should.  
PAYMENT AND SHIPPING DETAILS.
We offer great discounts on shipping. You only pay the full shipping fee on the highest shipping cost of your items, and HALF PRICE shipping on all additional items. Few offer discounts on shipping such as this. Our checkout system will automatically calculate your shipping discount at the time of final payment, providing you consolidate your payment.
You may receive a verification and tracking number shortly after purchase, but this does not necessarily mean that your product has shipped. It would be fair to say that 98% of products will be going out the day the shipping label is issued. On occasion, the product may not ship out until the next day after the label has been issued. Most products purchased late in the day will not be shipped until the next day.  
If you checkout and start over, the auto calculator will not recognize the multiple purchases, and there will be no shipping discount. 
FedEx is our primary shipper. We are unable to ship to APO/FPO addresses. Help us ship your order promptly by including your physical address at checkout. If your order MUST be shipped to a PO BOX, please contact us. Additional charges may apply. Below is a map representing the estimated delivery time to get to you from our location.
Delivery times may vary, especially during peak periods.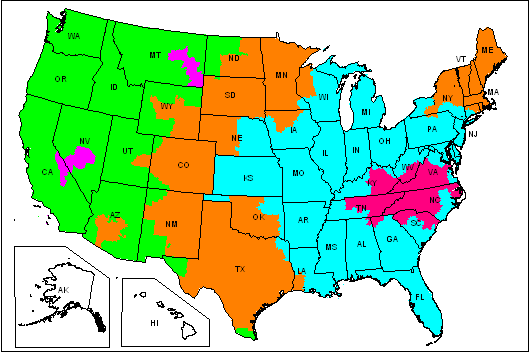 FedEx Home Delivery delivers Tuesday - Saturday. If a package leaves here on a Thursday, and you are in a 2 day delivery zone, your package may deliver to you on Saturday. If you are in a 3 day zone, and your package leaves on a Thursday, you should receive it on the following Tuesday. Expedited shipping is available upon request for an additional fee. Please contact us for rates. The estimated shipping time is usually as the map shows, but many factors can delay this.  
Hawaii and Alaska have a 6+ day estimated delivery time.
The shipping quoted in this ad is only for the 48 continental United States. If shipping to anywhere else, please contact us. The half price shipping on all additional items also only applies to items that are being shipped in the 48 continental United States.

Customer Reviews
This product does not have any reviews yet.