Product Information
| | |
| --- | --- |
| UPC | 333084882086 |
| Product Type | Shipped Product |
| Shipping Cost | $12.95 |
| Number of reviews | 0 |
MASTER TOP END KIT FOR BBC CHEVY OVAL PORT ALUMINUM HEADS.
file photo below shows rec. intake gaskets. you will rec. the correct felpro OVAL PORT intake gaskets.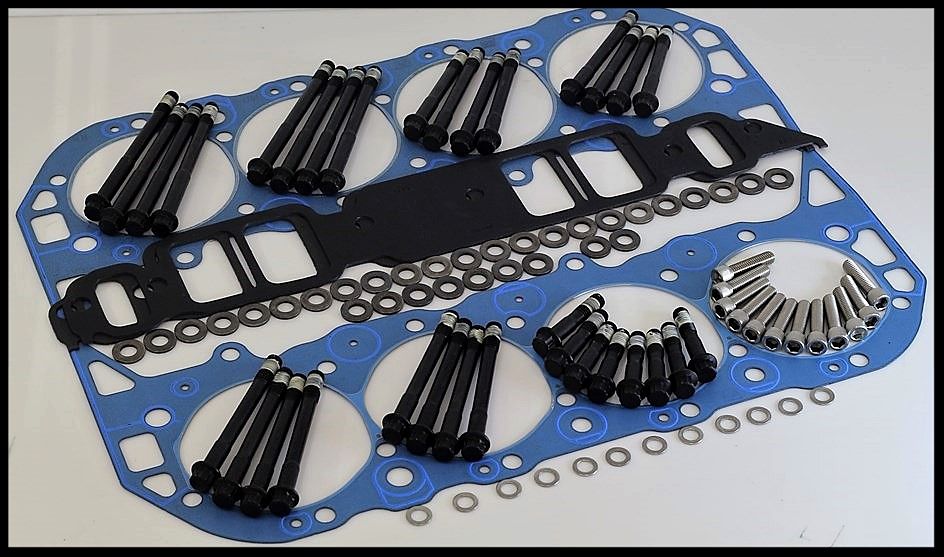 The picture above shows a rectangular port intake gasket. You will receive the correct felpro oval port intake gaskets.
This is the exact kit needed for, Speedmaster, Procomp and many other oval port bbc aluminum heads.
PART NUMBER, TEK-1017-1275-BBC-50
THIS IS EXACTLY YOU NEED WHEN INSTALLING A SET OF ALUMINUM HEADS ON YOUR BIG BLOCK CHEVY ENGINE. THIS IS THE CORRECT KIT FOR OUR BRAVO OR SPEEDMASTER BBC REC. PORT HEADS.
BBC FEL-PRO HEAD GASKETS, PART NO. 1017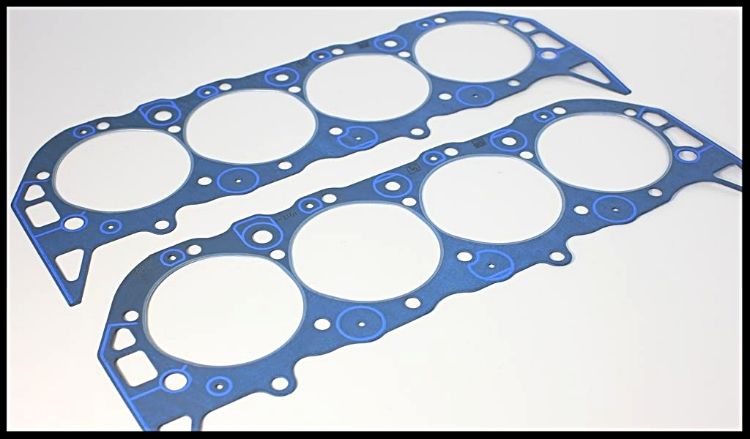 Forged in the fires of high performance engines, these Fel-Pro performance head gaskets are quite literally created to tame the fiery combustion chambers of up to 1,000 hp engines. Reinforced with KEVLAR® fiber and engineered to give you that perfect seal that can withstand combustion pressures of 1500 to 3000 psi, these gaskets are bred for high performance. They have a conformable anti-stick coating and are constructed with pre-flattened copper or steel rings to make these gaskets easy to install, while also giving them the strength to tame your beastly power plant. Their anti-stick coating ensures easy removal and cleanup on frequent rebuilds, but they also aid in micro-sealing minor surface irregularities.
When rebuilding your engine, use the parts you wish were in it to begin with. Put a set of these Fel-Pro performance head gaskets in that engine--not only to help it perform better today, but to make your next engine project that much easier.
Gasket Material:
Steel core laminate
Compressed Thickness (in):
0.039 in.
Compressed Volume (cc):
10.346cc
Note: Pre-flattened steel wire. Will not fit Gen V or GEN VI blocks
FEL-PRO BBC CHEVY INTAKE MANIFOLD GASKETS PART # 1212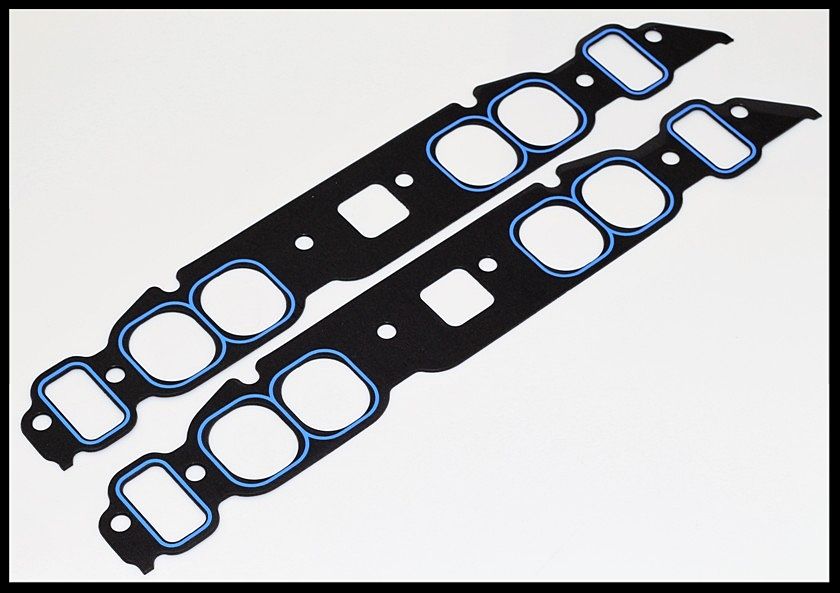 Port Height (in):

2.050 in.
Port Width (in):

1.820 in.
Gasket Material:

Printoseal
Thickness (in):

0.060 in.
Water Crossover Style:

Open
Important note
You may have noticed that some Felpro gaskets include the end pieces that are used at the front and back of the intake manifold. We do not include these, and we DO NOT recommend using them. It is well known that these end pieces are prone to pushing out and creating an oil leak. The better solution is to use a high quality sealant between the block and intake pad. You could ask 100 lifetime engine builders if they recommend using them, and we're certain most, if not all, would say not to use these end pieces.
BIG BLOCK CHEVY 12 POINT COMPETITION STYLE 32pc. HEAD BOLT SET WITH SPECIAL STYLE WASHERS
PART # BBC-50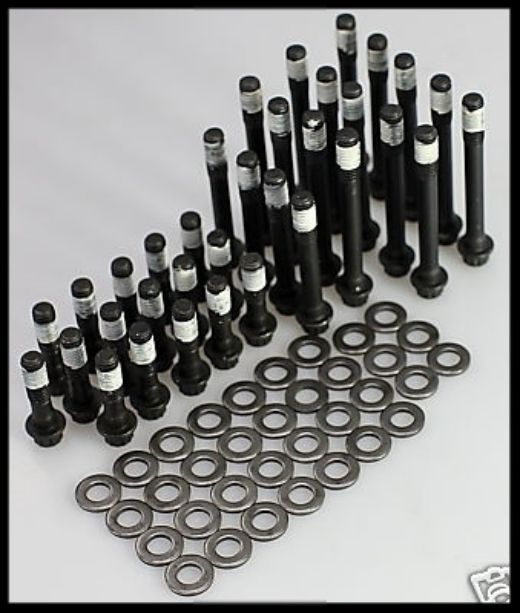 This kit contains the following, 8 bolts at 5.375 length, 16 bolts at 3.850, and 8 bolts at 2.00
These measurements are done from under the head to the bottom of the bolt. This is without the washer.
12 point head bolt set with washers. The washers are a special type washer. Remember to install the washers with the flat side down against the cylinder head. The head bolts have an extended reach to compensate for the washer thickness. Beware of others offering a similar kit with standard reach bolts. When using the special washers, the bolts must have an extended reach, as oe length bolts do not have sufficient reach to accommodate the thick washers. This is what we use on many of our engine builds. Zero problems to date. The 12 point head also allows for a tighter fit of the socket and less variance in the torque readings. Standard style 6 point head bolts allow the socket to round the corners slightly on the bolt and this will affect torque accuracy.
One of the most important benefits of the special style head bolt washers are that they distribute the pressure on the cylinder head, and provide a glide surface for the built in washer on the head bolt. This allows for much greater accuracy when torquing the head bolts. Those with aluminum heads must use the special style head bolt washers for two very important reasons. The aluminum surface tends to drag and gauld against the head bolt, causing inaccurate torque readings.
We do offer this kit with head studs also. I strongly recommend that you NOT use head studs unless you are very well skilled at sealing them. This kit with the traditional head bolts is all you really need for any engine that is in the 12:1 or less compression range.
Correct length high grade 18/8 stainless allen head intake bolts are included. 1.50 length allows the use of any and all brands of aluminum intake manifolds.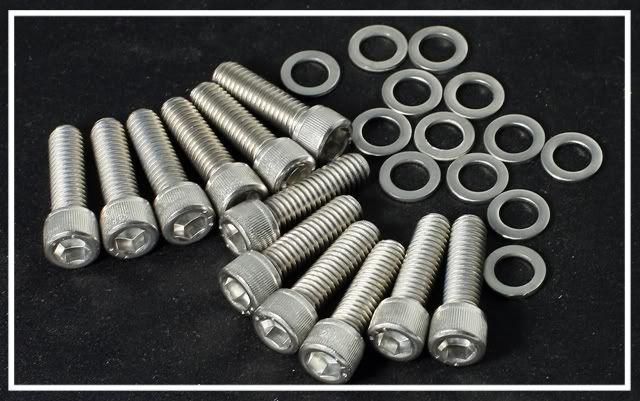 RETAIL VALUE, $179.00 OUR PRICE IS MUCH LESS.
WE HAVE BEEN VERY SELECTIVE IN CHOOSING THE BEST OF WHAT'S OUT THERE.
The stainless steel intake bolts are are allen head style. The specs are listed below.
Fastener Style


Allen head.
Thread Size


3/8-16 in.
Head Style


Allen head
Underhead Length (in)


1.50 in.
For use on alum. intakes




Fastener Material


Stainless Steel
Fastener Finish


Natural
Quantity


Sold as a set of 12.


THE TOTAL PRICE WE HAVE ON THESE ITEMS IS MUCH LOWER THAN YOU WILL FIND IF PRICED INDIVIDUALLY. THE HEAD GASKETS ARE FEL PRO'S RACE GRADE GASKET FOR ALUMINUM HEADS, AND THEY ARE VERY EXPENSIVE. THIS KIT IS ALSO FOR USE WITH CAST IRON HEADS.
Our sales staff has limited technical knowledge on this product and are usually unable to answer many of the questions asked. See our other listings for variations of this product.

We are not responsible for collateral damage caused by the use of this product.
Customer Reviews
This product does not have any reviews yet.