Product Information
| | |
| --- | --- |
| UPC | 351953528338 |
| Product Type | Shipped Product |
| Shipping Cost | $45 |
| Number of reviews | 0 |
BIG BLOCK CHEVY 300cc OVAL PORT ALUMINUM HEADS BY SPEEDMASTER
119cc COMBUSTION CHAMBERS
These heads are bare, without hardware.
This sale is for a set of heads (2 heads).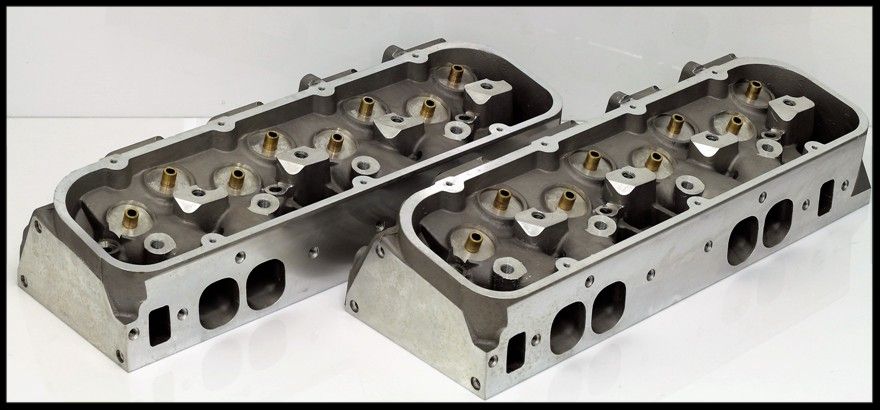 The Speedmaster bbc heads are perfect for 396, 402, 427, 454, 496 and 540 street/strip engines. They will produce up to 725 hp with the proper cam and intake manifold on pump gas. We also offer our new line of rectangular port bbc Bravo heads in our other listings.
In the lower section of this ad you will find valuable information on how these heads perform when used with various engine sizes and cam combinations in street rod form. Please read the complete ad before purchasing.
Valve sizes to use is 2.250 and 1.88. These heads have the correct seat diameter to allow use of these valves.
These are true multi-purpose heads for street, drag race, and power boat applications. This set is an excellent upgrade over OEM cast iron heads on your big block engine. We honestly feel there is not a better set of heads for the price. These heads are tried and proven. The intake runner volume is 300cc, and the combustion chambers are 119cc.
You can reduce your engine weight by around 100 lbs. with the use of aluminum heads. You can also increase your power up to 250hp over an OEM 454 engine, depending on choice of cam and intake manifold.
The horsepower gain from the weight reduction of aluminum heads alone is noticeable, not to mention the fact that aluminum heads will allow you to run a bit more compression without the risk of detonation. The benefits are many to running aluminum heads. The most expensive cars in the world all run them. There are no drawbacks!
Tech support is available. We are confident that we offer the best advice in the business.
We also offer these heads in built form. We hope you will check out our other listings for the many other items we have available.
SPEC INFO AND RECOMMENDED ACCESSORIES FOR FOR THESE HEADS.
Intake Gasket: Felpro 1212 For oval port heads.
Intake Port volume: 300cc
Intake Port Dim:
Int Port Location: Stock
Intake Valve Dia.: 2.250"
Exh Valve Dia.: 1.880"
Exhaust Port Dim:
Exh Port Location: Raised
Exhaust Gasket: Depends on what type exhaust you're using. Best to try and match up the gasket to your header or exhaust manifold
Head Gasket: Felpro 1017-1 for Mark V & VI blocks, or our PC-5211 MLS head gaskets for Mark V and earlier blocks.
Flow, Exhaust: BBC-50 Head bolts, or ARP 135-3607 Head bolts or our BBC-75 Head stud kits.
Manifold: Most any oval port style intake will work. Our oval port aluminum intakes fit very well.
Milling: Max. .060 Scroll down to see info in this listing for details on this.
Pistons: Most stock or aftermarket pistons. Our Wiseco pistons combine perfectly with these heads.
Push Rod length: You must use a push rod measuring device to determine what length is needed.
Push rod Guide Plate: We strongly recommend Dart adjustable guide plates. Not included. # BBC-ADJ-GP. See our other listings
Rocker Arm studs. ARP 100-7101 Do not use off-shore rocker arm studs. ARP only. Not included. See our other listings.
Retainers: Steel 10° Comp brand machined locks are used on all of our heads.
Spark Plug: Straight, .750"reach, gasket, Autolite 3923 or NGK 4544 for one step lower heat range. See our other listings for these.

Spring Pockets: 1.550" OD (.030" deeper max)
Springs: 1.46 outer diameter. Dual spring for hyd.
roller cams. Single for those running a hyd. flat tappet cam.
Valve Length: .250 over intake valves, std length exhaust valves.
Valve Stem Dia: .3415" - 11/32"
Valve Train: STD BBC 7/16" stud mount
Valve Guides: 1/2" OD Int = Mag-bronze Exh = Phos-bronze (.002" press)
Valve Guide length:
Valve Guide clearance: .0014" - .002" (with our .3415 dia. valve stem)
Valve Guide Spacing:
Valve Seats: Hardened Ductile Iron, .006" press
Valve Seat dim. Standard
Valve Seat angles: Int = 32° - 45° - 60° - 70° Exh = 37° - 45° - radius
Stud Girdle:
Torque: Head Bolts = 65-70 ft/lb
Rocker Studs = 50 ft/lb
Manifold = 35 ft/lb
Block Use: Any BBC, GM OR DART Iron or Aluminum
Weight: 69-72 lbs fully assembled pair.
A final note,
Our user id is: skipwhite, and our store name is whiteperformance1. You may have noticed other sellers using a similar name offering similar products. These other sellers have capitalized on our name as we see it, and many customers searching for us will inadvertently find them, thinking we are one in the same company. There is only one "Skip White." We are the original premier seller under this name since approximately 2002. We have no other names, nor are we associated with any other company regardless of the similarity in the name or location. Our official company name is Skip White Performance.

Skip White
We are not responsible for collateral damage caused by the use of this product.
Customer Reviews
This product does not have any reviews yet.