Chrome Plated GM Alternator CS130 Series Serpentine Belt 1-Wire 110 Amp, 777-C
Available
$97.95
---
Product Information
| | |
| --- | --- |
| UPC | 371820203940 |
| Product Type | Shipped Product |
| Shipping Cost | $12.50 |
| Number of reviews | 0 |
GM CS-130 STYLE ALTERNATOR FOR VEHICLES WITH SERPENTINE BELT DRIVE SETUPS.
CHROME OVER ALUMINUM. READ COMPLETE AD BEFORE PURCHASING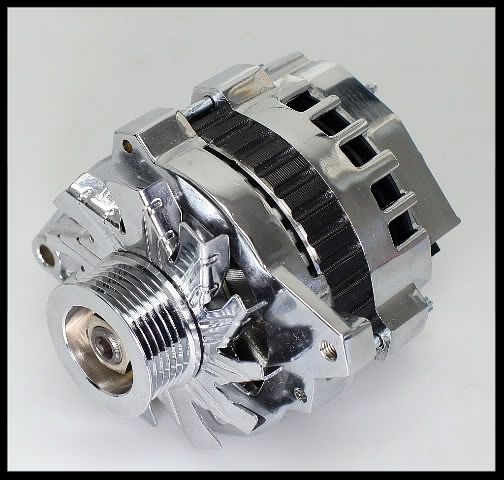 PART NUMBER: 777-C
Actual part number for this alternator is TSP 1003-C Due to this number conflicting with other products using the same number we have changed it to 777-C.
The chrome finish on this alternator is much better than some of the others we have seen on the market, but it is not flawless, as some people seem to expect it to be. You will not find any brand of chrome plated alternator on the market to have a perfect finish in every area of the case. Expecting the finish to be perfect in every nook, cranny, crack and crevice is unreasonable. Once mounted on the engine, the appearance from two or three feet away is what we consider excellent.
You must understand that these and all other chrome plated alts on the market start out with a rough cast aluminum housing that has been polished down smooth, then chrome plated, and polished once more. This process is very labor intensive. It's near impossible to make this type of item perfect in every area. Considering its overall shape, we find the finish to be very good, all things considered. Chrome plated items made from a cnc'd billet piece of aluminum will usually come out better, but this alternator is not produced that way.
Considering the price of this alternator, an absolutely flawless finish is not to be expected. Overall, we consider the finish to be smooth and glossy. Please be reasonable in your expectations.
Clean the surface with a household cleaner before installation. Often the manufacturer will apply an unsightly protective coating to prevent chafing from the packaging material.
The reliability of this alternator is outstanding. The failure rate is nearly nonexistent. We can't think of any electrical product that we have ever sold having a lower return rate. Rest assured many other units such as this on the market are not of this quality.
This really adds to the look of your engine, not to mention the dramatic increase in charging power.
Our sales staff has limited technical knowledge on this product and are usually unable to answer many of the questions asked. See our other listings for variations of this product.

We are not responsible for collateral damage caused by the use of this product.
Customer Reviews
This product does not have any reviews yet.