Product Information
| | |
| --- | --- |
| UPC | 332909633058 |
| Product Type | Shipped Product |
| Shipping Cost | $12.50 |
| Number of reviews | 0 |
HIGH PERFORMANCE MOPAR DODGE CHRYSLER 65K VOLT HEI DISTRIBUTOR 6513-BK
FITS DODGE MOPAR CHRYSLER SMALL BLOCK 318 340 360 V-8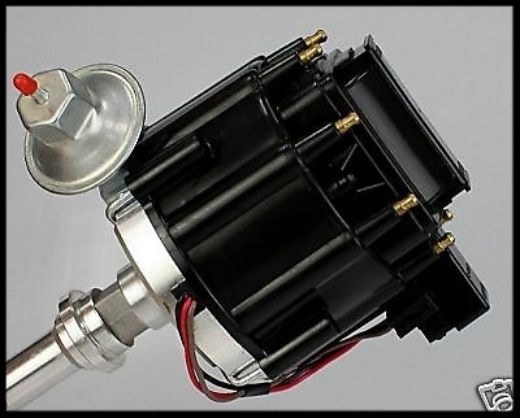 65,000 VOLT HEI DISTRIBUTOR.

Read this complete add before purchasing this product. Before you ask any questions about this product, please read the, "Important Note" in the lower section of this ad.
ONE-YEAR WARRANTY
This distributor uses a two wire connection. The red wire goes to the positive (+) side of the coil, along with the 12v ignition switch wire. The black wire goes to the negative (-) side of the coil. This distributor can be used with most any 12v coil that is designed for electronic ignition with a coil resistance of .5-1.0 ohms.
We are the no. 1 wholesale marketer of HEI distributors in the country.
We have many garages and speed shops that purchase these in case lots from us. We have the best HEI on the market.
You can replace your point style distributor with this. The difference in performance is dramatic, to say the least.
This is a totally revised unit.
ONE-YEAR warranty, unlimited mileage!
Brand new in the box. First line item.
We have been very selective on our choice of distributors, as there are many on the market.
We have sold this same style unit at our store for several years, and many high performance engines in this area are running this unit. The only difference is this is a much improved model. All parts used are brand new, first line quality. We know there are several manufacturers on the market, and we have been very selective in choosing the best company to make our distributors.
We are in the performance business.
Our company president, Skip W., strongly recommends the universal wires, as they will fit perfectly. The universal wires will only require one of the ends to be assembled. Seems most ready cut wires are never the perfect length for every engine. A plug wire crimper should be used. The extra 30 minutes or so of work to install universal wires are well worth it.
Fully CNC Machined - Polished Housing

Adjustable vacuum advance canister to improve economy while cruising

Premium caps with brass terminals, and a low-saturation Ignition module

It also offers true spark alignment for instantaneous response at high RPM
We offer a ONE-YEAR warranty on this distributor.
This is the perfect upgrade for your classic Chrysler V8 vehicle, or just part of a tune-up. It would not be practical to re-install the original HEI back into your engine if you are overhauling it.

Here are a few problems you are most likely to encounter, when using an old distributor.
excessive end shaft play
bushing wear
weak coil, worn or cracked cap, and button
weak module
corrosion buildup
weakened advance springs
gear wear
if going from points to HEI this alone is a huge upgrade
All of the above can greatly affect the performance of your engine.
These are just a few of the things that most old distributors have going on with them. For the low cost of a complete brand new one, it just makes little sense to used the original distributor. When we rebuild any early model engine, we insist the customer purchase a new distributor. You will notice a performance difference in your engine if you have any of the above issues with your old distributor. All of the old HEI's we see have excess end play in the shaft. I'm sure the coils on them are not at full voltage. This is much more than the oem model. All car makers have dramatically improved the ignition systems on cars and trucks. This is an indication of how important good ignition is to an engine.
WE ALSO HAVE ACCESSORY ITEMS AVAILABLE FOR THIS DISTRIBUTOR.
This distributor also has the performance curve setup. Do not be misled into thinking other HEI's on the market are superior to this. If anything they are most likely the older version. We have sold more HEI's than most others around, and we do our best to provide the newest models available.
The part numbers for distributors beginning with 65 and 85 are interchangeable. The distributors are identical in every respect. We changed the artwork on the package to private labeling and our supplier had to change our part number to distinguish our private label (85 series) from the standard labeling sold to other suppliers (65 series). You may receive the alternate part number since we still have both in stock.
Very Important Note.
Our technical knowledge is limited on this product. Our sales staff are usually unable to answer many of the questions asked. Many of the questions are, "how do you install this distributor", "what model cars will this work in", "how do I wire it up" Most of the people on our sales staff simply don't know these answers, and even if we did, the time involved answering so many of these questions is what led us to writing this notice. We update info in our listings on a regular basis, and if it's not in the ad, then there's a good chance we don't know the info. There is a solution to this problem for those with numerous questions about the product. You have all heard the saying that a picture is worth a thousand words. Well, it is, and with that being said, a video is worth a million words. If you go to YouTube and type in key words such as, "How to install an HEI distributor" you will find dozens of highly informative videos showing the complete process step by step. These video are usually very accurate. We suggest that you watch several of them because some are easier to understand than others, and some have additional info in them that may not be covered in the others. You can't possibly go wrong watching these videos. At one time, we put installation instructions in our ads, and they led to much confusion for many, and the emails and calls coming were numerous. The videos on YouTube will be all you need. They are very simple and straightforward to follow. We did a search on the key words mentioned above, and literally hundreds of "how to" videos on every aspect of installing an HEI came up. There were even videos on changing over from a point distributor to an HEI.
We are not responsible for collateral damage caused by the use of this product.
Customer Reviews
This product does not have any reviews yet.