CLEARANCE SPECIAL SBF FORD 1.7 7/16 ALUMINUM ROLLER ROCKERS CLEARANCE!
Available
$79.50
---
Product Information
| | |
| --- | --- |
| UPC | 332828153861 |
| Product Type | Shipped Product |
| Shipping Cost | $13.50 |
| Number of reviews | 0 |
FORD 289, 302, 351W ALUMINUM ROLLER ROCKERS. 1.7 7/16
We have several sets left over in our former warehouse. We sold these for many years and had great success with them.
They will have a 6 month warranty.
Some will be in original packaging some may not. They are brand new with the polylocks and in perfect condition.
The items in our clearance special will be selling at well below cost prices. These items have accumulated in our former warehouse that we're converting to our new additional machine shop for building engines. In the past, we would sell these items at local swap meets and other various selling venues. Due to time constraints, these items have to go.
We will do our best to point out any thing note worthy of these items. Go to our ebay store to see many hundreds of such items.
There are many reasons as to why these items are being closed out. Listed below are some of the many possibilities. Most all these items are in perfect working order, and good quality products. No gimmicks. We are in a rush to get our second machine shop up and going.
Open package
Returned from customers that choose the item wrongly.
Slight cosmetic flaw.
Left over stock of an item that was discontinued in the past.
One of many products used in testing engines in our dyno room.
Customer may have installed the product and found it to not be correct for his application. We don't normally take those items back.
A few have became slow sellers for us, as our business has shifted into high value items such as engines, rotating assem. and cyl heads.
We have purchased some items in bulk that were discontinued and have many of these items still in stock.
Were trying to clear our space for our new engine room and in a rush to do so.
Acquire funds to build our second new machine shop for building engines.
Water damage to the packaging from our leaking roof in our 30,000 sq. foot warehouse.
The pictures below show many of our clearance items on display. Once a year we would have sale specials for the local street rod and racing community. That sale would normally be taking place soon, but we have decided to list our items in an effort to speed up the selling process. The prices have been slashed to below our cost on all these items. These pictures only represent a fraction of what all we have accumulated over a long period of time.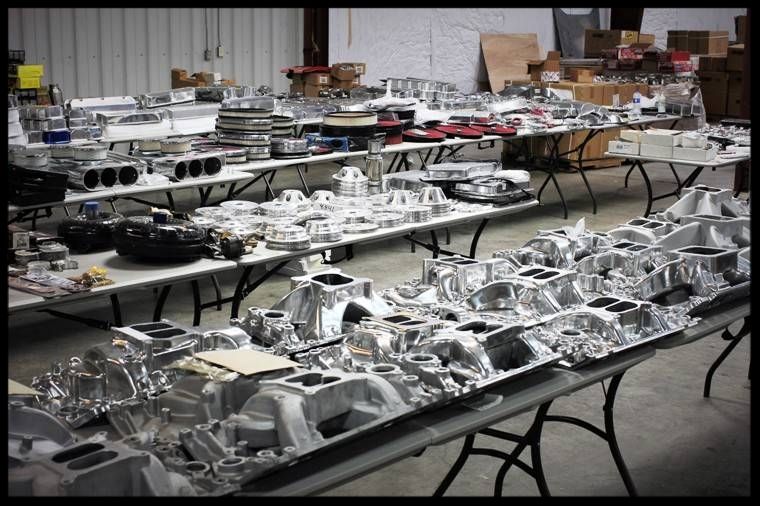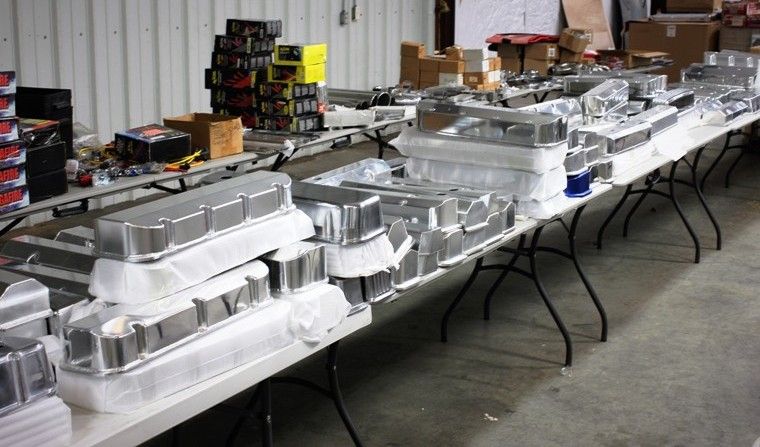 Our sales staff has limited technical knowledge on this product and are usually unable to answer many of the questions asked. See our other listings for variations of this product.

We are not responsible for collateral damage caused by the use of this product.
Customer Reviews
This product does not have any reviews yet.