Dyno Tune Upgrade - Carbureted Engines
Available
$360.00
---
Product Information
| | |
| --- | --- |
| UPC | 333915780099 |
| Product Type | Shipped Product |
| Number of reviews | 0 |
DYNO TUNE UPGRADE - CARBURETED ENGINES
This service (dyno tuning for carbureted engines) is an upgrade for those that have purchased an engine from our other listings.
This is one of the most important upgrade/options we offer. There are many benefits to this service. The engine is first run at fast idle to bring the water and oil temp up to normal operating temperature. It is then run for approx. 20 minutes under a simulated load at around 3k rpm to promote initial ring seating. After this, the engine is shut down to allow us to check the readings on the spark plugs, and for any possible oil leaks. This cool down is considered part of the engine's first heat cycle. We then follow up with multiple low to medium rpm runs to further the break-in process of all the moving parts in the engine. During these multiple runs, we are paying close attention to the EGT, (exhaust gas temp) readings, vacuum pump readings, oil temp and pressure, coolant temp, and overall engine sound. At this point, we start the actual dyno tuning process and this focuses around the air to fuel ratio numbers and what timing numbers produce peak power. We usually have to change carb. jetting several times, adjust the idle circuits, and the air-bleeds occasionally have to be changed. We then establish the engine's full horse power and torque numbers at a given rpm limit.
Having your engine dyno tuned will allow it to run its absolute best, and is very important in protecting the engine from potential damage caused by the carburetor running excessively rich or lean. This also establishes the engine's hp output and max rpm. These numbers are very important to know. There is one more value we consider just as important to what we have mentioned above. An engine that has been dyno tuned has also been validated to be in perfect operating condition. This is something that running the engine on a test mule can't provide. Any problems the engine may have will show up during the dyno tuning process. We have on rare occasion seen a popular combination show hp numbers that were not where they should be. Some of these problems give no indication other than reduced hp numbers. We find and fix such problems. The problem may be something simple and easy to find and in some cases very difficult to pinpoint. We will not send the engine out until it's perfect. If you choose not to purchase the dyno tuning package, we will still do a test mule run, as many engine builders do, and it certainly is better than nothing but pales in comparison to a full dyno tuning. When engines are dyno tuned, the chances of you having a problem are near non-existent. Unforeseen problems may still, occur but they are rare. We have kept the cost on this extensive procedure low to not only make it affordable, but it gives us great peace of mind knowing the engine will be in perfect operating condition when it is received. The cost to do a repair once the engine is installed can be very expensive for both us the seller and the customer. When you see the final dyno run of your engine on youtube, consider the fact that approximately five man hours, around $25.00 worth of fuel, oil and filter and $105K worth of dyno equipment went into making that one minute final test run video.
Pictured below is one of our actual Super Flow dyno's. This is a 2016 model and highly advanced compared to the much older models many shops have. We have two of these in use at our shop.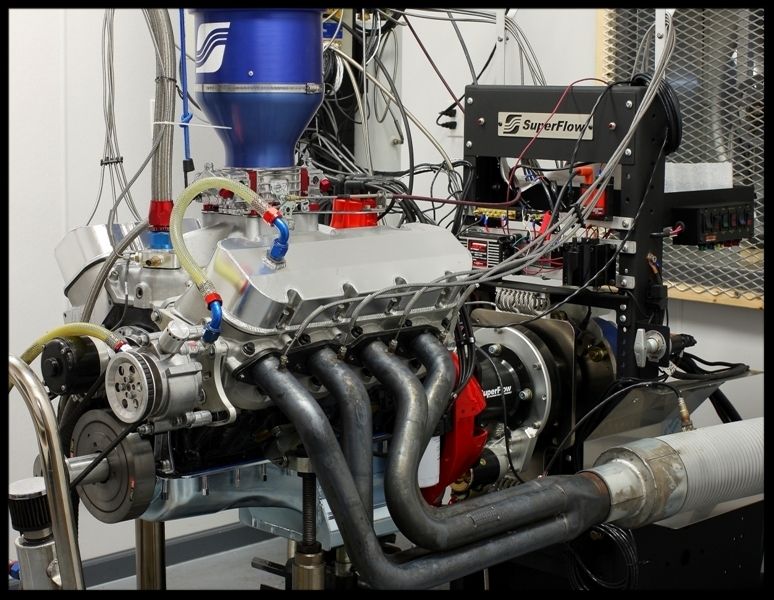 The Super Flow is the best dyno in the industry.
Customer Reviews
This product does not have any reviews yet.