FORD 352,360, 390, 406, 427, 428 HIGH VOLUME FUEL PUMP 1008-C CLEARANCE
Available
$39.50
---
Product Information
| | |
| --- | --- |
| UPC | 333959645478 |
| Product Type | Shipped Product |
| Shipping Cost | $10 |
| Number of reviews | 45 |
EXTREME SERIES HIGH VOLUME MECHANICAL FUEL PUMP FOR FORD 352 360 390 406 427 428 ENGINES.
*** IMPORTANT NOTE ***

You may add items into your shopping cart but in order to check out you will have to call us. Our check out feature on our website is being upgraded at this time. We can take your order over the phone and answer any technical questions you may have. We accept all major credit cards, cash, check, and money orders. Just give us a call at 423-722-5152 and we can process your order promptly. In the event you attempt to reach us outside of our operating hours, please leave us a detailed message and we will return your call at our earliest opportunity.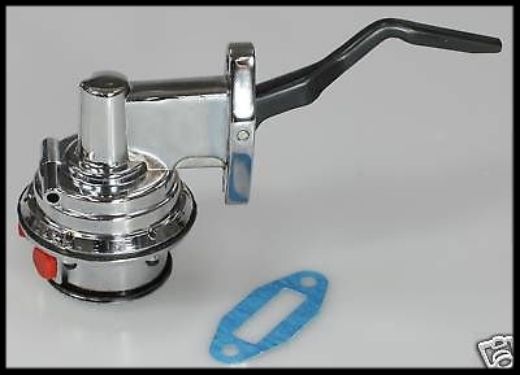 This fuel pump is the ideal size for most street/strip applications. It is what we recommend with most of the engine buildups we sell.
Fits FORD 352 360 390 406 427 428 engines requiring a mechanical fuel pump.
This fuel pump has 1/4" NTP inlets and outlet.
High Output Fuel Flow
Shutoff Pressure Pre-set 8.0 PSI
Fuel Pressure Regulator is Not Required, but recommended.
Heavy Duty Construction For Continuous High RPM Operation
Fuel Body Casting Can Be Rotated to Accommodate Various Plumbing Situations
Inlet & Outlet Tapped For 1/4" NPT
THIS FUEL PUMP HAS A RETAIL VALUE OF $69.95
This pump has a 80 gallon volume at 6 psi. At wide open throttle this pump may run a max pressure of 8psi. This is the fuel pump you want for high hp street or strip applications from 200-450 hp. The fuel demands under wide open throttle on an engine are very high, especially those with large cfm carbs. Never would you want to run a stock fuel pump on an engine that has been built up to any degree. Remember, most stock Chevy engines produced around 180-210 hp. The oem style fuel pumps were designed to accommodate a very low fuel demand.
Fuel pressure should be regulated to between 5 and 6 psi for normal driving. Off-roading might require less pressure, while all out drag racing might require 6-8 psi. Too much fuel pressure can cause the carb to run rich at low speeds, while too little fuel pressure might cause the carb to run lean during high engine speeds and loads. It is our recommendation that you run a fuel pressure regulator and gauge to set the pressure where it needs to be. The regulator will keep the pressure much more consistent, and eliminate problems caused by to much or to little pressure.
You will hardly ever see a well built street rod not running a pressure regulator. You don't need it with this pump, but it is recommended. See our other listings for many fuel pump related accessories.
NO FITTINGS ARE INCLUDED WITH THIS PUMP. FEW IF ANY FUEL PUMP WILL INCLUDE FITTINGS, AS THERE ARE SO MANY VARIABLES WHEN INSTALLING.
If your engine now has an oem stock fuel pump on it, and it is very close to the frame rail, be sure you have clearance before purchasing this pump. The Extreme series fuel pump is slightly larger than the oem stock pump. Most of the size increase is in the height and very little difference in diameter. We have seen some applications where the oem fuel pump is less than an inch from the frame rails. Most vehicles will have over an inch in all directions and this fuel pump is not a problem.
The fuel pump gasket is included.
PART NO. 1008-C
THIS IS WHAT YOU NEED TO DELIVER FUEL WHEN FUEL DEMANDS ARE HIGH. YOU NEVER WANT TO RUN A STANDARD VOLUME PUMP WHEN RUNNING A LARGE CARB OR WHEN FUEL DEMANDS ARE HIGH SUCH AS LONG UP HILL DRIVING UNDER A HEAVY LOAD. STARVING THE ENGINE FOR FUEL CAN RESULT IN A LEAN CONDITION, THAT IS VERY HARD ON THE ENGINE, NOT TO MENTION A LOSS OF POWER.
The chrome plating on this fuel pump is certainly better than most others we have seen. Not perfect but much higher quality. Seems like most other chrome fuel pumps on the market tend to have a somewhat frosty chrome finish on them. Our chrome finish is for sure a much better quality than most others.
ALSO SUITABLE FOR EVERY DAY STREET DRIVING
THE THREAD SIZE IS 1/4" NTP.
CHROME PLATED FINISH
The items in our clearance special will be selling at well below cost prices. These items have accumulated in our former warehouse that we're converting to our new additional machine shop for building engines. In the past, we would sell these items at local swap meets and other various selling venues. Due to time constraints, these items have to go.
Go to our store to see many hundreds of such items.
There are many reasons as to why these items are being closed out. Listed below are some of the many possibilities. Most all these items are in perfectly new condition. No gimmicks. We are in a rush to get our second machine shop up and going.
Left over stock of an item that was discontinued in the past.
A few have become slow sellers for us, as our business has shifted into high value items such as engines,
rotating assemblies, and cylinder heads.
We have purchased some items in bulk that were discontinued and have many of these items still in stock.
We're trying to clear out space for our new engine room and we're in a rush to do so.
Acquire funds to build our second new machine shop for building engines.
Our sales staff has limited technical knowledge on this product and are usually unable to answer many of the questions asked. Many of the questions asked are if we have fuel pumps for applications other than the ones listed. We do not have any other fuel pumps available other than what our listings show. This is an approx. total of about 10 mechanical fuel pumps for various domestic engines. For technical info on this product, please refer to the online car forums and Youtube. There is an abundance of on-line information on questions you may have on this product.

 

 

We are not responsible for collateral damage caused by the use of this product.

 
great to do business with quality parts

Reviewed by i***e on July 26, 2021, 6 p.m. | Permalink

This review has no votes.

great to do business with quality parts

Reviewed by i***e on July 27, 2021, 9:35 a.m. | Permalink

This review has no votes.

great to do business with quality parts

Reviewed by i***e on July 28, 2021, 2:43 a.m. | Permalink

This review has no votes.