HOLLEY 97 GPH RED SERIES ELECTRIC FUEL PUMP # 12-801-1 FUEL PUMP ONLY
Available
$169.95
---
Product Information
| | |
| --- | --- |
| UPC | 373497898845 |
| Product Type | Shipped Product |
| Shipping Cost | $10 |
| Number of reviews | 0 |
HOLLEY 97 GPH RED SERIES ELECTRIC FUEL PUMP
STREET/STRIP CARBURETED APPLICATIONS, GASOLINE ONLY
Part # 12-801-1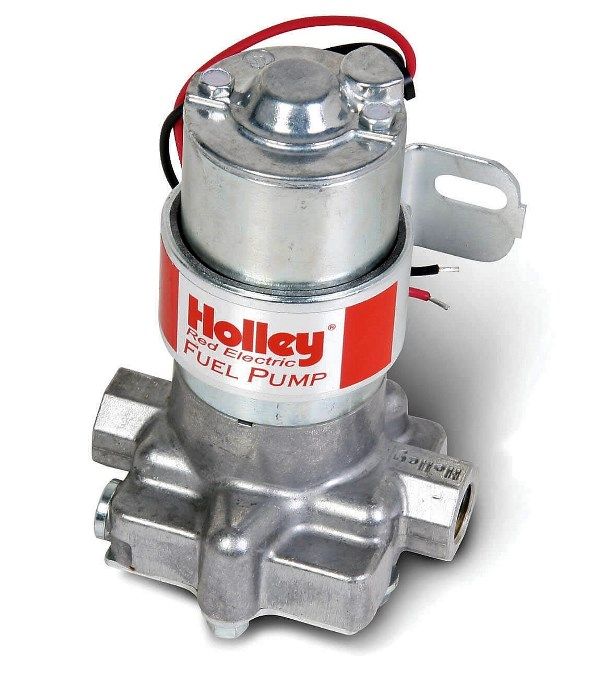 The world famous Holley Red® fuel pumps are the most recognized performance pumps of all times. They have been powering racing legends and street enthusiasts alike since the early 70's. Their time proven rotor/vane design is known to get the job done in an affordable package.
Features:
Tumble polished billet look
Lower housing casting designed for enhanced fuel flow
Motor draws only 2 amps current
Relay kit P/N 12-753 & 7 1/2 amp fuse recommended
Improved design for street/strip applications
NOT designed for use on aircraft of any type.
Distinctive Red logo
Flows 97 GPH (free flow)
Flows 71 GPH at 4 psi
Maximum pressure is 7 psi
Provides constant fuel flow with no pulsation
Has externally accessible pressure relief valve (max 7 psi)
Rotor/vane pump design is more tolerant of contaminated fuels
Weighs only 2.88 lbs
Includes mounting bracket
Repair kits are readily available
Can be serviced from the pump end
NOT compatible with alcohol or methanol fuels
Use of safety shut-off switch, P/N 12-810, strongly recommended
NOT designed or recommended for use with fuel injection systems
Holley Warranty Information
Holley Performance products warrants its new products to be free from defects in material and workmanship for a period of 90 days from date of purchase. Holley Performance Products Limited Warranty specifically DOES NOT apply to products which have been (a) modified or altered in any way; (b) subjected to adverse conditions, such as misuse, neglect, accident, improper installation or adjustment, dirt or other contaminants, water, corrosion, or faulty repair; or (c) used in other than those applications recommended by Holley Performance Products. Holley Performance products also does not warrant, and disclaims all liability for, products used in racing activities and/or applications other than those specifically recommended in the current brand catalog.
In the event of an alleged defect in material or workmanship, Holley Performance Products' responsibility is strictly limited to repair or replace the defective product. Holley has no other obligation expressed or implied. Final warranty determination will be in the sole discretion of Holley Performance Products. Holley shall not be responsible for; (a) actual or alleged labor, transportation, or other incidental charges; or (b) actual or alleged consequential or other damages incurred by use of any product of Holley Performance Products.
TO INITIATE THE WARRANTY PROCESS, the consumer must return the alleged defective product to the place of purchase with a dated receipt and completed applicable warranty claim tag.
Warranty claims will be rejected if the date of purchase cannot be established by the consumer. Do not send products directly to Holley Performance Products. Holley Performance Products assumes no responsibility for products sent directly to Holley Performance Products.
Our sales staff has limited technical knowledge on this product and are usually unable to answer many of the questions asked. See our other listings for variations of this product.

 

 

We are not responsible for collateral damage caused by the use of this product.

 
Customer Reviews
This product does not have any reviews yet.