Product Information
| | |
| --- | --- |
| Product Type | Carburetor |
| CFM | 800 |
| Barrels | 4 |
| Number of reviews | 0 |
HOLLEY SNIPER EFI SELF TUNING FUEL INJECTION SYSTEM
Holley Sniper EFI self-tuning fuel injection systems deliver all the benefits—and none of the hassles. These full-featured throttle bodies are easy to install, can support a lot of horsepower, and will keep your budget intact. They put an end to carburetor cold start issues, hesitations, vapor lock, and flooding. Each of these systems include an internal fuel pressure regulator (preset to 58.5 psi), eliminating the hassle of plumbing an external model. Make your conversion simple, while getting maximum bang for your buck, with a Holley Sniper EFI self-tuning fuel injection system in your favorite available finish.
*** IMPORTANT NOTE ***

You may add items into your shopping cart but in order to check out you will have to call us. Our check out feature on our website is being upgraded at this time. We can take your order over the phone and answer any technical questions you may have. We accept all major credit cards, cash, check, and money orders. Just give us a call at 423-722-5152 and we can process your order promptly. In the event you attempt to reach us outside of our operating hours, please leave us a detailed message and we will return your call at our earliest opportunity.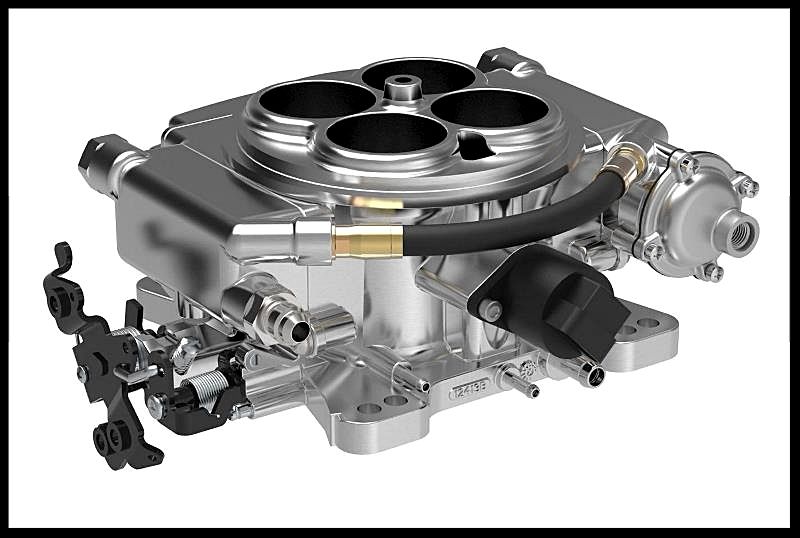 THE PICTURES DISPLAYED ARE FILE PHOTOS. ACTUAL APPEARANCE MAY VARY.
Holley Sniper EFI Self Tuning Features
* Available finishes: black ceramic, classic gold, and shiny
* Available in base and master kits (master kits include complete fuel system: 20 ft. of Earl's Vapor Guard fuel hose; 12-920 fuel pump; filters; necessary hardware, and bulkhead fitting for returning fuel to tank)
* Dual-pattern bolt-on carburetor replacement, designed to fit 4150 flange and spread-bore manifolds (spread bore sealing plate 9006 recommended)
* Supports up to 650 hp with four 100 lbs./hr. injectors
* 4-wire vehicle connection: battery +, battery -, switched ignition, and rpm
* Integrated ignition timing control and coil driver
* Color touchscreen for setup and gauge views
* Calibration wizard and self-tuning, integral-mounted ECU –no laptop required
SPECS
| | |
| --- | --- |
| Brand | Holley Sniper EFI |
| CFM | 800 |
| Coast Guard Approved | Yes |
| Emission Code | 3 |
| Finish | Shiny |
| Flange Style | Dual Bolt Pattern |
| Fuel Pressure | 58.5 PSI |
| Height | 3.28" |
| Injector Size | 100 lb/hr @ 58.5 PSI |
| Inlet / Outlet Size | 9/16-18 Female O-Ring (AN 6) |
| MAP Sensor | 2Bar |
| Max Horsepower Rating | 650 Naturally Aspirated |
| Model | 4150 EFI Conversion Throttle Body |
| Product Type | Sniper EFI |
| Transmission | 700R4/200R4 |
|   | TH350 |
| UPC | 090127728994 |
| Part Number | 550-510 |
RETURN POLICY
Should a problem occur, please contact us. If a return is necessary, please contact us for an RGA number and return authorization. The RGA number must be included on the return label. If an item is returned without an RGA number, it will not be processed. A full description of what the problem is needs to be included with any returned product with your contact info, and proof of purchase. Even though you may have explained the problem to us, and been granted permission to return the product, we must have a written explanation and a contact number included with the product. It is also recommended that you include the name of the person from our company that you have been in contact with. You must send the item back to us in a trackable manner (USPS Priority Mail, UPS, etc.) and keep the tracking info of the returned product. Please give ample time for returns to be processed. Following these guidelines will make the return process work as it should.  
 PAYMENT AND SHIPPING DETAILS.
We offer great discounts on shipping. You only pay the full shipping fee on the highest shipping cost of your items, and HALF PRICE shipping on all additional items. Few offer discounts on shipping such as this. Our checkout system will automatically calculate your shipping discount at the time of final payment, providing you consolidate your payment.
You may receive a verification and tracking number shortly after purchase, but this does not necessarily mean that your product has shipped. It would be fair to say that 98% of products will be going out the day the shipping label is issued. On occasion, the product may not ship out until the next day after the label has been issued. Most products purchased late in the day will not be shipped until the next day.  
If you checkout and start over, the auto calculator will not recognize the multiple purchases, and there will be no shipping discount.
 FedEx is our primary shipper. We are unable to ship to APO/FPO addresses. Help us ship your order promptly by including your physical address at checkout. If your order MUST be shipped to a PO BOX, please contact us. Additional charges may apply. Below is a map representing the estimated delivery time to get to you from our location.
Customer Reviews
This product does not have any reviews yet.