MR GASKET HOT ROD CALCULATOR 60% OFF # 8703 CLEARANCE SPECIAL!
Available
$37.95
---
Product Information
| | |
| --- | --- |
| UPC | 373540338727 |
| Product Type | Shipped Product |
| Shipping Cost | $8 |
| Number of reviews | 0 |
HOT ROD CALCULATOR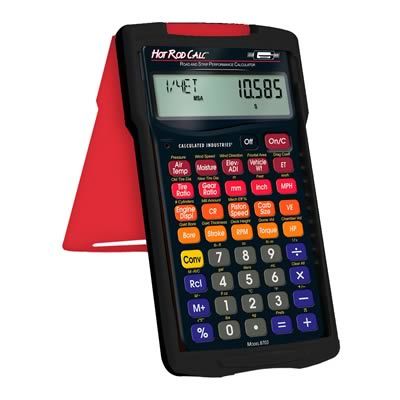 Power Supply:
Two LR44 batteries
Quantity:

Sold individually.
The Hot Rod Calculator allows instant, on the spot, calculations of how engine changes and at track vehicle setup changes can effect power output and track performance. Easy to use formulas for the professional or novice will show you how engine changes like compression ratio and air fuel mixture effect your engine's power and torque outputs. At the track, see how things like gear ratio changes or weather conditions can effect your E.T. (accurate weather data required). Hot Rod Calculator - Street and Strip performance calculator for use by racers, engine builders and automotive enthusiasts. This is the chance to know up front how changes will translate into power and performance, so before you spend your time or money, use the Hot Rod Calc to get the answers. Pre-programmed formulas for engine building and track tuning. Quick reference guide with 100s of formulas included for ease of use. Easy to use, self contained, no additional computer or monitors required (accurate weather data required for some ET calculations) Hand held, take it anywhere, and includes protective Armadillo case at no additional charge. Universal for or use to do any mathematical calculations related to engine performance and vehicle E.T. Two LR44 batteries and protective case included.

Mr. Gasket's street and strip performance calculators are the first ET predictor calculators with built-in motor building and performance solutions. Use it to calculate temperature, elevation, pressure, and moisture. You can instantly calculate how changes in your car's engine and fuel system will affect performance. Includes two L-R-44 batteries, user guide and a protective case.
A note from our company president, Skip White
I find the Hot Rod Calculator a very valuable tool. It will educate you on the positive or negative changes made to your car and or engine. Gearing, weight, horsepower, and dozens of important factors are addressed. Knowing how your car will perform with different setups and settings is very important. You will be surprised at the difference gearing can make in et. This calculator uses similar programming used on dynos to correct hp and torque numbers for elevation, temp, and other factors. This has to be the handiest device for setting up an engine and car I have ever seen. One more very valuable tool is the compression calculator. It is very easy calculate your compression, and see what changes you need to make on head combustion chamber size or piston style when building your engine. Our engine builders think everyone that's into high performance should own one of these.
The items in our clearance special will be selling at well below cost prices. These items have accumulated in our former warehouse that we're converting to our new additional machine shop for building engines. In the past, we would sell these items at local swap meets and other various selling venues. Due to time constraints, these items have to go.
Go to our store to see many hundreds of such items.
There are many reasons as to why these items are being closed out. Listed below are some of the many possibilities. Most all these items are in perfectly new condition. No gimmicks. We are in a rush to get our second machine shop up and going.
Left over stock of an item that was discontinued in the past.
A few have become slow sellers for us, as our business has shifted into high value items such as engines, rotating assem. and cyl heads.
We have purchased some items in bulk that were discontinued and have many of these items still in stock.
We're trying to clear out space for our new engine room and we're in a rush to do so.
Acquire funds to build our second new machine shop for building engines.
Our sales staff has limited technical knowledge on this product and are usually unable to answer many of the questions asked. We do not have any variations of this product other than what our listings show.

We are not responsible for collateral damage caused by the use of this product.
Customer Reviews
This product does not have any reviews yet.