MSD 6425 CAPACITIVE DISCHARGE UNIT DIGITAL 6AL # 6425-RED
Available
$349.95
---
Product Information
| | |
| --- | --- |
| UPC | 333919884284 |
| Product Type | Shipped Product |
| Number of reviews | 0 |
MSD DIGITAL 6AL CAPACITIVE DISCHARGE (CDI) UNIT.
PART NUMBER 6425-RED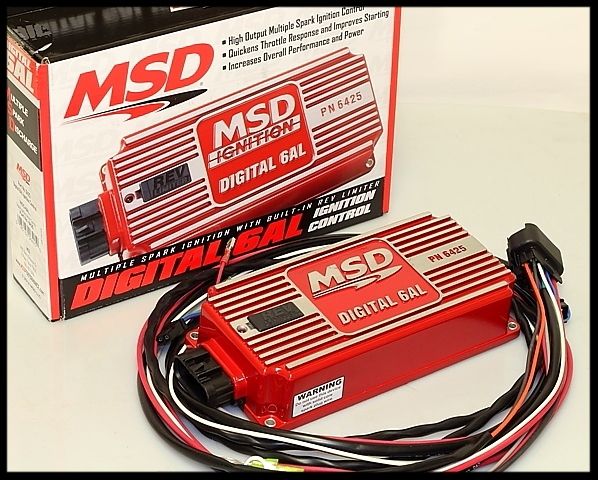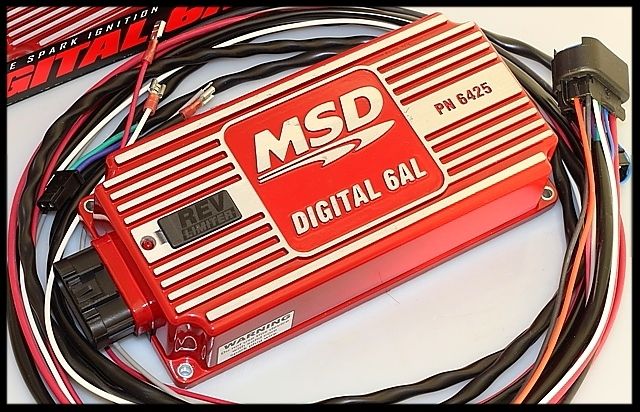 THIS SYSTEM IS A MUST FOR CARBURETED V8 Chevy engines.
You will receive all the items pictured above. Brand new first line in its original packaging.
CDI Voltage Output to Coil

 

520-540

 

Circuitry

 

Digital

 

Coil inc.

 

No

 

Amp Draw

 

0.7 amps per 1,000 rpm

 

Data Acquisition

 

No

 

Height

 

1.875 in.

 

CDI Box Color

 

Red

 

Ignition Box Output

 

Capacitive discharge

 

Length (in)

 

8.000 in.

 

Maximum Operating Voltage

 

15

 

Minimum Operating Voltage

 

12

 

Qty.

 

1 CDI Box as part of 3 pc. system

 

Rev Limiter

 

Yes

 

Spark Output (millijoules)

 

135-145

 

Timing Retard

 

None

 

Warranty

 

1-year

 

Width (in)

 

4.000 in.

 
It is strongly recommended that you use a high quality set of plug wires. 8.5mm or better. We offer a set of premium wires that would be suitable for this system at a very special price. See our listings.
Advance with the digital power of your popular favorite: MSD 6AL ignitions. With less power draw and higher output, MSD moves you with "the fire to drive" in a digital powerhouse! Inside microprocessors, updated circuits and efficient components monitor and handle every firing and rev limit to produce more power while pulling less current. Don't worry; features that made their 6AL boxes your first choice remain but with improved output - more than 135mJ of spark energy for every firing with 530+ volts to the coil!
And, to go with the new power, a new look. These digital 6AL ignition controllers are sleek with a lower profile. Wiring is routed out one end through a sealed and locked connector and two rotary dials to set rpm limit are positioned right on top, for easier installation, super easy access and a clean, neat appearance under the hood. Controllers are supplied with wiring harness and components you need for install plus, vibration mounts. Increased output and proven multiple-spark power…MSD digital 6AL ignition controllers are a definite win-win!
Capacitive discharge ignition (CDI) is essential for maximum performance. Engines with high lift cams (several steps above stock) can benefit greatly, as a cdi system will burn fuel in the low rpm range very efficiently. You will not see any serious street rod without this type setup.
Space does not allow a full explanation of all the benefits to running a CDI system. Just ask around, and you will see how many people have found this system to be a great improvement over HEI systems. Installation is very simple. The MSD unit comes with a full set of instructions.
As usual, we are very selective in the type of products we sell. This unit meets all of our requirements: quality, low price, & practical.
NOTE FROM OUR COMPANY PRESIDENT
Read up on the many benefits of running CDI ignition and you will be amazed at what you are missing. Engines with medium to aggressive cams cannot burn fuel efficiently in the low rpm range. This is due to the aggressive cam profile, large cylinder head and intake runners, and high cfm carbs in most all medium to high performance engines. Engines with a so-called lopey idle that doesn't smooth out till around 2000 or more rpm are responsible for much of the carbon build up in the combustion chambers, and occasional plug fouling when cruising for any length of time. This also worsens the drivability, performance and fuel mileage.
CDI systems improve combustion to such a degree that you will notice the difference in many ways. The intense multi spark function is the key to it all. If you have a medium to high performance engine, and are running an HEI distributor, then all the above issues mentioned will most likely become a reality to some degree. If you do have an above stock street rod engine with a conventional ignition system, then you are holding it back from its full potential, not to mention the other issues listed in this article by not running a capacitive discharge system. Even if your engine is not in the high performance range, this system will still offer improvements in may ways over an HEI distributor, including faster start ups, better low speed drivability, and improved fuel mileage. There are no drawbacks! The MSD unit comes with very clear cut installation instructions for use with many different type distributors.
Skip White
SERVICE AND WARRANTY ISSUES ON MSD PRODUCTS ARE HANDLED THROUGH MSD. PLEASE CONTACT MSD ON THESE ITEMS. DO NOT RETURN TO SKIP WHITE PERFORMANCE.
Limited Warranty
MSD warrants this product to be free from defects in material and workmanship under its intended normal use*, when properly installed and purchased from an authorized MSD dealer, for a period of one year from the date of the original purchase. Contact MSD's customer service department for an RMA number before returning an MSD item.
* Intended normal use means that this item is being used as was originally intended and for the original application as sold by MSD. Any modifications to this item or if it is used on an application other than what MSD markets the product, the warranty will be void. It is the sole responsibility of the customer to determine that this item will work for the application they are intending. MSD will accept no liability for custom applications.
We are not responsible for collateral damage caused by the use of this product.

 
Customer Reviews
This product does not have any reviews yet.