MSD SUPER CONDUCTOR UNIVERSAL WIRES RED, STRAIGHT BOOTS. # MSD-31189
Available
$139.95
---
Product Information
| | |
| --- | --- |
| UPC | 373496637132 |
| Product Type | Shipped Product |
| Number of reviews | 0 |
MSD SUPER CONDUCTOR RED WIRES. UNIVERSAL WTH STRAIGHT BOOTS.
# MSD-31189 RED WIRES.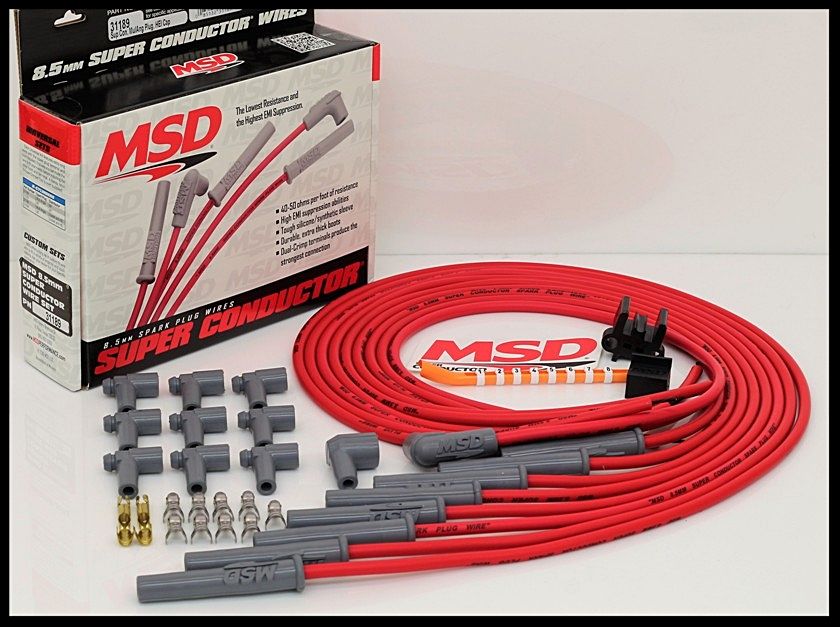 These wires are premium grade and highly recommended for those running a cdi ignition system. You may use them without a cdi system also. They are universal length for custom fit. We would consider these wires very high quality.
MSD's 8.5mm Super Conductor wire sets have a special helically wound core that has just 40-50 ohms of resistance per foot--but with an RFI suppression equal to a 1,500 ohm wire. In fact, each foot of finished wire features 40 ft. of tightly wound copper for superior conductivity. This winding procedure, combined with a ferro-magnetic impregnated center core, produces an extremely effective Electro Magnetic Interference "choke". This choke, or suppression capability, keeps the EMI inside the wire where it cannot interfere with other electronics on your vehicle. A tough, 8.5mm synthetic/silicone jacket over an extra-heavy glass braid and dielectric insulator keeps the current guided to the plugs. Underneath the high-temperature boots, dual crimp stainless steel terminals feature snap-locks to ensure a secure fit. Each set comes with clip on cylinder markers, for easy identification. MSD's 8.5mm Super Conductor wire sets come available in custom or universal-fit applications.
Assembled

 

No. These are universal. Must be cut/sized.

 

Coil Wire Inc.

 

Yes

 

Conductor Style

 

Spiral core

 

Wire diameter

 

8.50mm

 

Distributor Boot Color

 

Gray

 

Distributor Boot Material

 

Silicone

 

Distributor Terminal Ends

 

Male/HEI and Female/Socket

 

Quantity

 

Fits V-8 or V-6

 

RFI Suppression

 

Yes

 

Spark Plug Boot Color

 

Gray

 

Spark Plug Boot Ends

 

Eight Straight boot

 

Spark Plug Boot Material

 

Silicone

 

Cable Color

 

Red

 
SERVICE AND WARRANTY ISSUES ON MSD PRODUCTS ARE HANDLED THROUGH MSD. PLEASE CONTACT MSD ON THESE ITEMS. DO NOT RETURN TO SKIP WHITE PERFORMANCE.
Limited Warranty
MSD warrants this product to be free from defects in material and workmanship under its intended normal use*, when properly installed and purchased from an authorized MSD dealer, for a period of one year from the date of the original purchase. Contact MSD's customer service department for an RMA number before returning an MSD item.
* Intended normal use means that this item is being used as was originally intended and for the original application as sold by MSD. Any modifications to this item or if it is used on an application other than what MSD markets the product, the warranty will be void. It is the sole responsibility of the customer to determine that this item will work for the application they are intending. MSD will accept no liability for custom applications.
We are not responsible for collateral damage caused by the use of this product.

 
Customer Reviews
This product does not have any reviews yet.