SBC BBC CHEVY FORD COMP CAMS DUAL VALVE SPRINGS FULL SET VTH 987-16
Available
$124.95
---
Product Information
| | |
| --- | --- |
| UPC | 334382771410 |
| Product Type | Shipped Product |
| Shipping Cost | $0 |
| Number of reviews | 0 |

COMP CAMS PRO-SERIES DUAL VALVE SPRING SET,(16) FOR USE WITH HYDRAULIC ROLLER CAMS FOR SBC, BBC AND SBF CYLINDER HEADS.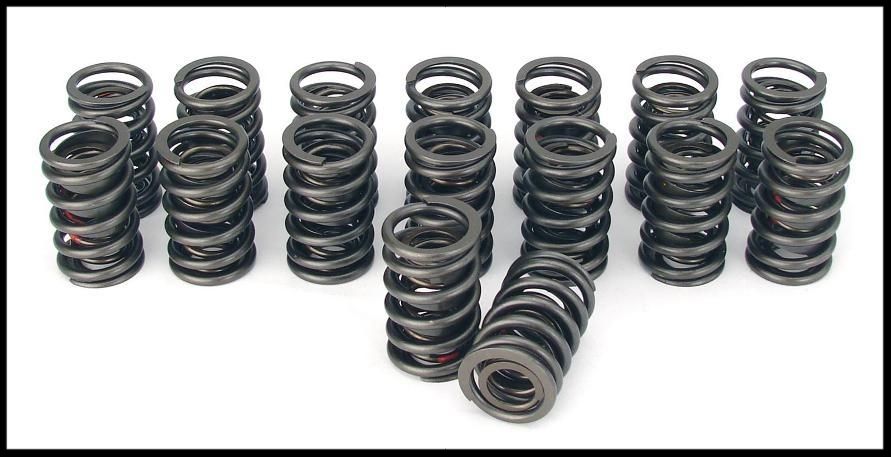 These valve springs have a flat ribbon internal damper, with a dual inner spring. The internal damper is very effective in calming spring harmonics at high rpm, and offering greater overall stability to the outer spring. These springs are for use with a hydraulic roller camshaft. Not for use with flat tappet cams. Made in the USA by Comp Cams. See our other listings for a full selection of valve springs. We now use these springs in all our engines.
Most low cost valve springs are inferior to these, in our opinion. Ratings are usually inaccurate, and quality is compromised. Power loss will result from springs that have taken set, become lazy, as it may be called, much like the springs in a worn mattress. Low grade springs are notorious for loosing their vibrancy much sooner than a high quality spring. One more problem with such springs is that they are very prone to contributing to valve float at high rpm. If your springs are not quick and at the proper lb. rating, then they not only have trouble closing the valve, they also tend to cause the lifter to bounce at the peak point of the cam lobe. Springs that are rated too low are sure to cause power loss irrespective of wear. Standing height 2.10" This setup is also used on most solid flat tappet sbc cams that are above .530 lift. Not to be used with solid roller cams.
This is full set dual springs with internal dampers in each. This is a total of three components in each spring.
Some sellers refer to the internal damper as a spring and it is not. The damper does provide a slight amount of spring action but it is not classified as a spring. This auction is for a true dual spring setup.
We have used Comp and Melling valve springs for many years and have yet to experience one failure. There are several low grade springs on the market that we have encountered and we found them to be very inaccurate on lb rating, not to mention their progressive rate is erratic. This may sound like sales hype, but take our word on this. We know of many sellers offering springs that not only have lb ratings that are incorrect, but the quality is poor overall. Having the incorrect springs for your cam will most certainly cause problems.
These springs are exactly what you need for a hydraulic roller camshaft in the lift range of .440-.620 Not for use on any type of flat tappet camshaft. If you have a hyd. flat tappet camshaft, see our other listings for that spring kit. You should always use new locks and retainers with new springs. We offer many of the much needed hardware associated with valve springs. See our other listings.
You can vary slightly on recommended spring ratings for your cam and not have an issue. Give us a call if you're not sure what you need. When a cam company says what spring rating they recommend, they are telling you what is most ideal, but just remember one thing, if they do tell you that you have to have that exact spring rating, they will also tell you that they just happen to carry that spring. As said, the rating they recommend is most ideal, but does not have to be exact. 
We purchase these springs in bulk cases of 100 ct. and repackage in kits of 16.
UPC: 036584272144
Number of Valve Springs per Valve: Dual (2)
Outside Diameter of Outer Spring (in.): 1.430 in.
Coil Bind Height (in.): 1.150 in. 
Damper Spring Included: Yes
Spring Rate (lb/in): 370 lb/in
Inside Diameter of Outer Spring (in.): 1.070 in.
Inside Diameter of Inner Spring (in.): 0.697 in.
Valve Spring Style: Standard
Coated: No
Quantity: Sold as a set of 16.
Notes: We purchase these in bulk for our cylinder head and engine programs directly from Comp Cams. The product is then repackaged by us for retail sale. This is the only brand of valve springs we recommend.
BRAND INFORMATION
From the asphalt tracks of NASCAR to local dirt tracks and drag strips to your personal garage, COMP Cams has made a promise to all performance enthusiasts to engineer and produce the best camshafts available for your application.
MANUFACTURER INFORMATION
For more than 35 years, the COMP Cams® mission has never changed: to produce the highest-performing products possible, provide customers with superior service, and to lead the industry in technological development. While the COMP Performance Group™ has grown to multiple companies and hundreds of employees, they still retain the competitive spirit and desire to be the very best that has positioned COMP Cams® as the absolute leader in valve train components.

COMP Cams® has never forgotten that performance is defined by results - both at the track and on the street. COMP Cams® is driven by technology. The integration of research, engineering and development at COMP Cams® is what we call our "Systems Technology" and it consistently proves itself by out-performing the competition. Whether you're looking for horsepower, reliability, or gas mileage, COMP Cams® has the products that will deliver.
We purchase most of our valve train hardware in bulk for our engine program. Therefore, they will come to you in our packaging on most occasions. Below are copies of our invoices from Comp Cams showing rather large purchases of valve train hardware. We have removed the price and our account number for privacy reasons. This is the best way we can prove to our customers that the valve train products we use and sell are genuine Comp Cams products.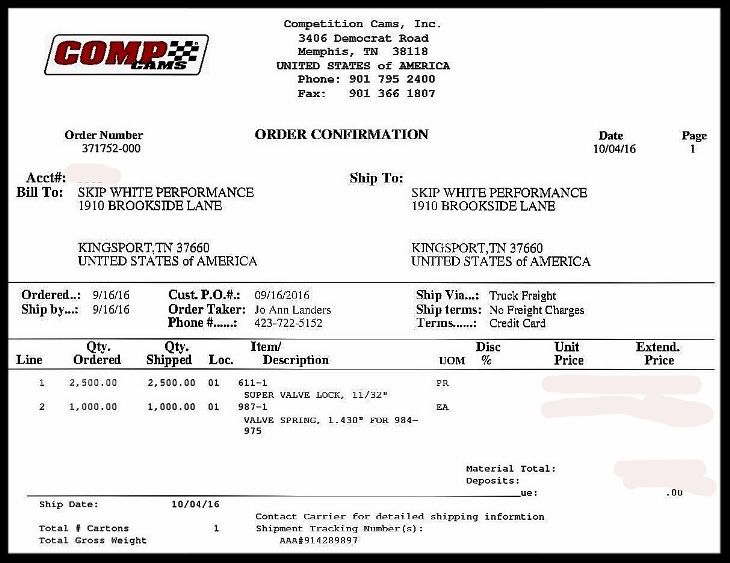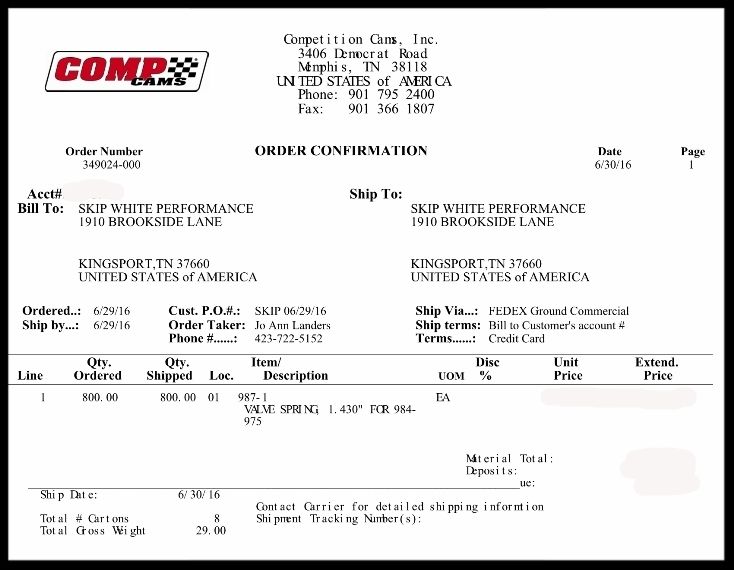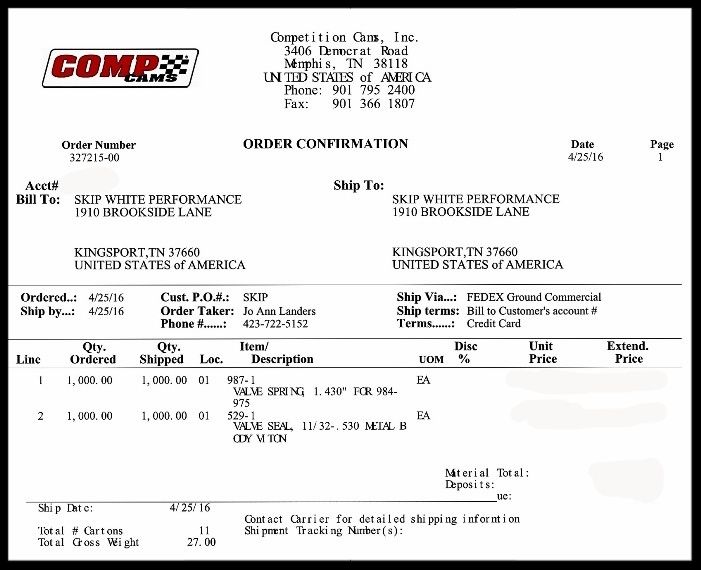 Our sales staff has limited technical knowledge on this product and are usually unable to answer many of the questions asked. See our other listings for variations of this product.

 

 

We are not responsible for collateral damage caused by the use of this product.

 
RETURN POLICY
Should a problem occur, please contact us. If a return is necessary, please contact us for an RGA number and return authorization. The RGA number must be included on the return label. If an item is returned without an RGA number, it will not be processed. A full description of what the problem is needs to be included with any returned product with your contact info, and proof of purchase. Even though you may have explained the problem to us, and been granted permission to return the product, we must have a written explanation and a contact number included with the product. It is also recommended that you include the name of the person from our company that you have been in contact with. You must send the item back to us in a trackable manner (USPS Priority Mail, FedEx, etc.) and keep the tracking info of the returned product. Please give ample time for returns to be processed. Following these guidelines will make the return process work as it should.  
PAYMENT AND SHIPPING DETAILS.
We offer great discounts on shipping. You only pay the full shipping fee on the highest shipping cost of your items, and HALF PRICE shipping on all additional items. Few offer discounts on shipping such as this. Our checkout system will automatically calculate your shipping discount at the time of final payment, providing you consolidate your payment.
You may receive a verification and tracking number shortly after purchase, but this does not necessarily mean that your product has shipped. It would be fair to say that 98% of products will be going out the day the shipping label is issued. On occasion, the product may not ship out until the next day after the label has been issued. Most products purchased late in the day will not be shipped until the next day.  
If you checkout and start over, the auto calculator will not recognize the multiple purchases, and there will be no shipping discount. 
FedEx is our primary shipper. We are unable to ship to APO/FPO addresses. Help us ship your order promptly by including your physical address at checkout. If your order MUST be shipped to a PO BOX, please contact us. Additional charges may apply. Below is a map representing the estimated delivery time to get to you from our location.
Delivery times may vary, especially during peak periods.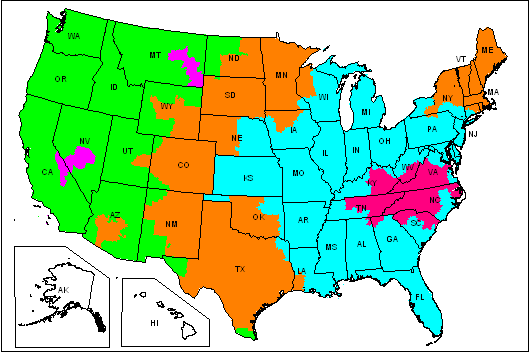 FedEx Home Delivery delivers Tuesday - Saturday. If a package leaves here on a Thursday, and you are in a 2 day delivery zone, your package may deliver to you on Saturday. If you are in a 3 day zone, and your package leaves on a Thursday, you should receive it on the following Tuesday. Expedited shipping is available upon request for an additional fee. Please contact us for rates. The estimated shipping time is usually as the map shows, but many factors can delay this.  
Hawaii and Alaska have a 6+ day estimated delivery time.
The shipping quoted in this ad is only for the 48 continental United States. If shipping to anywhere else, please contact us. The half price shipping on all additional items also only applies to items that are being shipped in the 48 continental United States.
Customer Reviews
This product does not have any reviews yet.