SBC CHEVY 1" CHROME MINI NUT & STUD OIL PAN KIT 14S-4L
Available
$36.50
---
Product Information
| | |
| --- | --- |
| UPC | 353456673775 |
| Product Type | Shipped Product |
| Shipping Cost | $8.50 |
| Number of reviews | 0 |
SBC CHEVY 1" CHROMED STEEL OIL PAN MINI NUT AND STUD KIT PART # 14S-4L
The ultimate fastener kit for sbc steel oil pans. Fits all sbc Chevy engines 55-98 Gen1 and Gen2 283/307/327/350/400 cubic inch engines.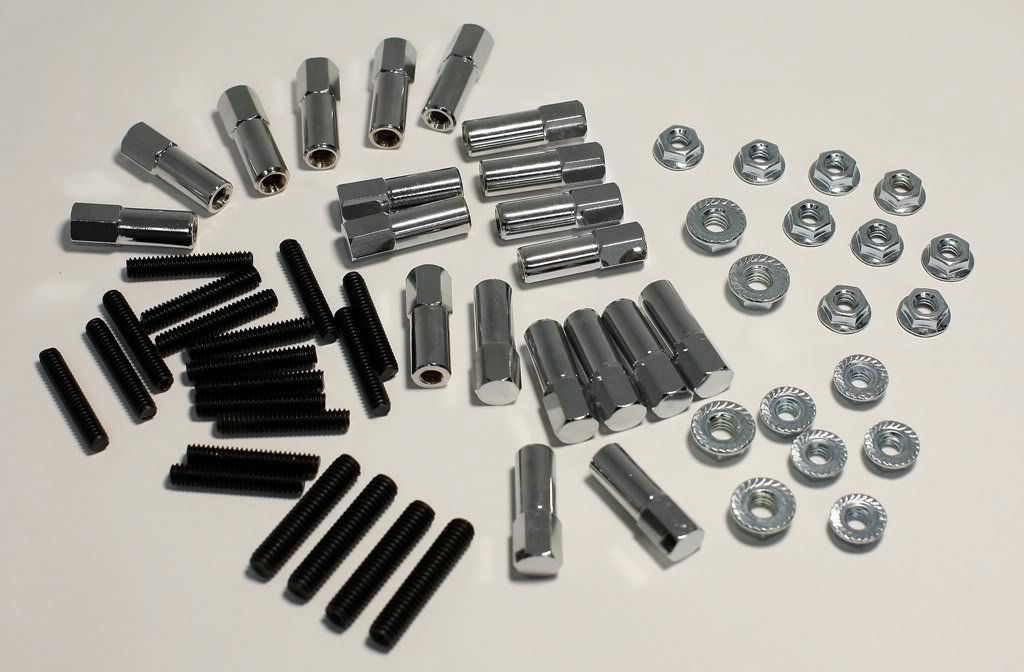 As seen below the the mini nuts look great, and do an excellent job of securing the oil pan. All of our engines use this kit.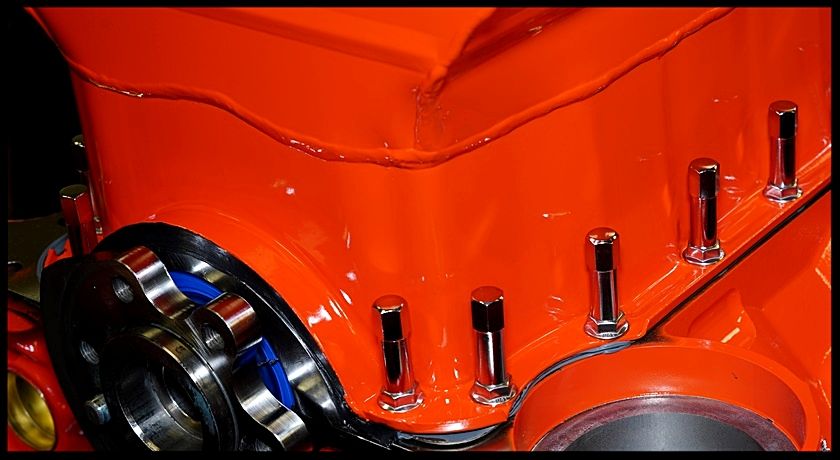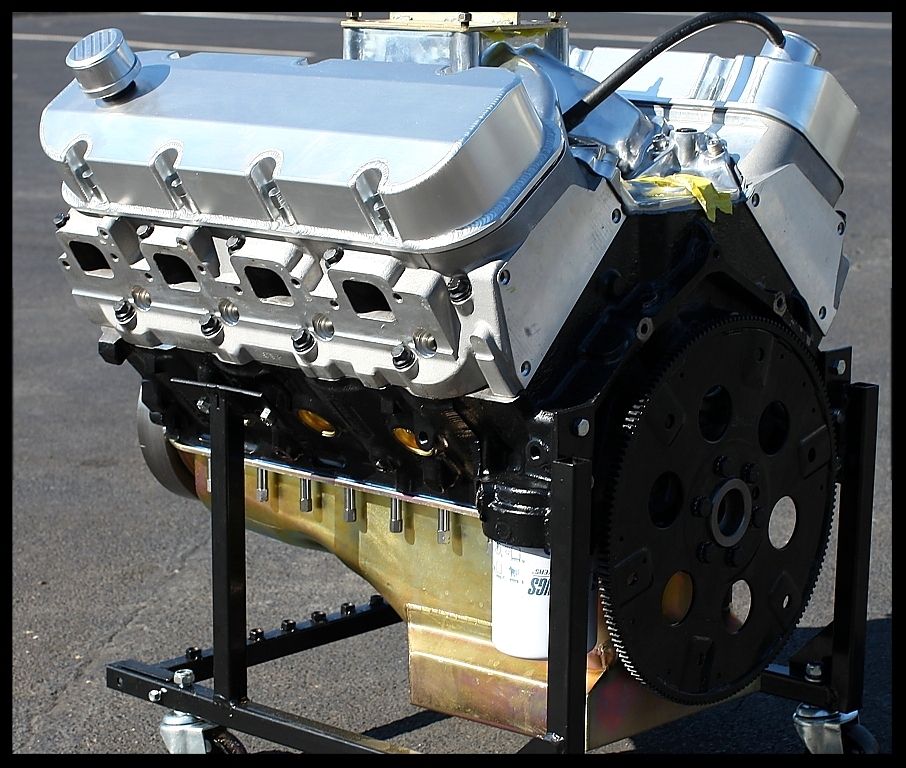 Exactly as pictured above and below. This is what is needed for all Gen 1 and 2 sbc engines. You will receive 2 different diameters of mini nuts. (14) smaller chrome mini nuts and (14) 1" smaller studs, (4) bigger chrome mini nuts and (4) large diameter studs. You will also receive the special serrated nuts with the built in washer. These special nuts are essential in preventing leaks. Take notice in the closeup pics below. The studs are the exact length needed. Start by screwing the in the studs till they bottom out in the block. This allows for very easy installation of the oil pan, as the studs will help guide the oil pan and gasket in it's correct position. Then secure the pan with the flared nuts, and torque to a sufficiant amount, then install the chrome 1 inch tall mini nuts. The chrome mini nuts will keep the flared/serrated nuts from coming loose. The look is great when finished, and the tall mini nuts allow easy access for removal. This is the exact kit we use on our Stage 1 thru 5 sbc engines.
It is a known fact that stud setups offer better clamping force and will prevent ever stripping the treads in the block. We have never used typical style bolts on our engines, and never will. This is the only way to correctly secure your oil pan. Now the next thing you can do for your engine to further prevent oil leaks is to use the Felpro neoprene single pc blue gasket. Coupled with the studded mini nut set, you will have the very best setup known to prevent oil leaks. See our other listings for many oil pan realated acessories. One more preventive measure against oil leaks will be to add a small amount of sealant around the oversize bolt hole in the oil pan rail. These holes are slightly oversized to compensate for variances common in most sheet metal oil pans. Do this procedure prior to installing the flared nuts. We use this exact kit on every engine we build. It is of extreme importance for us not to have an engine with an oil leak, as repairs can be very costly. This kit may cost more than your typical bolt kit, but it is far superior in every way, not to mention very nice looking. The installation of the oil pan is many times easier with a stud kit compared to conventional bolts, especially if the engine is in the vehicle.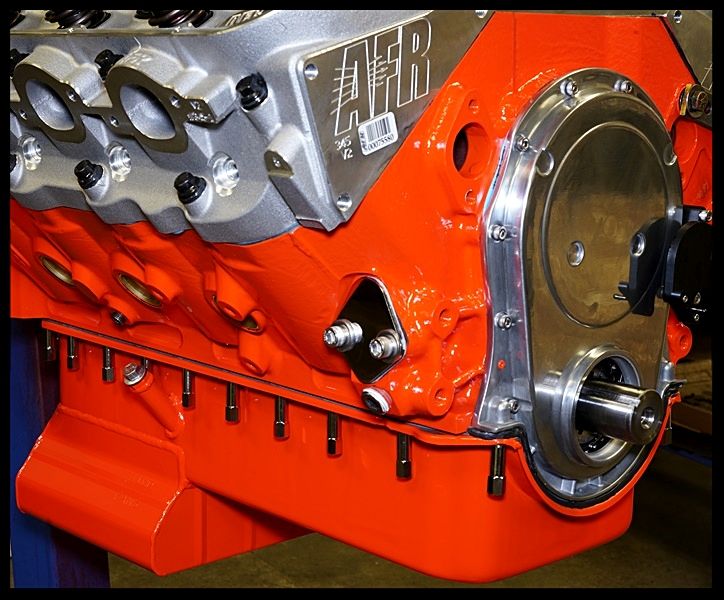 We noticed the chrome mini nuts have a thin waxy substance in them, causing them not to spin freely upon installation. This must have been added as a rust or corrosion preventive from the factory. You will only need a slight amount of effort by hand to start them onto the stud. They should be torqued to approx. the same torque as you would a regular oil pan bolt.
These kits are made up at our facility from bulk batches, then bagged and boxed. This reduces product cost considerably compared to purchasing the product in an elaborate blister pack on a card.
See our other listings for oil pan related accessories
Our sales staff has limited technical knowledge on this product and are usually unable to answer many of the questions asked. We do not have any variations of this product other than what our listings show.

We are not responsible for collateral damage caused by the use of this product.
Customer Reviews
This product does not have any reviews yet.