SBC CHEVY 350 383 400 406 COPPER GRAPHITE EXHAUST GASKETS One Pair. # 5206
$21.70
Available
---
Product Information
| | |
| --- | --- |
| UPC | 351756740474 |
| Product Type | Shipped Product |
| Shipping Cost | $5.50 |
| Number of reviews | 33 |
SBC COPPER GRAPHITE EXHAUST GASKETS. THESE WILL FIT MOST ALL SMALL BLOCK CHEVY ENGINES 305, 327, 350, 383, 400, AND MANY MORE
One pair, (2 gaskets included)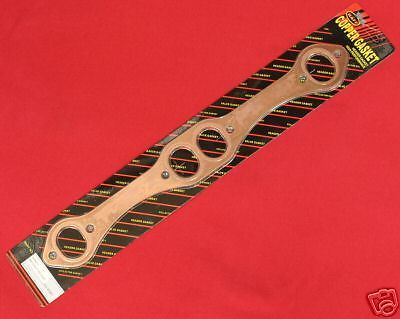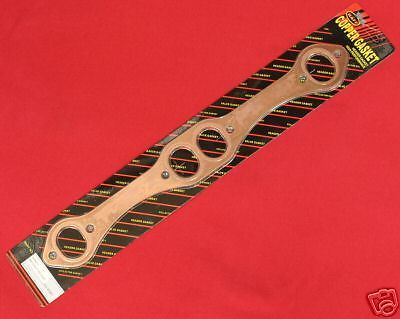 You will receive a total of two individual gaskets, (One Pair/Set)
These fit most all small block Chevy engines. These copper gaskets are far superior to paper gaskets, they last much longer and seal better. These gaskets have an OVAL shaped port, to accommodate some of the headers on the market. Some headers have round ports, and we also have gaskets for those available. See our other listings. The ports on these gaskets are of a standard size to accommodate most every sbc head on the market. Many of the headers on the market have the oval shaped opening. These work very well on aluminum heads heads of any brand. The heads do not have to have an oval shaped port opening. The oval gasket is to accomadate the oval shaped headers on the market.
This auction is for one pair (two gaskets). You will receive what is required for one set of headers.
RETAIL VALUE $43.95 OUR PRICE MUCH LOWER
The part number is #5206
WE ALSO HAVE THESE AVAILABLE FOR BIG BLOCK CHEVY AND ENGINES. SEE OUR OTHER LISTINGS
The gaskets pictured above are what you will receive. One pair (two gaskets). They are blister packed. This caused our picture to produce much glare. The gaskets look absolutely great when out of the package. They have a very smooth semi polished surface and will create a perfect seal. These are the only type exhaust gaskets we sell at our store. Standard type gaskets are inferior to this design in our opinion. Continue reading.
THE SHAPE OF THE BODY IS PERFECT FOR MANY OF THE HEADERS ON THE MARKET. THESE MATCH OUR 88-95 CHEVY 88-95 TRUCK HEADERS PERFECTLY, AND THERE ARE MANY MORE ON THE MARKET THEY WILL MATCH UP TO. IT'S NOT THAT IMPORTANT THAT THE FLANGE SECTION MATCH, BUT YOUR BEST TO GET A GASKET THAT IS NOT GOING TO SHOW MUCH OF THE FRAME/BODY ALONG THE FLANGE. CHECK OUR OTHER LISTINGS FOR THESE EXACT GASKETS, WITH DIFFERENT FRAME/BODY DESIGNS
These gaskets have combined carbon and copper to form a new and innovative exhaust gasket design. The Copper exhaust gaskets feature a durable reinforced graphite gasket body with a pure copper sheet over both sides of the body. The copper sheets are not just a plating, they are pure 100% copper. With the unique blend of these materials, these gaskets are ideal for high-heat applications. They provide superior heat resistance, compressibility, and strength for a tight, permanent seal in all kinds of extreme conditions. We truly believe this to be a superior design compared to solid copper only style exhaust gaskets. These are much more expensive to produce as far as the manufacturing aspect versus a solid copper gasket. Solid copper is nothing more than a gasket stamped from a sheet of copper and that's it. No real technology exists on those type gaskets, just a sell factor, as they are sure to emphasize that they are pure 100% copper, and yes they have benefits, but not like a gasket that combines multiple layers of material. Our style is far more complex in design. The outer copper layer is on both sides of each gasket, and offers all the benefits of the copper material, then the extreme heat resistance of graphite, and carbon based materials. This inner barrier also acts as an thermal insulator. These have the best of both worlds. The inner material also has metal in it to keep the graphite/carbon material together.
For those have experienced header leaks, these may be the answer. There are a several manufactures using this design and they are very expensive. Our Pro Series gaskets are great for every application.
CHECKOUT OUR STAINLESS HEADER BOLTS IN OUR OTHER LISTINGS. THEY ARE PERFECT FOR THOSE WANTING THE CORRECT SETUP. THESE BOLTS ARE PURE 304 STAINLESS AND HAVE THE SMALL 7/16'S HEAD. THEY ARE PRICED AT THE BEST PRICE YOU WILL EVER SEE THEM FOR, JUST AS ALL OUR ITEMS ARE PRICED. THE HEADER BOLTS ARE NOT INCLUDED IN THIS AUCTION, SEE OUR OTHER LISTINGS
VERY IMPORTANT NOTE:
Please leave your phone number in an email when using the, "contact seller" tab. We never solicit our customers, but having your phone number in case of a shipping or service related problem is valuable.
WE OFFER GREAT DISCOUNTS ON SHIPPING. YOU ONLY PAY THE FULL SHIPPING FEE ON THE HIGHEST SHIPPING COST OF YOUR GROUP OF ITEMS AND HALF PRICE SHIPPING ON ALL ADDITIONAL ITEMS IN THE 48 CONTINENTAL UNITED STATES. FEW OFFER DISCOUNTS ON SHIPPING SUCH AS THIS. EMAIL US USING THE "ASK SELLER A QUESTION" TAB. IF YOU WOULD LIKE US TO CALCULATE YOUR SHIPPING COST ON MULTIPLE ITEM ORDERS OR YOU MAY REQUEST AN INVOICE AT TIME OF CHECKOUT . MAKE SURE THE CORRECT SHIPPING AMOUNT IS PAID TO AVOID DELAYS IN YOUR ORDER. SHOULD IT BE OFF BY A FEW CENTS, THAT WILL BE OK. IF YOU ARE UNABLE TO EMAIL US GIVE US A CALL AT
423-722-5152
FROM 8AM-7PM EASTERN TIME MON-FRI AND 11AM-3PM ON SAT. WE WILL ANSWER YOUR EMAIL WITHIN THE SAME DAY IN MOST CASES, SO KEEP SHOPPING AND PAY HALF PRICE SHIPPING ON ALL ADDITIONAL ITEMS. PLEASE CALCULATE YOUR SHIPPING CORRECTLY OR AS MENTIONED ABOVE, WITHIN A FEW CENTS OF ACCURACY, TO AVOID DELAYS IN SHIPPING YOUR ITEMS.
IF YOU ARE HAVING DIFFICULTY PAYING WITH PAYPAL, FEEL FREE TO GIVE US A CALL AT
423-722-5152
. CUSTOMER SERVICE AND SALES HOURS OF OPERATION ARE 8AM-7PM Mon-Fri and 11AM-3PM SAT EASTERN TIME ZONE
FOR TECH SUPPORT, PLEASE USE THE "ASK SELLER A QUESTION TAB". IT'S LOCATED AT THE TOP RIGHT HAND SIDE OF THIS PAGE. YOU MAY ALSO CALL FOR TECH SUPPORT IF YOUR UNABLE TO EXPLAIN WHAT YOU NEED IN AN EMAIL. TECH SUPPORT IS USUALLY NOT AVAILABLE UNTIL AROUND 12-7PM MON-FRI EASTERN TIME ZONE.
---
---
After purchasing, pay instantly with your credit card through PayPal!
great gaskets

Reviewed by y***6 on April 6, 2017, 7:32 p.m. | Permalink

This review has no votes.

All good!!!

Reviewed by 9***9 on April 6, 2017, 3:46 p.m. | Permalink

This review has no votes.

Excellent product.Combined shipping. A+ seller

Reviewed by o***h on March 29, 2017, 7:07 p.m. | Permalink

This review has no votes.