Product Information
| | |
| --- | --- |
| UPC | 332795650938 |
| Product Type | Shipped Product |
| Shipping Cost | $12.50 |
| Number of reviews | 0 |
MASTER TOP END KIT FOR SBC CHEVY ALUMINUM OR CAST IRON HEADS.
FELPRO 17031 STEAM HOLE HEAD GASKETS, FELPRO 1206 INTAKE GASKETS, & STAINLESS HARDWARE, & ARP HEAD BOLTS INCLUDED.
Note, the felpro 17031 head gaskets were formerly numbered as a 1014. They are identical to the 17031
This is our premium kit for our new NKB-200 heads or Dart SHP heads, and many other brand of heads.
PART NUMBER, TEK-17031-1206-ARP-3601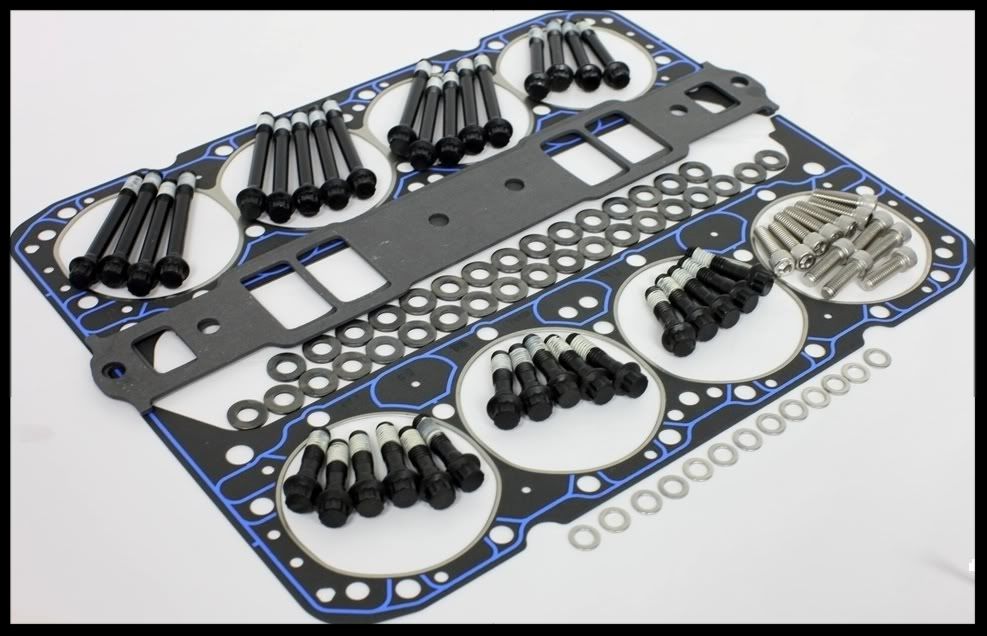 The picture above is a file photo. Actual appearance may vary.
THIS TOP END KIT IS NEEDED WHEN INSTALLING A SET OF ALUMINUM HEADS ON YOUR GEN 1 SMALL BLOCK CHEVY AS WELL AS MOST CAST IRON HEADS. THIS IS THE CORRECT KIT FOR OUR NKB-200 HEADS WITH STEAM HOLES.
The head gaskets in this kit are excellent for those with engines up to around 13.5:1 compression ratio. We have used them for many years, with zero failures reported. Please read this complete ad before purchasing.

We use ARP head bolts in every engine we build.
The part number for the ARP head bolts included is #134-3601
As you can see in the picture above, the ARP bolt set has the correct length bolts for most all sbc heads on the market.
Felpro 1206 intake gaskets.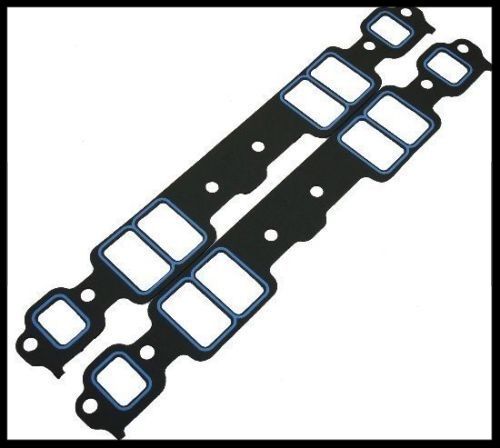 Correct length high grade 18/8 stainless allen head intake bolts are included. 1.25 length allows the use of any and all brands of aluminum intake manifolds.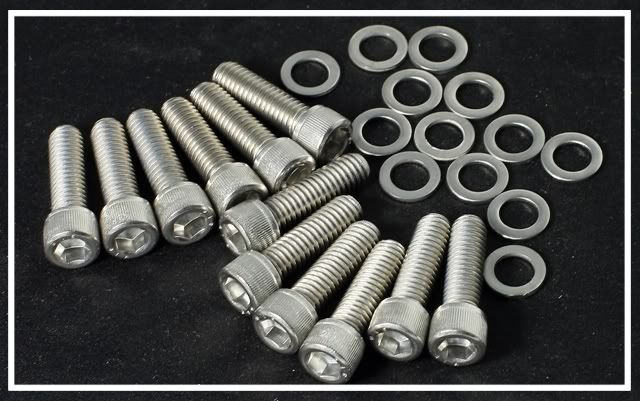 This top end kit is suitable for use with our steam hole aluminum NKB heads and many other aftermarket heads that have steam holes that use the 1206 intake gaskets. We do offer this kit with head studs. We strongly recommend that you avoid using the TEK kit that has head studs unless you are very skilled at sealing them. This kit with the traditional ARP head bolts is all you need for any engine build. This kit has our premium race grade Felpro 17031 head gaskets, which are of excellent quality and totally suitable for use with aluminum heads. They are .040 thick uncompressed. The Felpro head gaskets are our most popular. Our high end engines all use this series of gasket. We offer a lower cost top end kit for milder builds in our other listings.
The Felpro 1206 intake gaskets included in this kit are a perfect match for our NKB-200 heads, as well as many other heads on the market. Should your intake sit too low when mounted, then you will require the Felpro 1266 intake gaskets. We do also offer the Felpro 1266 intake gaskets. See our other listings.
From what we're seeing, the 1206 intake gaskets work well with most of the intakes on the market. For those using heads that require the larger Felpro 1206 intake gaskets, we offer them in our other listings. The intake gasket part number is built into the TEK part number.
IMPORTANT NOTE ABOUT THE ARP HEAD BOLTS FROM OUR COMPANY PRESIDENT,
SKIP WHITE.
This article is based on feedback from our six engine builders who have used the ARP head bolts as well as the low cost ones that have flooded the market. The differences are dramatic, to say the least.
We find the ARP head bolts to be superior in every way compared to the low cost head bolts on the market. Every engine we build uses them, including our base model 350 and 383 engines.
Our engine builders first noticed the general feel of the ARP head bolts to be much smoother than the low cost head bolts
when torquing them down
. This smooth feel is sure to give more accurate torque readings.
The head bolt washers on the ARP set are another great feature. They have a well designed chamfering in the center. The chamfered center intersects perfectly with the radius in the head bolt. The thick radius in these head bolts is part of what makes them very strong. These specially designed extra thick washers are very important on aluminum heads. They allow the head bolts to have a glide surface to prevent gouging into the aluminum head. This is another reason these bolts will give more accurate torque readings, in our opinion.
There are a couple of bolt holes in the center on most aluminum heads that have an inherent weakness. Due to the location of these holes, the casting is usually much thinner to give way to the raised water jackets, which are usually raised to give way to larger than normal runners. Using head bolts without washers can crack the casting in this marginal area.
The thick, wide washers not only prevent the bolts from gouging into the head, they also distribute the pressure over a larger area as compared to the smaller bolt head.
When the head bolt tightens down without a washer, the twisting force of the head will gouge into the surface of the aluminum, further weakening this area, and can cause it to crack. We know first hand of this happening with a brand of cylinder heads we once carried about 10 years ago. We had $18,000 worth of warranty claims on these heads over a year's time. These heads had multiple cracks around the center bolt holes. 100% of these heads had used head bolts without washers. At that point, we insisted on the use of ARP or an equivalent head bolt with the special washers. Zero failures from that point on. As mentioned, this is an inherently weak area on most aluminum heads, some more than others.
Some of the low cost head bolt sets on the market do include washers, but they are not designed well, from what we have seen. The chamfering in the center of these washers did not mate up properly with the radius under the head of the bolt. This caused the washer to flare up slightly on the edges when torquing the bolt down, therefore defeating much of the washer's purpose. It's better than no washer at all, but it's poorly designed compared to the ARP sets. When we torque plate hone our blocks, we use the ARP head bolts. We once tried the low cost head bolts, and noticed after just a few uses, they had stretched and deformed the threads so badly they couldn't be used again. We can use the ARP head bolts many times before replacing them.
We have sold the low cost head bolts for many years, and find them to be sufficient for those on a budget doing a mild engine build that will not encounter hard usage, but we do not advise using them on engines with over 10:1 compression ratio. We also do not recommend them on engines with aluminum heads due to the poor washer design.
Consistent clamping force on each bolt is of paramount importance for proper performance and reliability of an engine. For many reasons, mostly the very well designed threads, the ARP head bolts will give you this consistency.
Skip White
We strive to keep our prices low, and due to the high volume that we purchase, this allows us to have the best price in the country. Many garages will buy several sets at a time just to have them if the need arises. Our shipping prices are usually the lowest you will find.
Our technical knowledge is limited on this product. Our sales staff are usually unable to answer many of the questions asked. Many of the questions are, "how do you install this item", "what model cars will this work in". Most of the people on our sales staff simply don't know these answers, and even if we did, the time involved answering so many of these questions is what led us to writing this notice. We update the info in our listings on a regular basis, and if it's not in the ad, then there's a good chance we don't know the info. There is a solution to this problem for those with numerous questions about the product. We recommend searching the car forums for application questions, or technical info. You will find the answers you need on the forums for certain.

You have all heard the saying that a picture is worth a thousand words. Well, it is, and with that being said, a video is worth a million words. If you go to YouTube and type in the correct key words or phrases, you may find dozens of highly informative videos showing much of the info you need to know on this product.

We are not responsible for collateral damage caused by the use of this product.
Customer Reviews
This product does not have any reviews yet.