SBC CHEVY 427 WISECO FORGED PISTONS 4.125 BORE +10cc DOME TOP KP477AS
Available
$679.00
---
Product Information
| | |
| --- | --- |
| UPC | 354712525608 |
| Product Type | Shipped Product |
| Shipping Cost | $24 |
| Number of reviews | 0 |
WISECO FORGED PISTONS 4.125  BORE x 4.00 STROKE FOR SBC CHEVY 427 ENGINES, +10cc DOME TOP FOR USE WITH 6.0 BUSHED OR PRESS FIT RODS.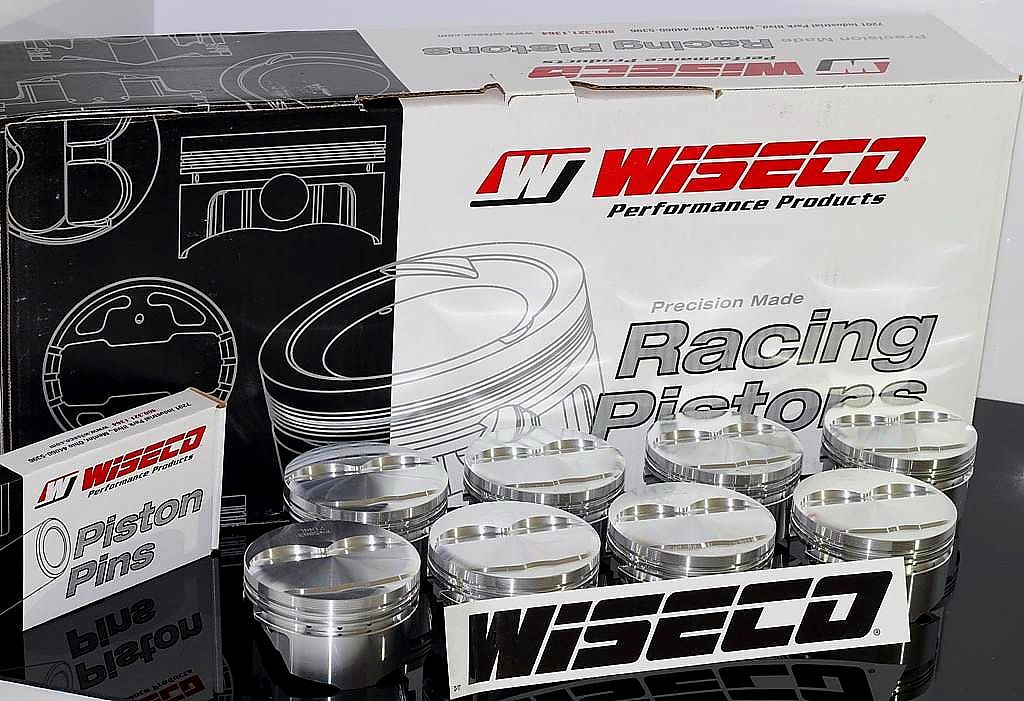 Rings not included. The correct size rings used with these pistons is listed below in the piston spec chart. We offer the correct rings for these pistons in our other listings. We strongly recommend our Total Seal ring pack. The part number is # 

CRG2012 Drop In 

 We have used these exact series of rings in our engines for many years.
Pictured above is a file photo. The actual pistons may vary in appearance. 
The Wiseco pistons are rated very high in the performance industry. They normally offer three levels of pistons, starting with the Pro-Tru Street version made with 4032 forged alloy. The next level up would be the Pro-Tru series that are much more expensive and made from 2618 aircraft alloy. The highest level pistons they offer are their professional line made for high level racing. Those are normally in the $700-$1100 price range.
Compression Ratio Chart
The calculations below assume your pistons are at zero deck. Let's say your compression calculates out to be 13.68, for example based on having the pistons at zero deck (flush with the deck), but your pistons were going to be .005 in the hole, then the comp. ratio would only drop to 13.48, and if left .010 in the hole, then it would drop to approx. 13.29 We do recommend having your block decked to allow the piston to set anywhere from flush (zero) to .005 in the hole for optimal performance. We used a 4.200 head gasket diameter, and a .040 head gasket thickness in our calculations to come up with our comp. ratio values.
Piston Family

Cylinder Head Volume

65cc

72cc

75cc

 

427

Static Compression Ratio

4.125 Bore

14.49

13.18

12.69
Our Wiseco Forged pistons are custom designed with an increase in compression height. This has many advantages. Here are a few facts about compression height and deck height.
Our custom made Wiseco pistons have a compression height that is .015 taller than nearly all catalog pistons on the market. We find this to be a very valuable feature. Since our pistons sit at a taller than normal compression height, you will only have to remove approx. .010 off the deck surface of a virgin block to achieve a zero deck. This also allows for future deck re-surfacing and still not ending too far below stock deck height.
Leaving the deck on your block thick makes for a stronger block that resists flexing and also runs cooler, as the deck thickness has a lot to do with the dissipation of heat. Blocks with decks cut down to any great amount are also prone to cracking. This is why our pistons are designed to sit flush, (zero deck) at .010 below stock deck height.
Since nearly all catalog pistons on the market sit .025 below the surface of a virgin block, the only way to achieve a zero deck using such pistons would be to cut .025 off the deck surface. This compromises the integrity of the block, in our opinion. Should you decide to leave the block deck higher up, using such pistons creates a new issue of having a very poor quench/squish zone. The only way you could really take advantage of a catalog piston is by having a block that needs to or has already been butchered down to 9.00 deck height. At that point, we don't think you should not use such a block. Having the piston sitting flush with the deck is very desirable, regardless of the fact that your overall compression ratio is slightly higher than if it were sitting below the deck. 
We have found that 95% of our customers are using a virgin block or a block that is close to stock deck height. This is why we have designed our pistons to have a taller compression height. On very rare occasions, you may end up with a block that has the piston out of the hole by a few thousandths and this not a problem at all. Most head gaskets are approx. .040 thick, and should you end up with a quench zone of .035, then that is perfectly ok. If the quench zone ends up too far below .035, then there are plenty of .050 thick head gaskets on the market. One more benefit to this is that most machine shops charge much more to deck a block down from stock deck height to 9.00 than they would to do a light cleanup, and that's all that's needed when using our Wiseco pistons.
Another good feature about our pistons having a taller compression height is that the ring land above the top ring is much stronger by being .015 thicker. When pistons encounter the effects of detonation, it is not uncommon to see pistons with the ring land above the top ring broken off. The thicker ring land also makes a better heat sink. 
You may have noticed that our Wiseco custom made forged pistons are referred to as Racing Pistons on the package. This does not mean that the pistons are for racing only. This is a generic term, referring to their ability to be used in high performance applications as well as for street rod use. These pistons are perfectly designed for use on the street, as well as for medium to upper level drag racing. 
Our custom made Wiseco forged pistons are made from 2618 aircraft alloy. We find this alloy to be much more suitable for high performance engines than the common 4032 forged alloy. You will usually see the higher end pistons on the market using 2618 aircraft alloy. 
Why go with 2618 forged pistons? If you encounter certain tuning issues, detonation is highly probable, and its effects can cause severe damage to your engine. The 2618 forged piston is able to withstand the damaging effects from detonation to a higher degree than the lower cost 4032 forged pistons, especially non-forged hypereutectic pistons such as Speed Pro or Keith Black, and many others. 
Our Wiseco forged pistons will clear most any valve size on the market with ease even with the use of large lift cams.
We have built approximately 3500 engines using the Wiseco pistons. The engines have been for street rod and strip use. We have seen no problems, nor have there been any complaints. They are an excellent product in every respect.
These pistons are also suitable for use with nitrous or blower setups. For the slight increase in cost, this is the best value on the market.
WISECO FULLY FORGED PISTONS RATED AT 700+ HP. THIS AUCTION IS FOR A FULL SET OF PISTONS. WISECO PISTONS ARE 100% MANUFACTURED IN THE USA. THEY ARE ONE OF THE HIGHEST RATED PISTONS IN THE COUNTRY.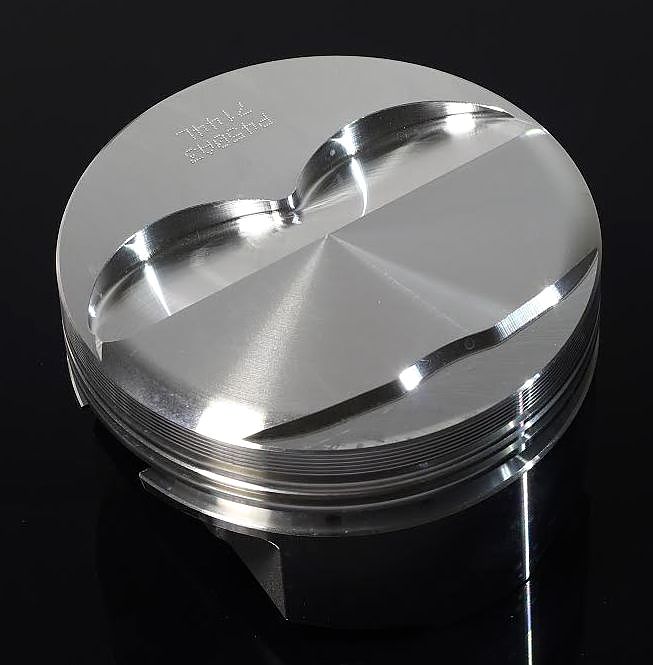 These pistons are for use with 6.0 full floating bushed rods, or press fit. The compression height is 1.015 RING GROOVE SIZE, 1.5 1.5 3.0mm. SEE FULL PISTON SPECS BELOW.
Rings not included. The correct size rings used with these pistons is listed below in the piston spec chart. We offer the correct rings for these pistons in our other listings. We strongly recommend our Total Seal ring pack. The part number is # 

CRG2012 Drop In 

 We have used these exact series of rings in our engines for many years.
FULLY FORGED PISTONS RATED AT 700+ HP. THESE PISTONS ARE VERY RESISTANT TO THE DAMAGE CAUSED BY DETONATION COMPARED TO NON FORGED PISTONS. THEY HAVE TWO VALVE RELIEFS AND USE FULL FLOATING WRIST PINS. 
Item Code

KP477AS

Vendor Name

WISECO 

Product Type

PISTONS, CUSTOM MADE.

Product Model

RACING STREET/STRIP

Engine Displacement (cu.in.)

SBC-427

Engine Family

CHEVROLET - Small Block V8

Material

2618 Forged Aluminum

Base Bore (in)

4.125

Stroke (in)

4.00

Rod Length (in)

6.0

Compression Height (in)

1.015

Top Type

 Dome 

Net Head Volume (cc)

+10cc DOME TOP

Deck Thickness (in)

0.280

Wrist Pin Diameter (in)

0.927

Wrist Pin Length (in)

2.500

Wrist Pin Weight (g)

Piston Weight 

APPROX. 122 grams.

APPROX. 546 grams.

Pin Lock Type

 Spiral

Ring Set #

Total Seal #CRG2012 DROP IN

Top Ring Groove Size

1.5mm

Second Ring Groove Size

1.5mm

Oil Ring Groove Size

1.5mm

Top Ring Land (in)

0.205

 

 
 

 

Quantity

Sold in sets of 8.
We offer these pistons in flat or dish style as well as dome top, and most other bore sizes. See our other listings.
Our sales staff has limited technical knowledge on this product and may not be able to answer many of the questions asked. Many of the questions asked are if we have pistons for certain applications. Please check our wide variety of pistons to see if what you need is listed. Be absolutely sure that you select the correct bore size and piston volume before purchasing. It is also important that you know what rod length you have. The rod length required is clearly stated in the ads. When searching for various size pistons, you can simplify your search by using common key words in the search bar. We update the technical information in our listings on a regular basis. 


We are not responsible for collateral damage caused by the use of this product.
RETURN POLICY
Should a problem occur, please contact us. If a return is necessary, please contact us for an RGA number and return authorization. The RGA number must be included on the return label. If an item is returned without an RGA number, it will not be processed. A full description of what the problem is needs to be included with any returned product with your contact info, and proof of purchase. Even though you may have explained the problem to us, and been granted permission to return the product, we must have a written explanation and a contact number included with the product. It is also recommended that you include the name of the person from our company that you have been in contact with. You must send the item back to us in a trackable manner (USPS Priority Mail, FedEx, etc.) and keep the tracking info of the returned product. Please give ample time for returns to be processed. Following these guidelines will make the return process work as it should.  
PAYMENT AND SHIPPING DETAILS.
We offer great discounts on shipping. You only pay the full shipping fee on the highest shipping cost of your items, and HALF PRICE shipping on all additional items. Few offer discounts on shipping such as this. Our checkout system will automatically calculate your shipping discount at the time of final payment, providing you consolidate your payment.
You may receive a verification and tracking number shortly after purchase, but this does not necessarily mean that your product has shipped. It would be fair to say that 98% of products will be going out the day the shipping label is issued. On occasion, the product may not ship out until the next day after the label has been issued. Most products purchased late in the day will not be shipped until the next day.  
If you checkout and start over, the auto calculator will not recognize the multiple purchases, and there will be no shipping discount. 
FedEx is our primary shipper. We are unable to ship to APO/FPO addresses. Help us ship your order promptly by including your physical address at checkout. If your order MUST be shipped to a PO BOX, please contact us. Additional charges may apply. Below is a map representing the estimated delivery time to get to you from our location.
Delivery times may vary, especially during peak periods.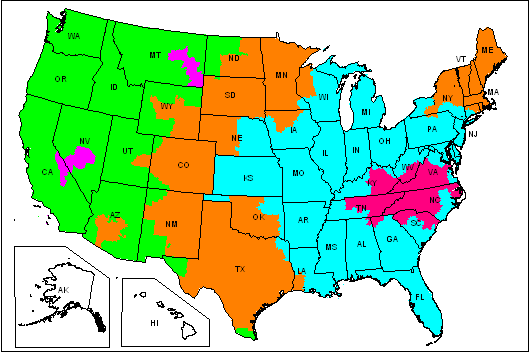 FedEx Home Delivery delivers Tuesday - Saturday. If a package leaves here on a Thursday, and you are in a 2 day delivery zone, your package may deliver to you on Saturday. If you are in a 3 day zone, and your package leaves on a Thursday, you should receive it on the following Tuesday. Expedited shipping is available upon request for an additional fee. Please contact us for rates. The estimated shipping time is usually as the map shows, but many factors can delay this.  
Hawaii and Alaska have a 6+ day estimated delivery time.
The shipping quoted in this ad is only for the 48 continental United States. If shipping to anywhere else, please contact us. The half price shipping on all additional items also only applies to items that are being shipped in the 48 continental United States.
Customer Reviews
This product does not have any reviews yet.