SBC CHEVY 434 DART SHORT BLOCK FORGED FLAT TOP 4.155 PISTONS SCAT RODS, K1 CRANK
Available
$4,995.00
---
Product Information
| | |
| --- | --- |
| UPC | 333915779195 |
| Product Type | Shipped Product |
| Shipping Cost | $375 |
| Number of reviews | 0 |
SBC CHEVY 434 CUBIC INCH COMPLETE DART SHORT BLOCK KIT. 4.155 bore x 4.00 stroke, K1 CRANK, SCAT COMPETITION RODS. WISECO 2618 AIRCRAFT ALLOY FORGED FLAT TOP PISTONS.
This short block kit is not assembled.
The photos above and below are file photos. Actual appearance may vary. This picture is to give you an idea of what all is included. All parts are brand new, first line, unblemished, and balanced. This short block kit is not assembled. See our other listings for the assembled version of this short block. We will update our pictures soon. 
THIS KIT INCLUDES:
A brand new Dart SHP block that has been decked, bored and honed to specs, Dart coated cam bearings, K1 Technologies crankshaft and 4340 Scat rods, Wiseco forged pistons, Total Seal high performance rings, Clevite or King bearings, and a heavy duty 168 or 153 tooth flexplate and ATI brand Super damper. The assembly is fully balanced. See details for all the actual specs. In the lower section of this ad is information on the various upgrades we offer in our other listings. 
Our short block kits are custom built to your specifications (e.g., piston configurations, compression ratio, rod setups, and upgrades). 
Pictured below is the new Dart SHP block. This block is the absolute ultimate in quality, durability, and value.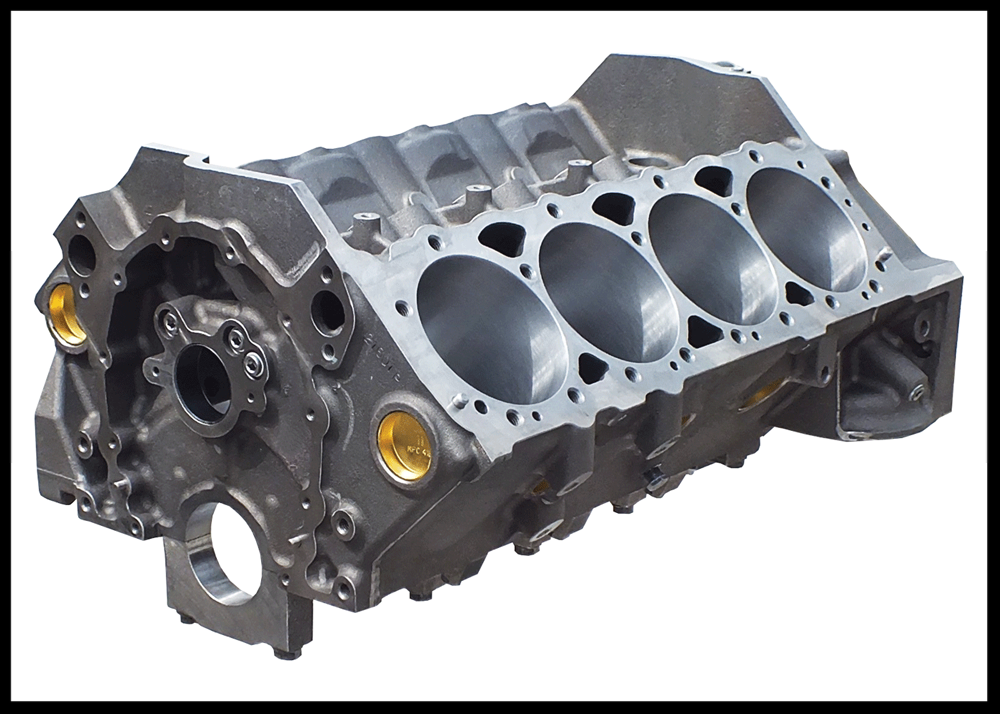 This is a file photo. Actual appearance may vary. Freeze plugs not included.
SBC BBC CHEVY OIL FILTER ADAPTER AND HIGH PERFORMANCE CAM BEARINGS FOR DART SHP BLOCK
These items are both included, but not installed.
Block Specs. 
Dart SHP Block
2pc rear main seal
Splayed center caps
The block is bored to size with our new Centroid touch probe machine. Few machine shops have a machine of this accuracy.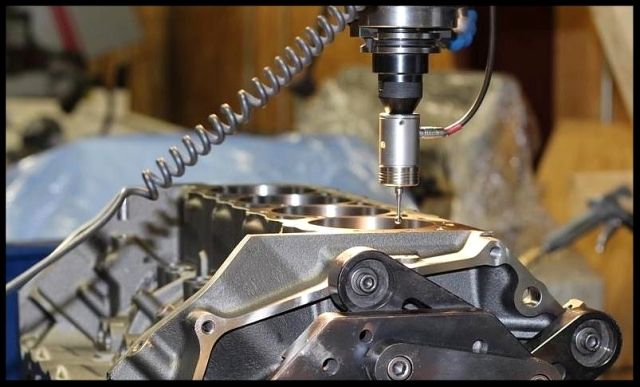 We also deck the blocks to an RA finish of approx. 15 or better. The decking procedure is also done by our Centroid CNC machine. 
We often find many brand new blocks to have a sloping deck of up to 4 thous. When we're finished decking the block it is within approx. .001 accuracy from end to end. Many machine shops fail to catch this as the machinery they use does not allow for such accuracy.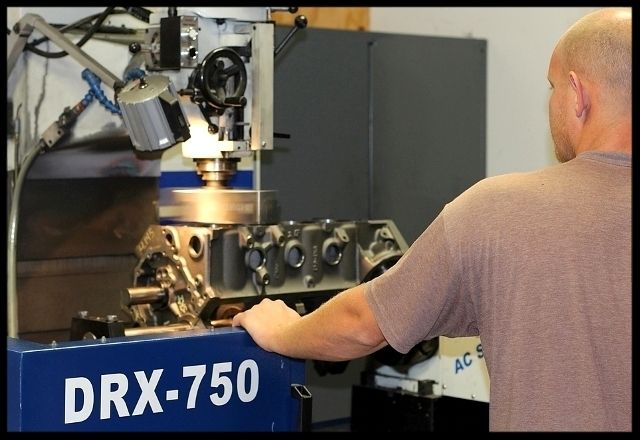 We then plate hone the block with our new Sunnen SV10 diamond hone machine. This is also a very advanced machine that hones the block with a finish unlike conventional machines.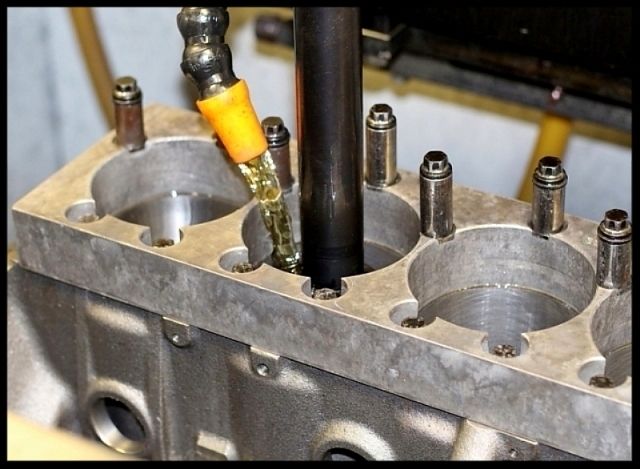 The final step is to clean the block in our high pressure block washer. You should always re-wash your block before assembly. This is to assure that the block is free of contaminants.
Pictured below is the rotating assembly that comes with the short block kit.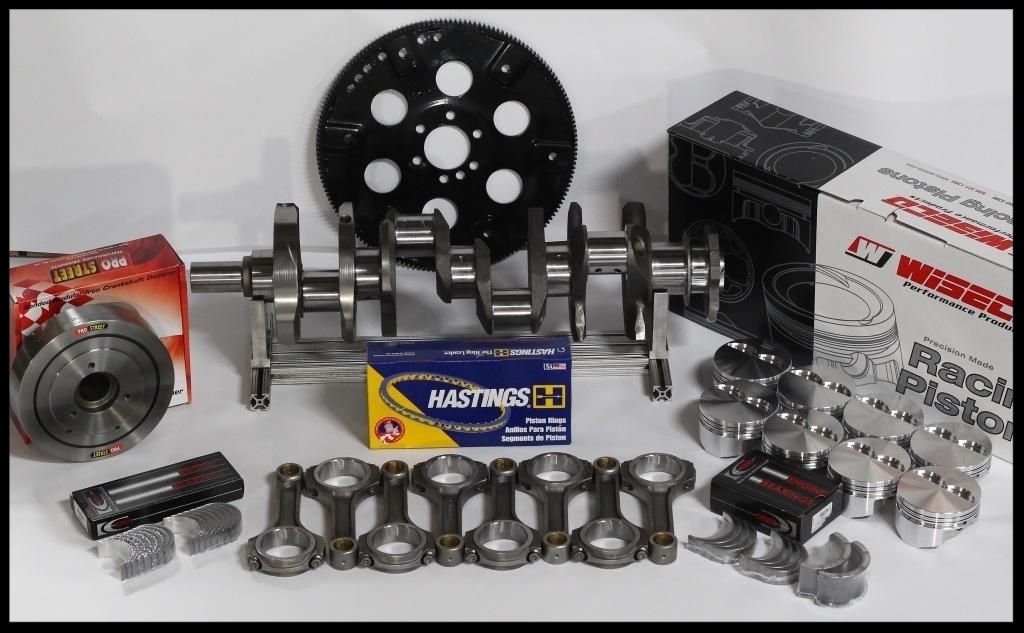 The photos above and below are file photos. Actual appearance may vary. This picture is to give you an idea of what all is included. All parts are brand new, first line, unblemished, and balanced. 
READ THIS LISTING COMPLETELY BEFORE YOU BUY ELSEWHERE! 
**********************************************************
Crankshaft Specs. 
Crankshaft: K1 Technologies
Crankshaft Stroke: 4.00" 
Crankshaft Material : 4340 Fully Forged
Journal Diameter: STD SBC

 

Rear Main Seal: 

2

pc

 RMS
Connecting Rod Specs.
Rods: Genuine Scat 
Rod Type: Scat Pro-Competition, I-beam, Bronze Bushed.
Rod Length: 6.00"
Rod Material: Forged 4340 Alloy.
Rod Bolt/Cap Screw: ARP 8740 Cap Screws.
Piston & Ring Specs. 
Pistons: Wiseco Fully Forged. High Performance for street/strip use.
Piston Size: 

4.155"

Dome Volume:

Flat Top

Compression Height: 1.015
Piston Material: Forged 2618 Aircraft Alloy
Piston Rings: Total Seal High Performance, Moly, Standard Tension.
Ring Size and Fit: 1.5mm 1.5mm 3.0mm File Fit.
Ring Material: Ductile Iron/Cast/Stainless/Moly
Bearing, Damper, and Flexplate Specs.
Main Bearings: Clevite or King MB557HP High Performance
Rod Bearings: Clevite or King CR807HP High Performance
Balance: In House on CWT balancer.
Damper: ATI brand 6.325" Super damper
Flexplate: Heavy Duty 168 tooth or 153 tooth. Manual Trans. flywheels available.  
Compression Ratio Chart
The calculations below assume your pistons are at zero deck. We do recommend having your block decked to allow the piston to set anywhere from flush (zero) to .005 in the hole for optimal performance. We used a 4.200 head gasket diameter, and a .040 head gasket thickness in our calculations to come up with our comp. ratio values.
Piston Family

Cylinder Head Volume

65cc

72cc

75cc

 

434

Static Compression Ratio

4.155 Bore

12.38

11.45

11.09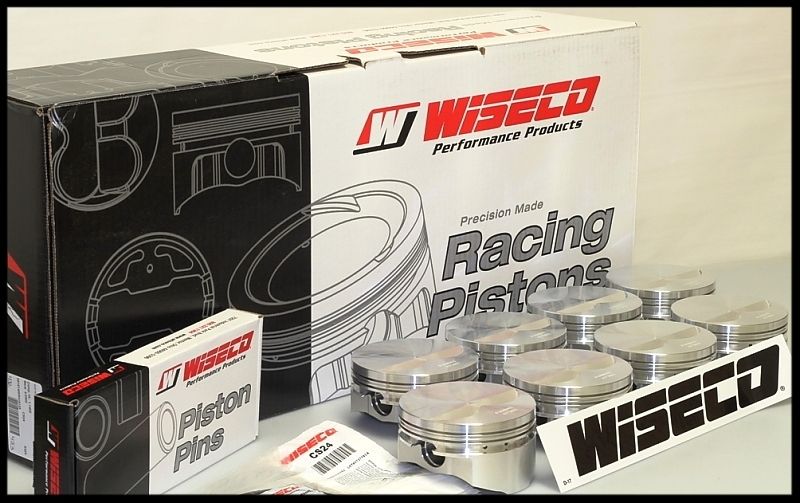 Customer Reviews
This product does not have any reviews yet.