SBC CHEVY ALUMINUM ALTERNATOR BRACKET FITS SHORT WP 9102-P
Available
$49.50
---
Product Information
| | |
| --- | --- |
| UPC | 373540362324 |
| Product Type | Shipped Product |
| Shipping Cost | $0 |
| Number of reviews | 39 |
SBC CHEVY ALUMINUM MOUNTING KIT FOR USE ON SHORT STYLE WATER PUMPS. POLISHED ALUMINUM.
This kit is a must for those wanting a better mounting setup for the alternator. This kit is superior to the factory mounting setup in more ways than one. These really are a must for any sbc SHORT water pump setup.
Lower bracket mounts off the head (driver's side). "Outward" mount.
The threaded adjuster rod and rod ends make setting belt tension easy. Comes with all hardware. Please note - this bracket may interfere with power steering pump in most V belt applications.
It looks 100 times better than the OEM style brackets, and it secures the alternator much better, as it uses a pivot style adjuster. The lower bracket is solid aluminum. This kit will also reduce weight considerably over the OEM setup. Others makes a near identical kit for close to three times the price. There are several versions of this kit on the market, this is the best money can buy in our opinion.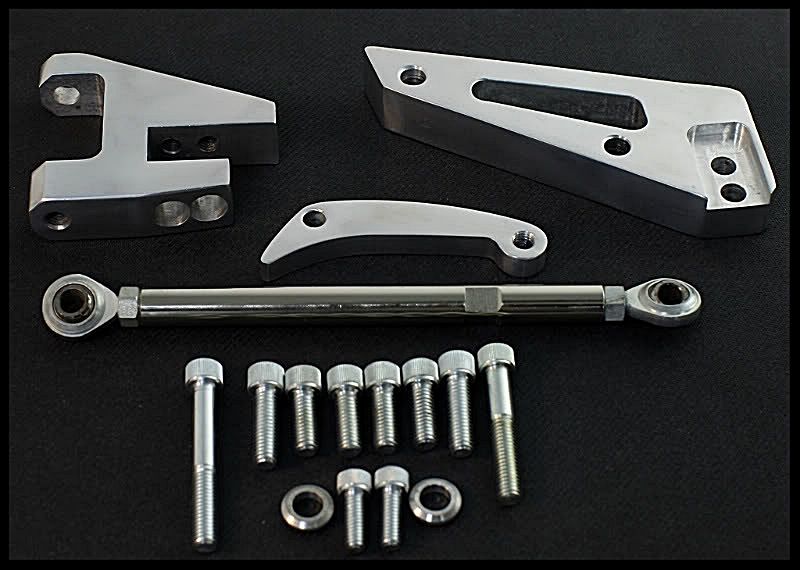 File photo. Actual appearance may vary.
Hardware pictured above is included.
As with all of our products, we are very selective on quality, value, and usefulness. We do not sell products that fail in any of these categories. We know you will like this product, or we will offer you a full refund. We promise you'll be very impressed with its appearance.
If you have power steering, we offer a bracket that is compatible to this setup. The part number is R-3814.
Must have accessory holes in cylinder head for this bracket to work

Measurements for clearance:
Bracket extends out approx 18 inches. Measuring from the center of the water pump to the
Outer Edge of the Alternator.
Note: Bracket Will Not Fit Vortec Cylinder Heads. Will Not Fit Serpentine Belts
Important note:
Be sure and check your belt alignment. The reason we mention this, is that many water pumps and pulleys that are not original GM may have slight infractions to them. This is an easy fix if you do notice it. You can shim pulleys, as well as the alt. bracket. Or you can mill the boss pad on the water pump slightly, and you can also mill the bracket if needed with ease, or in some cases add a few washers in the location needed. No one has ever complained to this day, but that does not mean they are all running with true belt alignment. You can have a little variance in the belt alignment, but very little or you will eventually sling the belt. There are many ways to achieve better belt alignment. One thing for sure, the alt bracket we are selling is within spec. One more cause for misalignment of the belts is the fact that the block has been milled. This will cause the heads to sit in a slightly different position on the block, and as you know the upper bolt on the alt. is attached to the head, and the lower bolt connects to the bracket coming from the water pump on the block. If the block is within oem specs, the heads may have been milled down causing the same issue. We have seen it all, believe me.
The fit is very good, as we never have a problem mounting them on engines at our shop. WE HAVE A SIMILAR KIT AVAILABLE FOR LONG STYLE WATER PUMPS.
One more very desirable feature of this setup, is it allows a great view of the many other components around it, such as the aluminum water pump, aluminum wp pulley's, timing cover, and the alternator itself. You will not see a show car without this, nor will you see a serious street rod without it. It serves both very well.
As for installation of this, it's extremely easy. 10-15 minutes, and if you have the alternator already off, it is actually easier to install than the oem setup. It does have a high tech look to it.
This kit has a lifetime warranty. It's doubtful you will ever have a problem with this kit. It's very well made.
Our price is better than others on the market. Our goal is keep prices low. You must also consider our shipping discount program. This brings our prices well below the competition when purchasing multiple items.
The alternator and mounting kit look fabulous on the engine.
Remember this kit will work on SHORT style sbc water pumps only. If you're not sure about what pump you have, check the clearance behind the back side of the pump. If it has approximately 3/4 inch between the pump and the timing cover, you have the long style pump. A short style pump, has nearly zero clearance. They seem to be right up against the timing cover. Most cars after 1970 used the long style pump. Some have converted older cars to the long pump, so this is a rough guide line. Some Corvettes actually used the short pump on some models past 1970. Be sure of what water pump you have.
Our sales staff has limited technical knowledge on this product and are usually unable to answer many of the questions asked. See our other listings for any variations of this product.

 

 

We are not responsible for collateral damage caused by the use of this product.

 
great servise

Reviewed by e***u on July 3, 2021, 4:07 a.m. | Permalink

1 of 1 customer found this useful

fits perfect

Reviewed by o***a on April 22, 2021, 7:32 a.m. | Permalink

1 of 1 customer found this useful

as usual, home run for skip white!!! Thanks

Reviewed by k***a on Feb. 20, 2021, 11:50 p.m. | Permalink

1 of 1 customer found this useful