SBC CHEVY HOLESHOT VORTEC INTAKE MANIFOLD POLISHED PC-22006 OR 147.1005 CLEARANCE
Available
$215.00
---
Product Information
| | |
| --- | --- |
| UPC | 373540332143 |
| Product Type | Shipped Product |
| Shipping Cost | $15 |
| Number of reviews | 0 |
SBC CHEVY VORTEC INTAKE MANIFOLD ALUMINUM
# PC-2006
Fits engines with V8 GM Vortec heads only. See important note below.
*** IMPORTANT NOTE ***

You may add items into your shopping cart but in order to check out you will have to call us. Our check out feature on our website is being upgraded at this time. We can take your order over the phone and answer any technical questions you may have. We accept all major credit cards, cash, check, and money orders. Just give us a call at 423-722-5152 and we can process your order promptly. In the event you attempt to reach us outside of our operating hours, please leave us a detailed message and we will return your call at our earliest opportunity.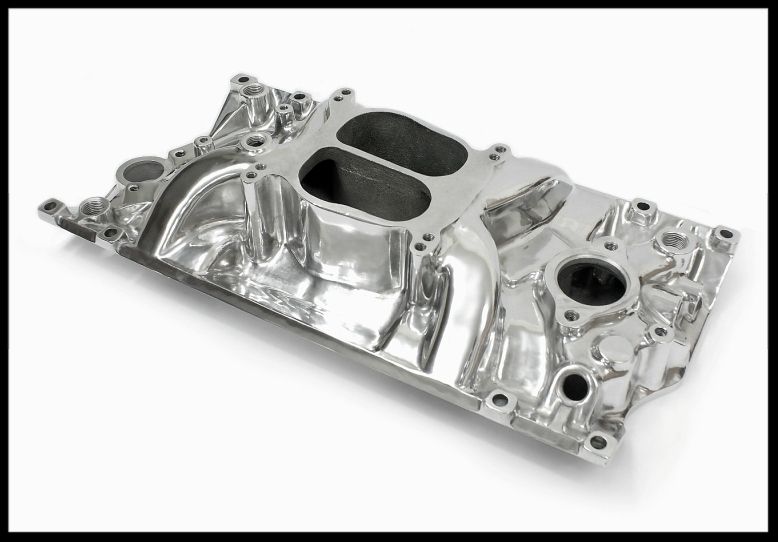 Important Note
This intake manifold will not work on the 87-95 TBI non-Vortec engines unless the engine has GM Vortec heads on it. This intake is to be used on the Chevy V8 Vortec engines that were used in the pickup trucks, and suv's built after 96. Regardless of the year model, the engine must have genuine Vortec cylinder heads. You may have an earlier model built before 96 and install Vortec heads on the engine and then this intake will work. This intake will accept a GM style Quadrajet carburetor. You may also use a square bore carb with the adapter plate that is included.
This manifold produces power comparable to some single plane manifolds yet retains the throttle response and driveability typical of a dual plane. This manifold also features cast-in nitrous bosses with water outlets at all four corners plus dual distributor hold downs.
Part
Number
RPM
Range
Intake Port
Dimensions
Manifold
Height
2006 or PCE147.1005
Idle - 5500
2.06" x 1.18"*
4.25"
The aluminum intake is perfect for tweaking ports on. Very easy compared to cast iron.
We also offer this intake with a satin finish. See our other listings.
Hood clearance is usually not a problem with this low profile intake.

This intake allows for excellent power from idle to 5500 RPM.
The light weight aluminum reduces front end weight over stock cast iron models.
Heat dissipation is another plus of aluminum over cast iron. Engines run better if the intake can rid itself of heat.
Our aluminum intakes are cast from steel molds, not sand molds. They provide a tighter grain casting, therefore reducing the occurrence of porosity, which can mar the finish.
No drawback to using this intake. Only a great savings in money!
There are many reasons as to why these items are being closed out. Listed below are some of the many possibilities. Most all these items are in perfectly new condition. No gimmicks. We are in a rush to get our second machine shop up and going.
Left over stock of an item that was discontinued in the past.
A few have become slow sellers for us, as our business has shifted into high value items such as engines, rotating assem. and cyl heads.
We have purchased some items in bulk that were discontinued and have many of these items still in stock.
We're trying to clear out space for our new engine room and we're in a rush to do so.
Acquire funds to build our second new machine shop for building engines.
Important Note.
We offer a full line of the Speedmaster and Edelbrock intake manifolds. Be sure of what style manifold you need before purchasing. For installation tips, we suggest that you check the technical section of the various car forums. YouTube is also a great source for detailed installation instructions. As mentioned, we have a full line of Edelbrock manifolds in our other listings. It is our opinion that the Edelbrock manifolds are superior in quality, appearance, and performance. They are slightly higher in cost, but well worth the investment. They are also made in the USA.
Customer Reviews
This product does not have any reviews yet.