SBC CHEVY MULTI LAYER HEAD GASKETS BORES UP TO 4.125 ONE PAIR 5218-PR CLEARANCE!
Available
$57.95
---
Product Information
| | |
| --- | --- |
| UPC | 372243995278 |
| Product Type | Shipped Product |
| Number of reviews | 0 |
SBC CHEVY MULTI LAYER HEAD GASKETS. (ONE PAIR) STAINLESS. BORE SIZE UP TO 4.125 WITHOUT STEAM HOLES. PCE-348.1012
These can be used on 4.00 bore size up to 4.125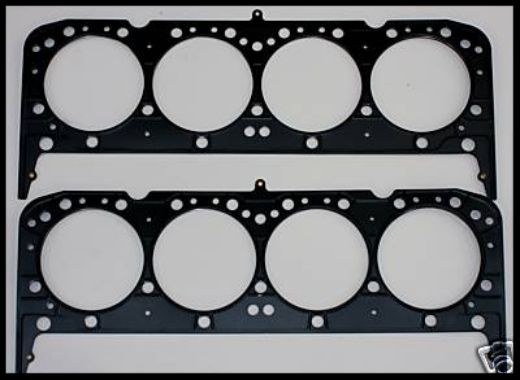 These stainless multi layer head gaskets have an opening of 4.155 average size to accomadate the combustion chambers of most all aftermarket heads. The max block bore size to use these on would be 4.125 and no larger.
We have used these gaskets on many of our engine builds without a problem.
Bore (mm)


105.816mm
Gasket Material


Stainless steel.
Compressed Thickness (in)


0.040 in.
Compressed Volume (cc)


9.9cc
Lock Wire


No
Quantity


Sold as a pair
This auction is for 2 head gaskets.
A must for those changing over to aluminum heads.
Fits all standard Gen 1 Chevy engines up to 4.125 without steam holes. This size will cover engines such as the Chevy 350/355/383 and 400/406 blocks that are using heads that have no steam holes.
There are many reasons as to why these items are being closed out. Listed below are some of the many possibilities. Most all these items are in perfectly new condition. No gimmicks. We are in a rush to get our second machine shop up and going.
Left over stock of an item that was discontinued in the past.
A few have become slow sellers for us, as our business has shifted into high value items such as engines, rotating assem. and cyl heads.
We have purchased some items in bulk that were discontinued and have many of these items still in stock.
We're trying to clear out space for our new engine room and we're in a rush to do so.
Acquire funds to build our second new machine shop for building engines.
Our technical knowledge is limited on this product. Our sales staff are usually unable to answer many of the questions asked. Many of the questions are, "how do you install this item", "what model cars will this work in". Most of the people on our sales staff simply don't know these answers, and even if we did, the time involved answering so many of these questions is what led us to writing this notice. We update the info in our listings on a regular basis, and if it's not in the ad, then there's a good chance we don't know the info. There is a solution to this problem for those with numerous questions about the product. We recommend searching the car forums for application questions, or technical info. You will find the answers you need on the forums for certain.

You have all heard the saying that a picture is worth a thousand words. Well, it is, and with that being said, a video is worth a million words. If you go to YouTube and type in the correct key words or phrases, you may find dozens of highly informative videos showing much of the info you need to know on this product.

We are not responsible for collateral damage caused by the use of this product.
Customer Reviews
This product does not have any reviews yet.