SBC CHEVY PRO RACE BRAND 383 400 406 BALANCER DAMPER 8" EXT. # 24266
Available
$156.99
---
Product Information
| | |
| --- | --- |
| UPC | 373511291572 |
| Product Type | Shipped Product |
| Shipping Cost | $14.50 |
| Number of reviews | 88 |
PRO/RACE PERFORMANCE PRODUCTS DAMPER 8.0" FOR SBC CHEVY 400 406 ENGINES. EXTERNALLY BALANCED. PRO/STREET SERIES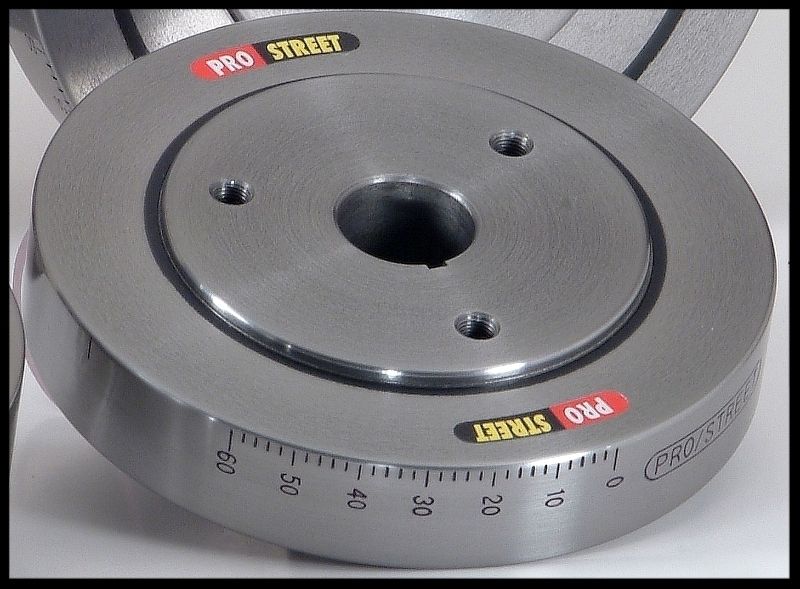 Pro Street Series, made by Pro Race Performance Products. Non S.F.I. Externally balanced, (weighted) or can be used for internal setups by removing weight.
8.0 INCH DIAMETER.
Lifetime Warranty, Unlimited Mileage, Street or Strip Use.
PRO/STREET Harmonic Dampers feature:
Nodular Iron Construction - Most cast dampers are manufactured from gray iron castings. Nodular iron is over 30% stronger than gray iron.

Bonded Elastomer - Outer ring and inner hub are bonded (vulcanized) to the elastomer. This minimizes the potential for the outer ring to move on the hub, losing true TDC position.

Removable Counterweights – Externally balanced models feature bolt-in counterweights, making it easy to switch from an externally balanced engine to an internally balanced engine.

Precision Balanced - Dampers are machined and precision balanced.

60o of permanent easy to read timing marks.
While PRO/STREET dampers are not intended for racing, the fact that they are cast of nodular iron, as opposed to ordinary gray iron, means that they are suitable for higher rpms than most competitive models.
(Note: The PRO/STREET Nodular Iron Harmonic Dampers are NOT SFI certified). However to prove the integrity of the PRO/STREET dampers, we had the SFI test lab run some spin tests. The PRO/STREET damper was subjected to 8,000 rpm for one hour, and then 12,500 rpm for 15 minutes with no sign of degradation!
(Note: this by no means suggests the PRO/STREET damper should be used in extreme applications. Use PRO/RACE or PRO/SPORT for high performance applications.)
Bonded elastomer
Unlike many OE dampers, or other replacement style dampers, the PRO/STREET range features a bonded elastomer! The elastomer is injected at high temperature and under extreme pressure. In fact, during the manufacturing process, EACH AND EVERY PRO/STREET damper is subjected to elastomer bond test of 3000 lbs (2000 lbs on 24262) separation force. If there is any sign of bond degradation then the damper is scrapped. Many OEM dampers aren't bonded at all.
Removable Counterweights
Harmonic dampers are supplied in two styles; those for internally balanced engines and those for externally balanced engines. Externally balanced engines have a counterweight bolted into the hub of the damper. The advantage of having a removable counterweight in the hub eliminates the possibility of having the counterweight mass move from its position, plus it provides an extremely accurate external balance mass.
The PRO/STREET Damper for internally and externally balanced small block and big block Chevys and for small block Chryslers is identical except for the counterweight. This means, for example, if you have a PRO/STREET Damper for a 400 small block Chevy, you can remove the counterweight and the damper will work perfectly for a 350 Chevy. Conversely, if you have a 350 Damper and want to use it on a 400, you can now purchase the proper PRO/RACE counterweight and bolt it into your 350 damper and it is now a 400 damper.
Machined to tolerances exceeding OEM specifications!
The PRO/STREET dampers have been machined to tolerances far exceeding those used by OEMs. Just take a look at the overall surface finish and oil seal and bore of the damper! Permanent rolled-in timing marks are very visible and will never fade or become less visible!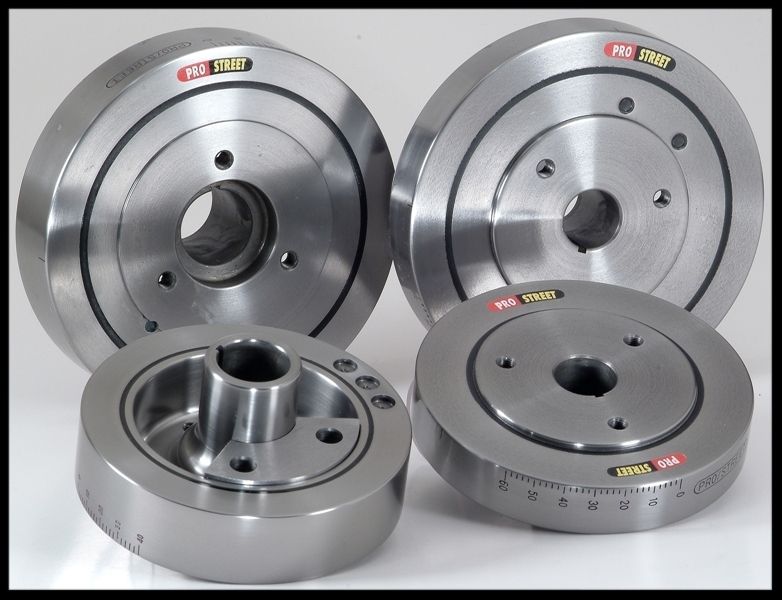 WE RECOMMEND YOU REPLACE YOUR DAMPER BOLT EACH TIME IT IS REMOVED, DUE TO THE STRETCH FACTOR. RE-USED DAMPER BOLTS CAN COME LOOSE. NEW DAMPER BOLTS ARE ESSENTIAL, IN OUR OPINION. USED ONES CAN ALSO BE VERY UNSIGHTLY ON YOUR STREET RODS.
Please see our other listings for additional accessories.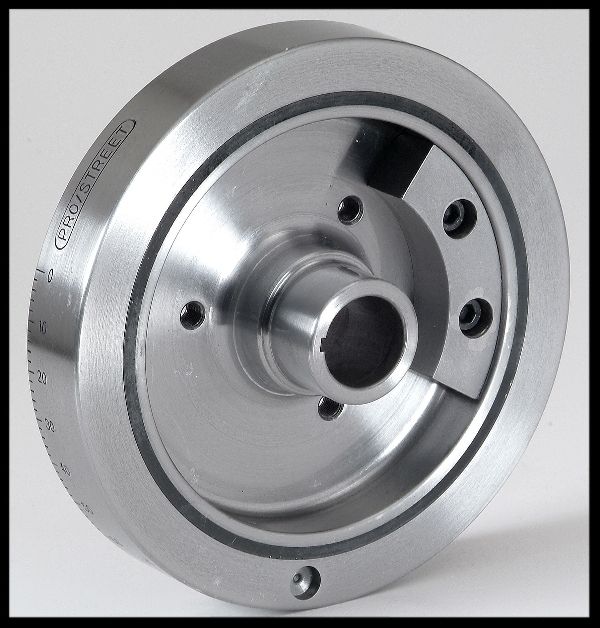 Part number 24266
FOR SBC 400, 406 MOST 383 STROKER ENGINES EXT. BAL., (WEIGHTED)
This damper is externally balanced, used on most SBC 400 cid as well as most 383 engines that are not using an internally balanced crank. If you do change from external to internal, you may remove the bolt in weight and the damper becomes a neutral damper. The factory used the ext. bal. damper on all stock 400 SBC engines. This is not to be used on the 350 SBC engine. This damper has a weighted offset casting.
When identifying your existing damper (balancer), look on the back side. This is not visible if the damper is mounted on the engine. If your damper has no offset in the casting or weight, then you have an internal (neutral) style damper. If you do see the offset in the casting or a weight, you have what is classified as an external damper, commonly used on all 400 SBC engines. See our other listings for the internal model.
Most SBC engines use a 6.75" or an 8". Both are interchangeable. The larger 8" damper performs its job of dampening crank harmonics slightly better, but adds much more rotational drag. We use the 6.75 size on most every SBC engine we build. We've had no adverse effects using the 8 inch size.
Some cars do not allow the use of the larger 8" damper, as it may interfere with chassis components. Be sure and check this out before purchasing. We have noticed this on several cars, notably some Corvettes. Late model one pc. rear main seal engines use the neutral, (internal bal.) damper, but do not use a neutral flexplate.
Do not use this damper on any 350 engine. It is possible that some aftermarket rotating assemblies used in the 350 engines may use the ext. bal. model, but we have never noticed any of them. Be sure of what you need before purchasing. You will definitely know if you have the wrong damper on the engine, as it will have a serious vibration. Remember, neutral dampers, have no weights or offset in the casting. They are perfectly balanced, hence the term neutral.
THIS DAMPER IS EXTERNALLY BALANCED. IT IS NOT CONSIDERED A NEUTRAL DAMPER UNLESS THE BOLT IN WEIGHT IS REMOVED.
We recommend replacing the mounting bolt and washer when installing a new damper. We have them listed in our other auctions. This auction is for the 8" ext. bal. damper.
Fits EXTERNALLY balanced SMALL block Chevy, 8" in diameter.
The Pro/Race line of balancers is intended for non-SFI high performance applications to 6500 RPM. Although primarily meant for street use, these balancers are also suitable for racing applications where there is no requirement to meet SFI specifications.
Part
Number
Balance
Style
Outside
Diameter
RPM
Rating
Weight
lbs.
24266
EXTERNALLY BALANCED
8"
7000
11.40
THE PRO/RACE LINE OF BALANCERS IS ONE OF THE BEST ON THE MARKET, AND IS USED EXCLUSIVELY ON ALL OUR IN HOUSE ENGINE BUILDS.
Precision machined from nodular iron much stronger than OEM stock
Outer ring and hub are bonded together to prevent slippage
Correct crank bore for proper fit to crankshaft
High gloss steel finish with black timing marks plus marks at every 90°
RPM Rating: to 7000 RPM
It's a very wise investment when building an engine to replace the balancer (damper). This is an elastomer type balancer, much like the ones from the factory. The principal component to their operation is a bonded elastomer ring which adheres to the inertia ring and hub, and they are far superior in design to the OEM stock dampers. If you're considering using your old, possibly original damper, then you should know there is a great chance the elastomer band has dry rot and is not adhering as it should to the inner ring and outer hub. If this is the case, then damaging harmonics are not dampened as they should be.
If your original damper is not functioning as it should, you will not notice it, as it has little to do with how much vibration is transferred into the vehicle. You simply can't base the condition of your damper on whether or not you can feel it in the car or not. It would be fair to say if your damper is more than 15 years old it is not functioning the way it should.
One more good reason to replace the damper is the poorly visible timing marks on the OEM damper. This makes it nearly impossible to set your timing properly. One feature about the Pro/Race dampers is the highly visible timing marks. We find this priceless when it comes to setting timing on an engine. Your view to the balancer is often limited in most cars, and being able to see the timing marks is a must.
We have seen other dampers on the market for less money, and we have purchased them. We have found such dampers to be very low in quality and appearance, and the timing marks are hardly visible. These no name, low cost dampers could also break under high rpm if the metal is not properly cast. We also found the diameter of the center to be slightly undersized, requiring the need for broaching. Such dampers are being sold online from various performance car parts companies that appear to have no regard for the safety or function of the product.
When you receive your Pro Race/Street damper, you will notice the high quality appearance. We carry most of the Pro Race/Street line, and consider them a first rate product.
A note from Skip White, president.
We have seen others market a knockoff, no name damper that has to be the worst product on the market. We have nothing against knockoff products, but some are worth warning about. These low quality dampers being sold by many have a poor appearance and the center hole is often out of spec, with a dull finish. The casting was not machine finished; it was rough cast, as you would see on an engine block.
What concerned us more than anything is knowing that the design of an elastomer style damper is very critical to how well the material is bonded between the inner and outer ring. This must be able to withstand the constant oscillation and heat for many years. The elastomer must be made of a material that won't dry out any time soon.
One more very important aspect of this material is its Durometer rating. The Durometer rating, or resilience, is very important, as it should be in tune with the crank harmonics or it will not be able to do its job properly. Knowing how much pride the Pro Race company takes in everything they make, we are confident this factor has been addressed. They offer a full line of dampers, as well as many that are SFI rated.
When we're standing over an engine to set the timing, we usually have to rev the engine up to around 4000 rpm or more to make sure we get a total timing reading, as most distributors have very resistant springs in them. I would not want to think that I sold a damper that could develop a fracture or already have one in it, and know that this could break under high rpm, and whoever is standing above it would be at risk of death or serious injury.
As we mentioned, stay away from the no name, or ultra low cost dampers. A final note: get rid of that tired old damper on your engine. The elastomer ring is more than dried out, and is most likely not dampening the damaging crank harmonics. This can lead to fractures in the crankshaft. It is claimed that dampers that are not doing their job can cost horsepower. This is most likely due to the fact that the crank harmonics are not being dampened, and create a drag in the engine.
Our sales staff has limited technical knowledge on this product and are usually unable to answer many of the questions asked. Many of the questions are, "how do you install this item", etc. We update the info in our listings on a regular basis, and if the answer to your question is not in the ad, then there's a good chance our sales staff does not know the answer. There is a solution to this for those with numerous questions about the product. We recommend searching the car forums for technical info. You will find the answers you need on the forums for certain. For those needing help on installing these, you can go to YouTube to find dozens of highly informative videos showing much of the info you need.

 

 

We are not responsible for collateral damage caused by the use of this product.

 
Amazing! Great seller! Lightning fast shipping! THANK YOU!!! Perfect Job!

Reviewed by n***r on July 30, 2021, 8:08 p.m. | Permalink

1 of 1 customer found this useful

Amazing! Great seller! Lightning fast shipping! THANK YOU!!! Perfect Job!

Reviewed by n***r on July 31, 2021, 5:14 p.m. | Permalink

1 of 1 customer found this useful

very nice item fast shipping highly recommend this seller

Reviewed by n***3 on July 27, 2021, 1:38 p.m. | Permalink

This review has no votes.