SBC CHEVY RAM BILLET STEEL SFI FLYWHEEL 153 TOOTH EXT. BAL. 1 PC RMS PART # 1509
Available
$265.00
---
Product Information
| | |
| --- | --- |
| UPC | 353414765121 |
| Product Type | Shipped Product |
| Shipping Cost | $0 |
| Number of reviews | 0 |
SBC CHEVY RAM BILLET STEEL SFI FLYWHEEL
153 TOOTH, EXTERNALLY BALANCED, 1 PC. RMS
PART # 1509
RAM billet steel flywheels are recommended as a replacement for factory cast flywheels in high performance and racing vehicles. Cast flywheels are not explosion proof and can be dangerous when used in high performance applications at higher RPMs. RAM billet steel flywheels are CNC machined from certified materials and exceed SFI specifications. After machining, the flywheels are blanchard ground parallel to the crankshaft mounting surface, ensuring minimum runout and the optimum mating surface for the clutch disc. Use steel flywheels in heavier drag race cars or for the best driveability in street driven vehicles.  
Brand

RAM Clutch

  
  

Manufacturer's Part     Number

 

1509

 
  

Part Type

  
  

Product Line

  

RAM Billet Steel Flywheel

  
 

Crankshaft to Flywheel   Attachment

 

6-bolt

 

Ring Gear Tooth Quantity

 

153-tooth 

 Rear Main Seal Style

1-piece 

  

Flywheel Diameter

  

12.750 in.

  
  

Flywheel Material

 

Billet steel

  
  

Engine Balance

 

External 

  

Weight

  

28 lbs.

  
  

Replaceable Friction       Surface

  

No

  
  

Safety Rating

  
 

SFI 1.1

  
  

Quantity

  
 

Sold individually.

  
FEATURES:
Dynamically Balanced Within 1/2 oz./in. Of Factory Specifications
Surface Ground For Optimum Disc Mating Surface
10.5, B&B
The flywheel accepts one half of the load of the clutch system. To realize the potential of the clutch system, the flywheel must be flat, parallel to the crankshaft flange, properly surface ground for maximum friction compatibility with the clutch disc, and balanced. Dyno testing proves that flywheel balance is critical to achieving maximum engine service. Every RAM flywheel is dynamically balanced to within ½ ounce/inch of the factory specification. RAM aluminum flywheels have a .250 inch thick steel friction insert to handle the heat generated under extreme conditions, while allowing resurfacing without the need to replace the insert. All RAM flywheels are manufactured from SFI certified materials in their South Carolina facility.
For over 40 years, RAM has produced the world's top performing competition and street performance clutch systems. They have developed, improved, and produced in house, tried and true clutch components and systems that provide the highest performance value. Today, every RAM product incorporates critical features that are absent from many of the products of those who choose to compete with RAM.
Warranty information: RAM flywheels are STRICTLY FACTORY WARRANTY ONLY. Customer must return the unit to RAM for evaluation and inspection. 
Our sales staff has limited technical knowledge on this product and are usually unable to answer many of the questions asked. See our other listings for variations of this product.

 

 

We are not responsible for collateral damage caused by the use of this product.

 
RETURN POLICY
Should a problem occur, please contact us. If a return is necessary, please contact us for an RGA number and return authorization. The RGA number must be included on the return label. If an item is returned without an RGA number, it will not be processed. A full description of what the problem is needs to be included with any returned product with your contact info, and proof of purchase. Even though you may have explained the problem to us, and been granted permission to return the product, we must have a written explanation and a contact number included with the product. It is also recommended that you include the name of the person from our company that you have been in contact with. You must send the item back to us in a trackable manner (USPS Priority Mail, FedEx, etc.) and keep the tracking info of the returned product. Please give ample time for returns to be processed. Following these guidelines will make the return process work as it should.  
PAYMENT AND SHIPPING DETAILS.
We offer great discounts on shipping. You only pay the full shipping fee on the highest shipping cost of your items, and HALF PRICE shipping on all additional items. Few offer discounts on shipping such as this. Our checkout system will automatically calculate your shipping discount at the time of final payment, providing you consolidate your payment.
You may receive a verification and tracking number shortly after purchase, but this does not necessarily mean that your product has shipped. It would be fair to say that 98% of products will be going out the day the shipping label is issued. On occasion, the product may not ship out until the next day after the label has been issued. Most products purchased late in the day will not be shipped until the next day.  
If you checkout and start over, the auto calculator will not recognize the multiple purchases, and there will be no shipping discount. 
UPS is our primary shipper. We are unable to ship to APO/FPO addresses or PO Boxes. Help us ship your order promptly by including your physical address at checkout. Below is a map representing the estimated delivery time to get to you from our location.
Delivery times may vary, especially during peak periods.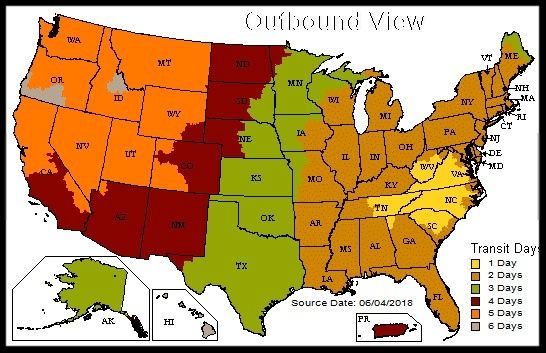 UPS delivers Monday - Friday, except for national holidays. If a package leaves here on a Thursday, and you are in a 2 day delivery zone, your package will deliver to you on Monday. Expedited shipping is available upon request for an additional fee. Please contact us for rates. The estimated shipping time is usually as the map shows, but many factors can delay this. 

Alaska is in a 3-day ship zone, Hawaii is in a 6-day ship zone, and Puerto Rico is in a 4-day ship zone. Additional fees will apply to shipments to these areas, as noted below.
The shipping quoted in this ad is only for the 48 continental United States. If shipping to anywhere else, please contact us. The half price shipping on all additional items also only applies to items that are being shipped in the 48 continental United States.
Customer Reviews
This product does not have any reviews yet.