Product Information
| | |
| --- | --- |
| UPC | 351704701297 |
| Product Type | Shipped Product |
| Shipping Cost | $12.95 |
| Number of reviews | 56 |
MASTER TOP END KIT FOR SBC CHEVY ALUMINUM OR CAST IRON HEADS. WITH MULTI LAYERED GRAPHITE/STEEL HEAD GASKETS. .030 THICK HEAD GASKETS.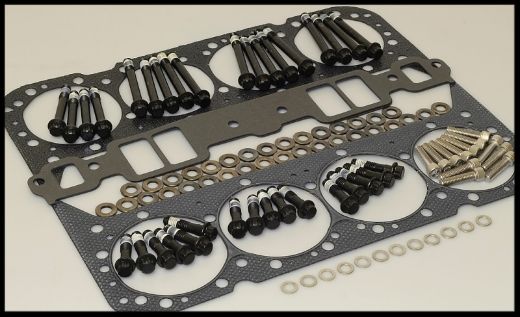 PART NUMBER, TEK-GR-30-1205-B
This is exactly you need when installing a set of aluminum heads on your small block chevy as well as most cast iron heads. We have several variations of this kit. See our tek listings. For those running an engine with steam holes, see our other listings for the tek-1014 in the part number.
Correct length high grade 18/8, (304) stainless allen head intake bolts are included. 1.25 length allows the use of any and all brands of aluminum intake manifolds.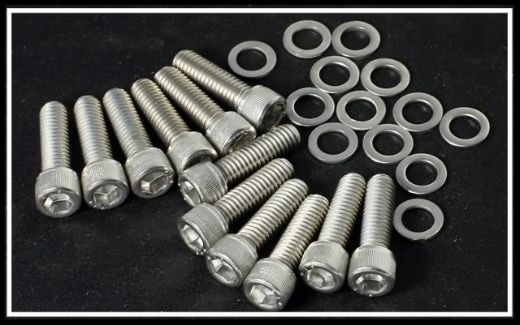 This top end kit is suitable for use with the Dart SHP 200cc heads and many other aftermarket heads on the market that call for the 1205 intake gaskets. We do offer this kit with head studs. We strongly recommend that you avoid using the TEK kit that has head studs unless you are very skilled at sealing them. This kit with the traditional head bolts is all you really need for any engine that is in the 12:1 or less compression range. This kit has our Multi Layered graphite/steel/graphite heads gaskets. These head gaskets are premium race grade quality, and totally suitable for use with aluminum heads. They are .030 thick uncompressed, and have the correct bore diameter of 4.125.
Regardless of the fact that may have a block bore size of from 4.030 up to 4.060 you must use a head gasket that has a bore diameter of 4.125 or higher. We also offer this kit with a .040 thick head gasket. The .030 thick head gaskets in this kit are an excellent solution for those with pistons sitting anywhere from .005 or more below the deck surface.
It is most desirable to have your quench/squish zone to in the range of approx. .035-.045 if possible. You will see the number 30 or 40 in the part number of the TEK kit and this identifies the head gasket thickness. This is to accommodate the combustion chamber opening of nearly all aftermarket heads. We have a vast amount of experience using these head gaskets, and have yet to experience a problem.
Please read this complete add before purchasing. For those that favor the Felpro 1003 head gaskets see our other listings for the TEK-1003-1205-B kit. We do offer these kits with head studs, but as mentioned you should be skilled in the installation of them to avoid leaks.
Should your intake set too low when mounted then you will require the extra thick Felpro 1266 intake gaskets. We do also offer the felpro 1266 intake gaskets. See our other listings.
From what we're seeing, the 1205 intake gaskets work well with most of the intakes on the market. For those using heads that require the larger felpro 1206 intake gaskets, we offer them in our other listings. The intake gasket size is part of the part number.
RETAIL VALUE, $189.00 OUR PRICE IS MUCH LESS.
WE HAVE BEEN VERY SELECTIVE IN CHOOSING THE BEST OF WHAT'S OUT THERE.
34 PIECE SBC CHEVY EXTENDED REACH HEAD BOLT SET. SPECIAL WASHERS INCLUDED.
Head bolt set with washers included. The washers are 100 thousandths thick. Remember to install the washers with the flat side down against the cylinder head. The head bolts have an extended reach to compensate for the washer thickness. It is recommended using a thread sealant on all head bolts that enter the water jacket.
One of the most important benefits of the special style head bolt washers are that they distribute the pressure on the cylinder head, and provide a glide surface for the built in washer on the head bolt. This allows for much greater accuracy when torquing the head bolts. Those with aluminum heads must use the special style head bolt washers for two very important reasons. The aluminum surface tends to drag and gald against the head bolt, causing inaccurate torque readings.
The other well established benefit for the use of these washers is the fact that aluminum heads are known to crack in the center area of the head directly under the head bolt. This area has been compromised due to the port location. When the aluminum heads are cast, it is difficult for manufacturers to keep the integrity of these areas consistent. The washers positively reduce cracking the cylinder head in this area.
Those wanting to run just the special washers with conventional length head bolts will not be able to do this due to the thickness of the washers, as the standard head bolt length have a very limited reach.
We strive to keep our prices low, and due to the high volume that we purchase, this allows us to have the best price in the country. Many garages will buy several sets at a time just to have them if the need arises. Our shipping prices are usually the lowest you will find.
This kit has the Fel Pro 1205 intake gaskets.




THE TOTAL PRICE WE HAVE ON THESE ITEMS IS MUCH LOWER THAN YOU WILL FIND IF PRICED INDIVIDUALLY.
Our sales staff has limited technical knowledge on this product and are usually unable to answer many of the questions asked. See our other listings for variations of this product.

We are not responsible for collateral damage caused by the use of this product.
great fast on time

Reviewed by 0***0 on June 14, 2018, 11:35 a.m. | Permalink

This review has no votes.

Item as described...very high quality....AAA+++

Reviewed by g***n on June 6, 2018, 1:09 p.m. | Permalink

This review has no votes.

above expectations A+

Reviewed by l***l on June 2, 2018, 5 p.m. | Permalink

This review has no votes.