Schaeffer Supreme 9000 Full Synthetic Gas or Diesel Oil 5W-40 Twelve (12) Quarts
Available
$179.50
---
Product Information
| | |
| --- | --- |
| UPC | 333959632245 |
| Product Type | Shipped Product |
| Shipping Cost | $15 |
| Number of reviews | 0 |
Schaeffer Supreme 9000 Full Synthetic Gas or Diesel Engine Oil 5W-40 Twelve (12) Quarts
This sale is for the 5W-40 weight oil.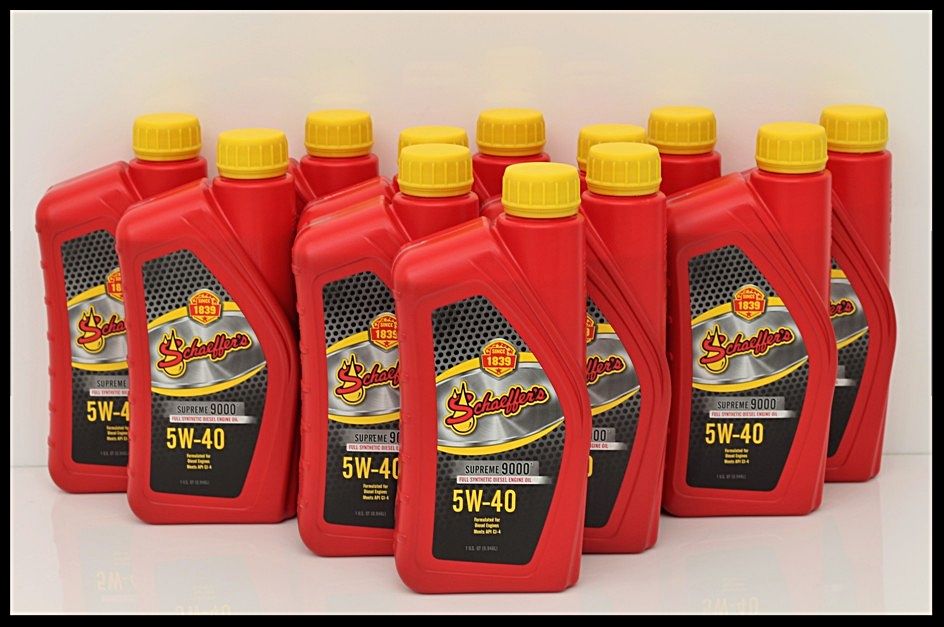 Supreme 9000™ Full Synthetic is specially engineered with the finest quality of synthetic base oils, proven friction modifiers, an advanced performance additive package, and a viscosity index improver. This unique blend creates a premium, longer lasting oil that withstands a higher heat range (up to 350° more) than conventional oil.
Benefits:
Improves engine durability and fuel economy.
Keeps engines cleaner: minimal sludge, soot and carbon buildup.
Strong protection against wear, scuffing and abrasion – blended with two proven friction modifiers, Micron Moly® and Penetro®.
Resists thinning at high temperatures – offers more protection.
Quickly lubricates in colder temperatures.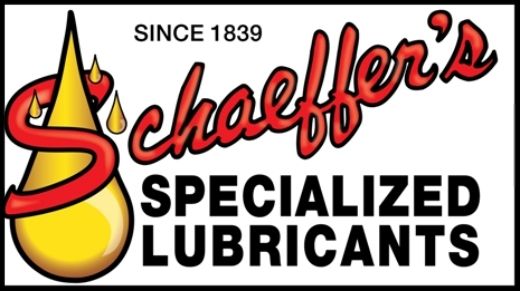 9000 Supreme 9000™ 5W-40
Exceeds the current requirements for API CJ-4 and is versatile for use in 2007 and newer emission compliant engines utilizing heavy EGR and exhaust after-treatment devices. Recommended for use in older, non-EGR and off-highway gas or diesel engines and mixed fleet applications. This oil is also excellent for use in street rod engines. This is what we recommend for many of our street rod engines once break-in is established.
Supreme 9000 SAE 5W-40 is blended from a unique combination of select synthetic base fluids to provide the following advantages:
1. Superior cold cranking and oil pumpability at low temperatures.
2. Exceptional oxidative and thermal stability especially at high engine operating temperatures.
3. Exceptional low volatility characteristics to control oil consumption.
4. A high viscosity index.
5. Improved fuel economy benefits.
6. Extended oil drain capability and intervals.
Today's low emission diesel engines generate higher amounts of soot and operate at higher operating temperatures than older diesel engines. In addition, current tighter engine designs reduce oil consumption, resulting in less fresh oil make-up to replenish additives. The top piston rings are located higher, bringing the oil film closer to the combustion chamber, thus exposing the engine oil to severe thermal stresses. All of these factors, in addition to the use of heavy EGR and exhaust after-treatment devices such as diesel particulate filters (DPFs) with or without diesel oxidation catalysts (DOCs), require the engine oil to contain an advanced additive system that will enhance its ability to protect against soot overloading and high temperature deposit formation, while providing TBN retention and extended drain capabilities.
Our sales staff has limited technical knowledge on this product and are usually unable to answer many of the questions asked. See our other listings for variations of this product.

 

 

We are not responsible for collateral damage caused by the use of this product.

 
<
Customer Reviews
This product does not have any reviews yet.