TCI STREETRODDER TH350 TRANSMISSION 6" TAILSHAFT SBC BBC CHEVY #311038
Unavailable
---
Product Information
| | |
| --- | --- |
| UPC | 333915779197 |
| Product Type | Shipped Product |
| Shipping Cost | $135 |
| Number of reviews | 0 |
TCI STREETRODDER® th350 TRANSMISSION, 6" TAILSHAFT, FOR BBC AND SBC, PART # 311038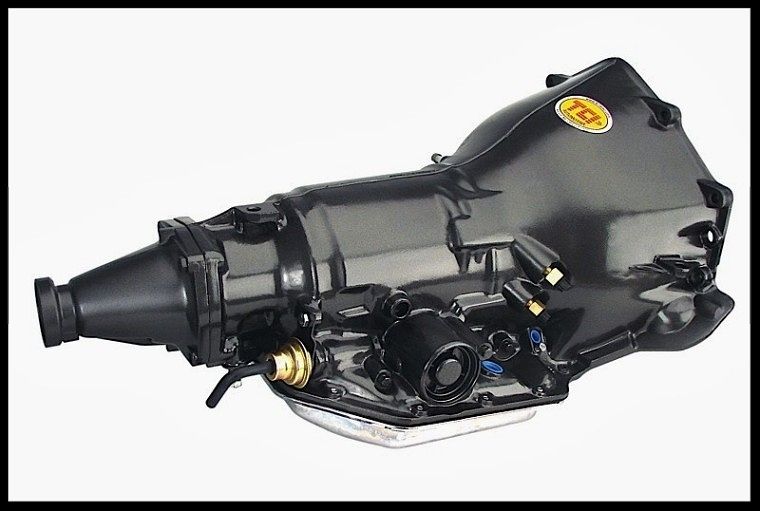 File Photo. Appearance may vary.
The TCI® StreetRodder® Transmission for Chevy engine applications is tough enough to withstand the rigors of the toughest street machines up to 475 horsepower with a non-supercharged system using pump gasoline.
Get street rodder transmission performance up to 475 horsepower! Economical TCI Street Rodder transmissions are ideal for vehicles with engines producing higher than stock horsepower. Equipped with a TCI automatic valve body with a valve body improver kit, they allow you to achieve a firmer, yet not too harsh, shift in the vehicle and remain fully automatic. They also retain the stock shift pattern.
For the systems to operate properly, all throttle linkage, vacuum lines, and kickdown components must be connected. These transmissions feature special clutches and bands, an improved lubrication system, and a transmission pan. They offer increased thrust capacity, more torque capacity with less slippage, and are TCI factory blueprinted, inspected, and dyno-tested.
Our company founder, Skip White, wrote a transmission recommendation article in the lower section of this ad. We strongly recommend that you read this before purchasing a transmission.
Features & Benefits:
Transmission Pan Material:
First Gear Ratio (Automatic Transmissions):
Transmission Case Material:
Transmission Case Finish:
Transmission Shield Built In:
Flexplate Shield Built In: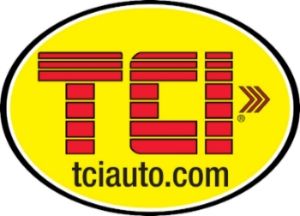 TCI Limited Warranty
TCI® Automotive, LLC warrants that all of its products are free from defects in material and workmanship, for a period of 30 days on Racing equipment and a period of 90 days on Street/Strip equipment. The warranty period begins from the date of purchase. We recommend that you keep your invoice or receipt because proof of purchase date is required. This limited warranty shall only cover the original purchaser.
Transmission Recommendations by Skip White.
Your selection of what type transmission you're going to use with your engine is very important. I'm going to give you the real lowdown on what transmissions I recommend, as well as the ones I would stay away from.
700R4: Worst possible transmission choice.
Pros
None, other than there are plenty of them around for a cheap price, and for good reason.

 

Fuel injection does make this trans. more tolerable.

 

It will get you from point A to point B period!

 
Cons
Very wide first to second gear spread. First gear is a 3.06 ratio Second is a 1.62 ratio. This nearly equates to skipping from first to third gear with a manual trans. This kills acceleration when these trans go into second gear on a carbureted engine with a healthy cam and large runner intake manifold. Compare this to a TH350. First gear at 2.52 ratio and second gear is 1.52 do the math.

 

The 3.06 first gear is so low that any final gear of above 3.55 or numerically higher will have you right at the max rpm at around 35 mph, only to then have your car fall on its face when it hits second gear, feeling like it skipped a gear. Wheel spin is uncontrollable upon hard launches, unless you have a very tall final gear, and then you can for sure count on going nowhere quickly when second gear comes in. Overdrive would be totally useless at highway speed regardless of detuning with a tall final gear, unless you were cruising at around 100 mph.

 

Huge cost to build up to a decent street rod level. Don't even consider a stock rebuild to handle 500 hp or more. Under hard use, the 700R4 will fail quickly.

 

Limited as to what level these can be built up to. High performance transmission builders and parts suppliers don't even recognize this as a serious transmission.

 

More complex to build than a TH350 and far more expensive, especially when built up to handle high hp numbers.

 

Having to run a cumbersome throttle value cable to the carb. linkage. This feature actually serves a good purpose, but if not set properly, it can destroy your transmission quickly. Very critical adjustment, and often overlooked.

 

The overdrive is actually useless with engines running decent size cams relative to the cubic inch, especially with large runner dual plane intakes, and single plane intakes are out of the question with this trans.

 

Stall converters are double the cost of the one run in a TH350.

 

This is not a reliable transmission in a street rod.

 

Lowers the value of your vehicle to some degree, especially on high hp builds. These transmissions do not belong in most carbureted street rods. You must detune an engine considerably to operate the overdrive and be able to tolerate the first to second gear drop.

 

Could be classified as the worst mismatch of parts known on a true street rod.

 

As a side note, I would like to mention that most of us have owned a regular stock street car with a 700R4 trans, or its electronic likeness, a 4L60E, and didn't find much of an issue with the way they operated, especially if the vehicle was fuel injected. This is because stock car engines are designed to operate totally different in the very low rpm range. They have huge amounts of off idle torque compared to the average carbureted street rod that makes 400 hp or more. This off idle instant torque allows the vehicle to keep its speed up decently when the 700R4 drops into second gear, and the same low rpm also allows the overdrive gear to operate normally at very low rpm. There are other factors that also allow these trans. to operate at low rpm, especially on fuel injected computer driven engines.

 
TH350: Best transmission choice, hands down.
Pros
Excellent gear spread between all three gears.

 

Very low cost to build up to various levels of power handling.

 

Can be built up to extreme power handling capabilities.

 

Most all transmission shops are capable of building these to at least level 1 or 2.

 

No TV cable to deal with.

 

Stall converters are low in cost, and the selection is broad.

 

Very reliable and simple to repair if needed.

 
Cons
None, simply none! Select a final gear that will allow you the best overall performance and one that allows a decent off the line acceleration, and one that will be in a tolerable rpm range at highway speed. You must have the correct stall converter for optimal performance. This can make a huge difference in the way your vehicle accelerates.

 

These are becoming scarce, but there are still plenty of them around, and high performance parts are easily obtained.

 

You may have to go through this long story to your less than knowledgeable friends as to why you didn't choose a 700R4, and when you explain it to them, they may still think you don't know what you're talking about.

 
TH400
Pros
Excellent gear spread. Very similar to a TH350.

 

Strong internal parts.

 

Reliable.

 

Simple to build or repair to stock buildup levels.

 
Cons
Very expensive to build up to higher power handling levels, as compared to a TH350. The TH350 has far more high performance parts available at reasonable costs. The 400 trans. is not a practical choice.

 

Internal rotating parts (cast iron drum) are very heavy and create a huge drag compared to most any other trans., and this is not a subtle amount of drag. The TH400 is well known to be a heavier duty trans. than a TH350 but this heavy duty factor was designed more for heavy vehicles that may encounter pulling heavy loads. Only the largest of the GM cars weighing around 5000 lbs had these trans. in them, along with heavy duty pickups, usually 3/4 ton or larger trucks. Even the half ton Chevy trucks didn't come with these in them.

 

They will certainly hold up better than a stock built TH350, but they are not a desirable trans. for a street rod. You can build a TH350 to level two that would be superior to any stock TH400 in every way for about the same cost. Building a TH400 to a high hp handling level will cost a great deal of money.

 

You will never see this trans in a true Pro-Street car.

 
Powerglide.
Pros
Excellent transmission to build up to just about any power handling level.

 

Most trans. shops are able to build this trans with ease.

 

Very reliable, and simple to work on. Not much to go wrong.

 

Decent first to second gear spread.

 

Rotational drag is very low with this trans., moreso than any automatic on the market. Very efficient trans.

 

Stall converters are not expensive and many choices available.

 
Cons
Two gears, that's the problem. This trans. can only be run in cars that have a very high hp to weight ratio. It would be fair to say a vehicle weighing approx. 3400 lbs would require an engine output of 1000 hp or more to make it a rational choice, and even then, you would still need a decent final gear to get things moving off the line. The first gear in these is somewhat tall. Those running a T-Bucket roadster weighing around 1800 lbs. with a 500 hp or higher engine could make great use of a Powerglide trans.

 

Having only two gears limits having the best of both worlds when it comes to off the line acceleration and cruising at highway speed.

 
GM200
Pros
Has a better gear spread than the 700R4 but not as optimal as the TH350.

 

Not much good to say about this trans. It certainly has a place in some special late model applications, but old school Chevy engines is not one of them.

 
Cons
This transmission can cost up to three times more to build up to a decent power handling level compared to a built up TH350.

 

Cannot hold up to high torque engine builds unless an enormous amount of money is spent on this trans.

 

Most all the cons you see for the 700R4 exist within this trans.

 

This trans is not a reliable trans. compared to any of the early GM trans.

 
4L60E Electronically controlled trans.
Pros
No TV cable to deal with or shifting linkage. It has pump pressure control and shifting via electronics.

 

Not much good to say about this expensive trans. It is virtually a 700R4 with a modern twist.

 
Cons
Most of the same issues as the 700R4. Terrible choice to run in an old school carbureted engine.

 

Very expensive to build up to a high power handling level. Can cost up to $4,000 to build this trans up to a decent level. Computer controlled engines may require this unless you bypass the car's computer system.

 

Complex. Very complex!

 

Pointless to run such a terrible transmission.

 

If you insist on such a trans, the 4L80E is a better choice, as it has a normal gear spread, and is a much stronger trans. Still pointless to use with an old school carbureted engine.

 
Four and five speed Manual Trans.
Pros
Excellent acceleration at any speed due to many selective gear ratios. Finding a gear at any cruising speed to hit it hard is easily accomplished with a manual compared to an automatic.

 

More efficient delivery of horse power to the rear wheels with a manual trans. versus an automatic. In other words, less loss of power due to slippage as encountered with an automatic trans.

 

For some people, the fun factor of shifting gears is one of the high points of owning a street rod.

 

Very reliable, long lasting. Low maintenance. Simple to change out a clutch if needed.

 
Cons
Can be very expensive to purchase a high quality modern manual trans. and high performance clutch and flywheel, especially the Tremec Series.

 

Can be somewhat complex to change over from an auto to a manual trans.

 

If you think your car is going to run faster with a manual versus an auto, you will be greatly disappointed. The automatic transmission can not only shift much faster, but off line acceleration can be controlled to a much greater degree. This is why most drag cars have automatic transmissions. All things equal, a car equipped with an auto trans will outrun one equipped with a regular street rod manual with great ease.

 

Missing gears when racing can cause damage to your engine, and loss of control of your vehicle should you drop into the previous gear during an aggressive run. Been there a couple times, dropped a valve in brand new Lotus Esprit shifting out of second into first rather than third, and locked up the back wheels on a Dodge Viper shifting into second rather than fourth at high speed. Nearly lost control of the car at around 80 mph.

 

If you're deciding to run a 5 or 6 speed manual trans because of the overdrive gear, be aware that most engines built with large lopey cams, and single plane intakes running a carb will usually not allow effective use of the overdrive gear.

 

Tremec T56 transmissions are very popular and highly advanced. They are expensive. They tend to be notchy to shift when new. Takes many miles before they become easy to shift. They can be difficult to install in some early model classic cars, as they are huge compared to early model transmissions. They can cost a great deal of money to rebuild if needed. Still about the best manual trans out there, and can handle very high hp levels.

 

Sadly, your wife may not be able to drive your car with a manual

trans. This could be a plus in some cases.
Our sales staff has limited technical knowledge on this product and are usually unable to answer many of the questions asked. See our other listings for variations of this product.

 

 

We are not responsible for collateral damage caused by the use of this product.

 
Customer Reviews
This product does not have any reviews yet.