WISECO BOOSTLINE BBC CHEVY 6.700 RODS WITH TOOL STEEL WRIST PINS. PRO-PAC
Available
$1,495.00
---
Product Information
| | |
| --- | --- |
| UPC | 373170254150 |
| Product Type | Shipped Product |
| Shipping Cost | $17.50 |
| Number of reviews | 0 |
WISECO BOOSTLINE RODS WITH JE TOOL STEEL WRIST PINS 6.385 INCH WITH ARP 2000 CAP SCREWS. 6.700" BUSHED, 7/16's CAP SCREWS. EXTREME DUTY. 4340 CUSTOM ALLOY.
For those wanting ultimate protection in their engine, this is the answer. The Pro-Pac kit comes with the Wiseco BoostLine rods and tool steel thick wall wrist pins. This is an excellent upgrade for thos running any type of forced induction, (blowers, nos, twin turbo, high compression builds). This is also an excellent upgrade for those running naturally aspirated engines. Rod and or wrist pin failures will usaully cause catastrophic damage to the engine. The Pro-Pac kit can handle horse power levels in the 2,000 range. The 4340 alloy has been through a very special heat treating process. These rods are what we use on all of our high HP applications. As mentioned this is also an excellent upgrade for medium HP builds that may encounter some hard run time. BBC engines that have been stroked above 4.250 can greatly benefit from this setup. It's well known that engines with long stroke cranks have a greatly increased load on the rods and wrist pins when encountering rpm in the upper ranges.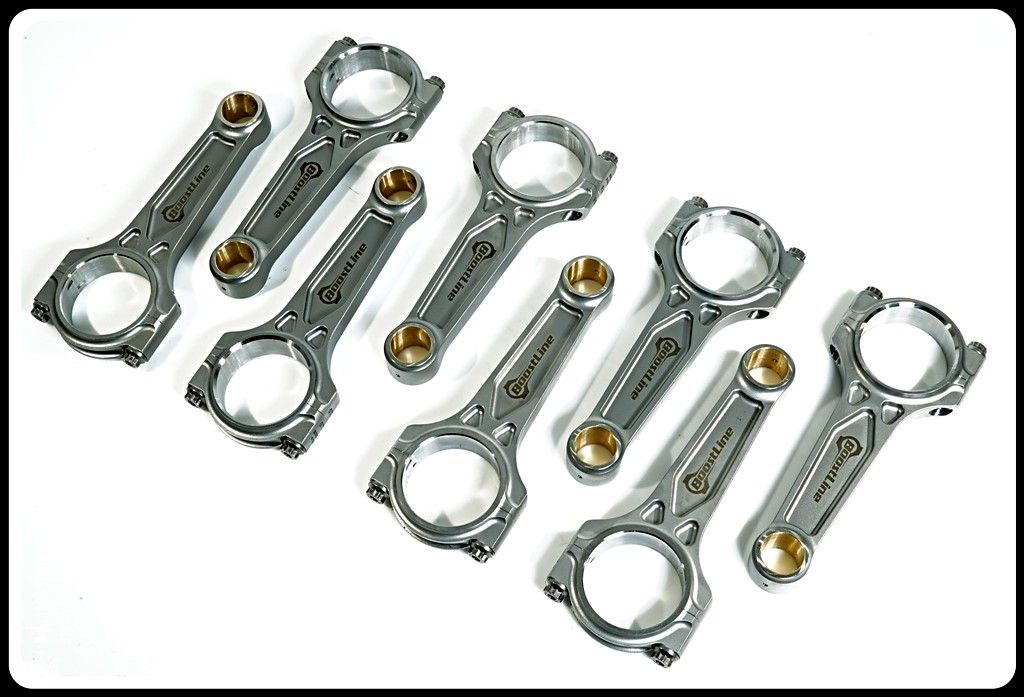 BoostLine connecting rods are designed from the ground up for high-power forced induction and nitrous applications. A patented 3-pocket design, forged from a special 4340 alloy, maximizes strength while minimizing rotating weight. This revolutionary design dramatically improves the rod's big-end stability under tensile loads and provides a 60% improvement in bending strength and 20% stress reduction in tension compared to H-beam designs. All of these benefits make BoostLine rods ideal for high-cylinder pressure engine combinations.
In addition to BoostLine's innovative design, comprehensive real-world testing, finite element analysis, and meticulous quality control ensure that all BoostLine rods are fit for 2,000-plus horsepower (8-cylinder applications).
All BoostLine rods include high-quality ARP 2000 bolts. Every rod is inspected and finish-honed in America in addition to being analyzed on a Zeiss CMM as part of the final inspection. A detailed inspection report measuring to .0001 in. is provided with every set of BoostLine rods.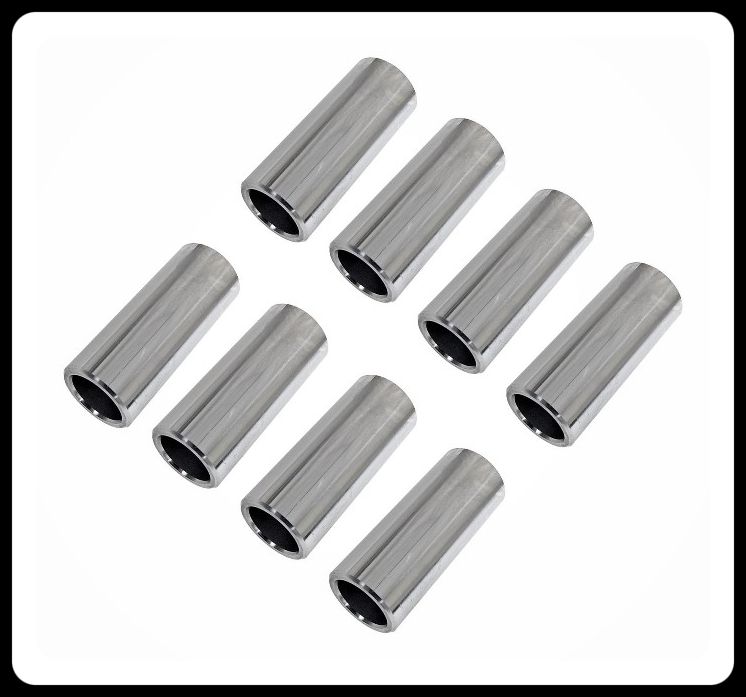 For high-impact, drag race, and endurance applications, JE Pistons offers the Series 52 wrist pins. These pins are constructed from 52100 high carbon bearing steel and through-hardened for added stability. All JE pistons are super-finished on both the outside and inside diameters to help reduce piston pin bore wear and minimize fatigue cracking, adding to the overall strength and reliability of the wrist pins. Employing the latest in technology and quality control, the Series 52 wrist pins are checked for the tiniest flaws and to ensure the roundness of each pin. JE Pistons Series 52 wrist pins are available in a variety of lengths, diameters, and wall thicknesses. They are specifically developed for use with JE pistons.
| | |
| --- | --- |
| Balanced Set | Yes |
| Big End Bore Diameter (in) | 2.3250 in. |
| Big End Width (in) | 0.992 in. |
| Cap Retention Style | Cap screw |
| Clearanced for Stroker | Yes |
| Connecting Rod Beam Style | CUSTOM SUPER DUTY I BEAM. |
| Connecting Rod Bolt Brand | ARP |
| Connecting Rod Bolt Diameter | 7/16 in. |
| Connecting Rod Bolt Head Style | 12-point |
| Connecting Rod Bolt Material | ARP-2000 |
| Connecting Rod Length Center to Center | 6.700 in. |
| Connecting Rod Material | Forged 4340 steel |
| Fastener Yield Strength (psi) | 200,000 psi |
| Magnafluxed | No |
| Notes | 6.385 IS NOT OE LENGTH FOR BBC. |
| Pin End Bore Diameter | 0.990 in. |
| Quantity | Sold as a set of 8. |
| Remanufactured | No |
| Rod Journal Diameter (in) | 2.200 in. |
| Weight Matched Set | Yes |
| Wrist Pin Style | Floating/Bronze bushed. |
We are not responsible for collateral damage caused by the use of this product.
Customer Reviews
This product does not have any reviews yet.